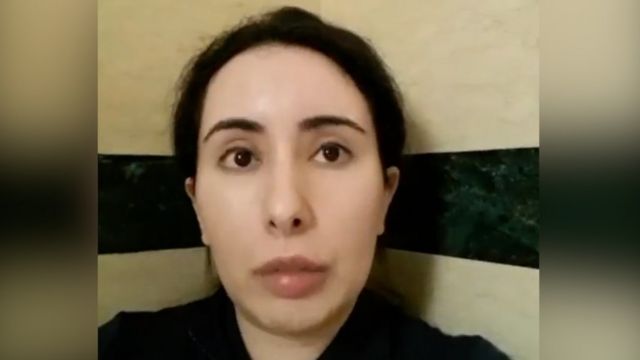 The daughter of the emirate of Dubai, who tried to flee the country in 2018, sent secret video messages to her friends in which she accused her father of holding her as a "hostage" and claimed to fear for her life.
In recordings shared with BBC Panorama, Princess Latifa al Maktoum said commandos drugged her when she fled in a boat and sent her back into custody.
Latifa has stopped sending secret messages, and his friends urge the United Nations (UN) to intervene.
Dubai and the United Arab Emirates have previously said the princess is safely in the care of the family.
Former UN Human Rights Special Envoy Mary Robinson, who described Latifa as "a troubled young woman" after meeting with her in 2018, now says she has been "horribly misled" by the princess's family.
Robinson, a former UN High Commissioner for Human Rights and also a former President of Ireland, has joined the international call to clarify Latifa's current condition and location.
"I'm still very concerned about Latifa. Things have changed. I think it needs to be investigated," Robinson said.
Latifa's father, Sheikh Mohammed bin Rashid al Maktoum, is one of the richest heads of state in the world, President of Dubai and Vice President of the United Arab Emirates.
Latifa's videos were recorded over several months on a phone that the princess secretly received, about a year after his capture and return to Dubai. He filmed them in a bathroom as it was the only door he could lock.
In the messages, Latifa details how:
fought the soldiers who pulled her out of the boat, "kicking and fighting" and biting the arm of one of the Emirati officers until he screamed
After being sedated, she lost consciousness, while being taken to a private plane, and did not wake up until they landed in Dubai
was held alone, without access to medical or legal assistance in a villa with barred windows and doors, and guarded by police
Latifa's version of her capture and detention was revealed to Panorama by her close friend Tiina Jauhiainen, her maternal cousin Marcus Essabri and activist David Haugh, who are behind the campaign. Free Latifa (Free Latifa).
They say they made the difficult decision to filter their messages because they are concerned for the princess's safety.
It was they who managed to establish contact with Latifa while she was detained in the "villa" of Dubai, where claimed to have barred windows and police guards.
BBC Panorama independently verified the details of where Latifa was being held.
Sheikh Mohammed has built a successful city, but human rights activists claim that there is no tolerance for dissent and that the judicial system is discriminatory against women.
The president owns a vast racehorse company and frequently attends major events such as the Royal Ascot in the UK, where he has been photographed accompanying Queen Elizabeth II.
However, the sheikh has faced various criticisms about Princess Latifa and her stepmother, Princess Haya Bint al Hussain, who fled to London in 2019 with their two children.
The escape boat
Latifa, now 35, first tried to run away when she was 16. But it was only after contacting French businessman Herve Jaubert in 2011 that a long-planned plan was put into action.
This was done with the help of Jauhiainen, initially his teacher of capoeira, a Brazilian martial art.
On February 24, 2018, Latifa and Jauhiainen took an inflatable boat and a jet ski and they entered international waters, where Jaubert waited in a yacht with American flag.
However, eight days later, off India, the boat was boarded by commandos. Jauhiainen says smoke grenades were thrown to force them out of hiding in the bathroom below deck and they were held at gunpoint.
Latifa was returned to Dubai and had not heard from Jauhiainen since.
Jauhiainen and the ship's crew were released after two weeks of detention in Dubai. The Indian government has never spoken about his role in the facts.
Before her escape attempt in 2018, Latifa recorded another video that was posted on YouTube after her capture.
"If you're seeing this, it doesn't mean a good thing. It means that I am dead or in a very very very bad situation", He said.
Then international concern and calls for his release arose. The United Arab Emirates came under intense pressure and a meeting with Robinson was arranged.
The meeting with Robinson
The former UN High Commissioner for Human Rights traveled to Dubai in December 2018 at the request of her friend, Princess Haya, and had lunch with Latifa also present.
Robinson told BBC Panorama that she and Princess Haya had received details about Latifa's bipolar disorder, a disease that she does not have.
He says he did not ask Latifa about her situation because he did not want to "increase the trauma" of Latifa's "illness".
Nine days after lunch, the United Arab Emirates Foreign Ministry posted pictures of Robinson with Latifapresented as proof that the princess was safe and well.
"I felt particularly cheated when the photographs were published. It was a total surprise … I was absolutely confused, "Robinson said.
In 2019, tensions within Dubai's ruling family were exposed to the Supreme Court of England after one of the Sheikh's wives, Princess Haya, fled to the UK with two of her children and applied for a protection order and a restraining order against the sheikh.
Last year, the supreme court issued a series of investigative findings that pointed out that Sheikh Mohammed had ordered and organized the forced return of Latifa in 2002 and 2018as well as the illegal kidnapping from the UK in 2000 of his older sister Princess Shamsa, who had also tried to escape.
The Supreme Court determined that Sheikh Mohammed "continues to maintain a regime in which these two young women are deprived of liberty."
Latifa's friends hoped the court case in March last year – having ruled against Sheikh Mohammed, calling him "dishonest" and in favor of Princess Haya – would help Latifa.
In the decision to filter the messages now, Jauhiainen said that "It had been a long time" since contact was lost.
He thought long and hard about posting the video messages, but adds: "I feel like I would like us to fight for her and not give up. "
Panorama Program
"The Missing Princess" will air on BBC One in the UK this Tuesday at 8:30 pm local time, and will then be available online on the BBC iPlayer service.
Now you can receive notifications from BBC News Mundo. Download our app and activate them so you don't miss our best content.

www.bbc.com
Eddie is an Australian news reporter with over 9 years in the industry and has published on Forbes and tech crunch.