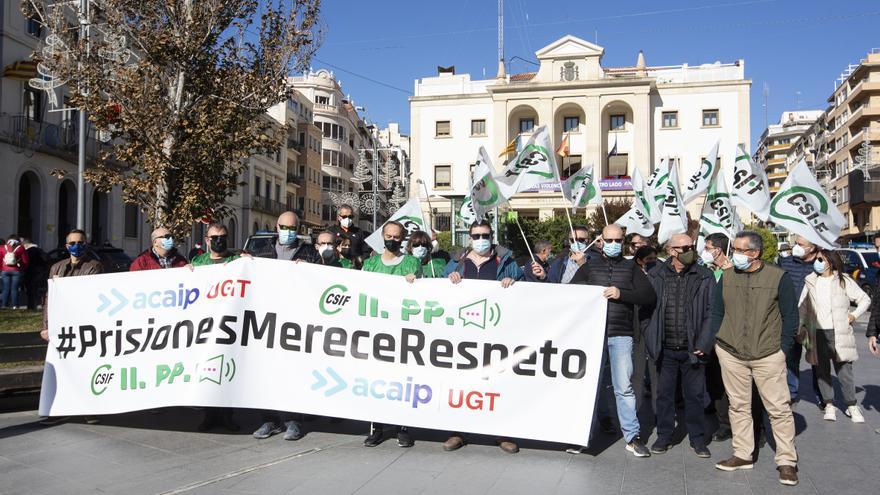 About a hundred people have gathered before the Subdelegation of the Government of Alicante to protest the situation of the public employees of Penitentiary Institutions and demand that the suspension of employment of two Villena officials be lifted after it was shown that the complaint of aggression by the Deputy Director of Security was false and was therefore ceased.
The rally was held under the slogan "Prisons deserve respect" and was called by the unions CSIF and ACAIP-UGT, who have also demanded the cessation of the leadership of the Interior and Penitentiary Institutions and the director of the Villena prison. The unions also want the sub-delegate of the Government in Alicante to "intercede in the difficult situation of the prisons in the province."
Javier Tovar, provincial president of CSIF in Alicante, has stated that "we mainly ask for recognition as agents of the prison workers' authority so that our work is in adequate conditions for the functions we perform." They also demand "an increase in the workforce, both in security personnel and in health personnel, which are very deficient in the prisons of the province."
The mobilization has been called in defense of the public prison service and fair labor improvements that have been systematically denied for years and that have to do with "a situation of total and absolute abandonment and lack of respect on the part of the leaders of the Ministry of the Interior and the General Secretariat of Penitentiary Institutions, that they have systematically denied any possibility of dialogue and negotiation, "CSIF said in a statement.
The concentration is also justified by the criminalization of the workers by the Penitentiary Institutions for the Villena case, without having assumed any kind of political responsibility for the development of this incident to date.
Given this, CSIF also considers necessary the resignations of the Minister of the Interior, the Secretary General of Penitentiary Institutions and the director of the Villena prison, "since they have run a lot when they allegedly attacked, although it was later shown that it was a lie, to an intermediate command of the prison, while when there is an attack on an official they do not have the speed they have had now ", added Javier Tovar.
By ACAIP-UGT, the delegate in Alicante, Joaquín Leyva, has indicated that this act is part of the collective conflict that these organizations have declared before the Penitentiary Administration and ensures that it is "essential" that a change of course be given and the Secretary General be dismissed, Angel Luis Ortiz, and the deputy director general of human resources Eugenio Arribas.
The concentration has also claimed the lack of psychiatrists in the Penitentiary Psychiatric Center of Fontcalent and the staff deficit of 40% has been reported in Alicante Compliance.

www.informacion.es
Eddie is an Australian news reporter with over 9 years in the industry and has published on Forbes and tech crunch.