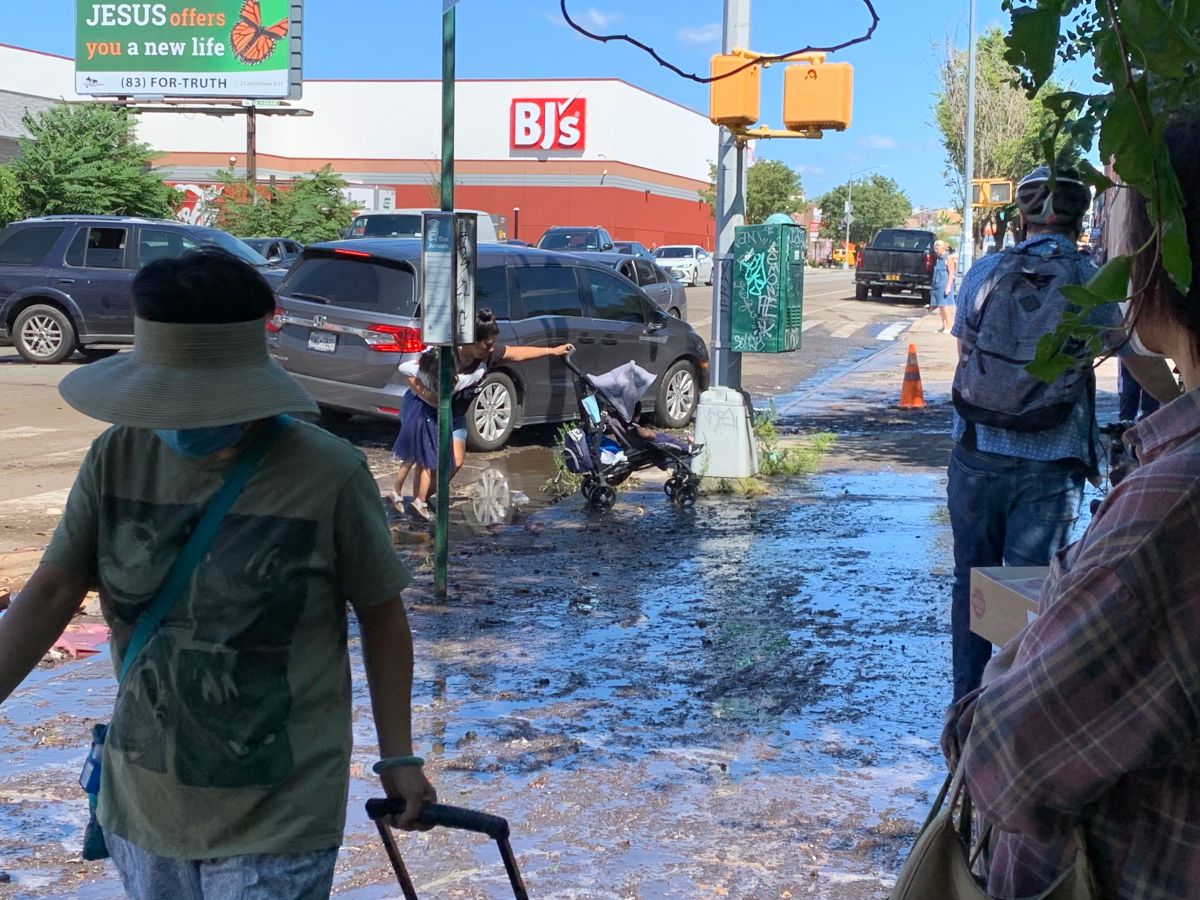 Desolation, sadness, pain, helplessness, businesses closed, train stations suspended, chaos on the trains and buses, flooded basements, fallen trees, homes without electricity, material losses, and at least 12 people dead, including a 2-year-old baby and a Hispanic, is the devastating toll left so far the fierce storm that shook New York between Wednesday night and Thursday morning.
And it is that even though the National Metereological Service had issued an emergency alert for possible flash floods on Wednesday night, the disaster was worse than expected, with record-breaking downpours in New York City, and that this Thursday had families mourning their dead and others like Juana Medina, trying to save in cardboard boxes and suitcases what little clothes she had left, because her house in Queens was completely flooded. The rains reached 7 inches in Manhattan, 8 in Brooklyn and Queens, and 9 in Staten Island.
"This was like a flood. I had never seen so much rain fall and I thought we were going to drown. If we had not run to a neighbor who lives in a building next door, we would surely be dead today, "said the young Colombian woman, who lives in the same neighborhood of Woodside, where 14-month-old Lobsang Lama lost their life. his father Ang Lama, 50, and his mother Mingma Sherpa. The three victims, of Nepalese origin, were trapped and drowned in the accumulation of rain in the basement of a three-story house on the corner of 64th Street and Lauren Hills Boulevard, where they lived.
The Colombian Alberto Vasquez, a neighbor of the Nepalese family's neighborhood who died in Woodside, called on the local authorities to invest in a plan to review the sewage system, as he said that in that part of Queens, because many houses are with strong slopes, they suffer every time it rains a lot and the pipes are clogged.
"What happened to this family is very sad, I think everything has to be investigated thoroughly, but the City must also improve its sewers and not wait for a tragedy like this that could have been avoided with a better plan," the Queens resident said.
The NYPD revealed In addition, the storm also killed Hispanic Roberto Bravo, 66, who lost his life after also flooding the basement where he lived, at 491 Ridgewood Avenue, in Brooklyn.
The Uniformed added that another of the fatalities was a 48-year-old woman from Grand Central Parkway in Queens, who had called 911 for help, but it was too late. A 43-year-old mother and her 22-year-old son suffered the same fate, after their basement flooded on 183rd Street, in Jamaica, Queens, the county most affected by the downpours. The list of victims also included a 50-year-old man, a 48-year-old woman, an 86-year-old woman, and a person found dead in her car.
And after knowing the sad balance, Governor Kathy Hochul He toured parts of Jamaica, Queens, and not only showed his shock at the deaths registered mostly in homes below street level, but offered help immediately.
"We are still discovering the true depth of the loss, the human loss. It is difficult to imagine that people simply in their cars, in their homes, in their basements succumbed to the ravages of a brutal storm, and their families must be suffering so much, "said the state president, recognizing that it is urgent to take preventive measures from now on to avoid fierce impacts in future events. "That tells me there are no more catastrophic and unpredictable events. We need to anticipate them and be prepared. This is the first time we have had a flash flood event of this proportion in New York City and outlying areas. We haven't experienced this before, but we should look forward to it next time. "
And because the greatest tragedy this time was carried out by residences located in basements, as well as businesses that have provisions or kitchens in the lower parts of buildings, many of which closed this Thursday, trying to clean up the damage, Hochul said that It is urgent to do something to protect these sites and improve the sewers and drains of the metro.
"Where we now have a vulnerability is in our streets with the highest elevations now, where flash floods, which were unknown before … that means we have to continue investments in infrastructure to fix the drainage deficiencies on our streets," he said. Hochul. "Because when the streets flood, what happens next? The water runs, not only through the roads, but also finds its way to penetrate our subway system and as a result, what happened yesterday, the trains were closed, people were stranded. The fear they must have experienced when this happened, I can't imagine, and I don't want this to happen again. "
The Governor announced that President Biden called her and offered whatever help New York needs.
"I told him that we will address it and conduct on-the-spot assessments of the damage with the FEMA teams, our local partners, and we will make sure we get an actual accounting of the loss, but he promised that he will guarantee and approve whatever statement is needed: statement emergency, so we can get the money flowing to New York, to our municipalities, to our cities, to our citizens, to affected businesses, and certainly to homeowners, "Hochul added. "Regarding homeowners who have experienced flooding in their own basements. I have directed the Department of Financial Services to immediately contact their insurance providers, to get people on the ground to show up in these neighborhoods, get their claims adjusters, allow them to start applying for them to reimburse them for the damages ".
Mayor Bill de Blasio also lamented the pain caused by the downpours in New York, and joined the voice of Governor Hochul in giving her word that affected New Yorkers will not be left without help.
"We saw a terrible storm last night, unlike anything we've ever seen before. And this is a reality that we have to face. And sadly, the price some New Yorkers paid was horrible and tragic (…) Families in mourning right now. We need to be there for them and for all New Yorkers who are dealing with the results of this horrible storm right now, "De Blasio said.
The Mayor of the Big Apple was confident that Washington will send large resources as soon as possible to be able to act in all sectors that were affected by the storm, but at the same time he insisted that it is urgent to analyze in depth ways to avoid similar tragedies .
"Our owners need the help. Our business owners need it. People are going through hell right now. They need help (…) We are really all in this together, "said the mayor. "Storms affect us all. But what we have to acknowledge is the suddenness, the brutality of the storms now, it's different. A record set two weeks ago, another record set now, rains like we've never seen before. This is the biggest wake-up call we could get. We will have to do many things differently and quickly ".
The local president stressed that despite the pain caused by the victims left by the storm, thanks to the actions of relief and aid services, it was possible to prevent the figure from being much higher, since, as revealed, agencies such as FDNY, EMS, NYPD and Environmental Protection, rescued hundreds of affected people.
"Many lives were saved thanks to the quick and courageous response of our first responders. People helped from a subway safely. People helped out of a car in the flooded area. This happened literally hundreds of times last night. And God bless our first responders who were there. "
New York Senator Charles Schumer offered his condolences to the families of the victims who left the fierce floods and took the opportunity to reaffirm that help will be on the way.
"Imagine the horror of sitting in your own basement apartment, and the water suddenly floods you without warning and you struggle to get out, but you can't. It is a frightening, frightening situation… Unfortunately, in New York we have experienced too many emergencies in the last decade, and the only thing we have learned through these emergencies is how strong New Yorkers are, "said the head of the US Senate. "We will do everything we can to get all the necessary federal aid."
The Democratic senator warned that he had contacted FEMA administrator Deanne Criswell, who was commissioner of the city's OEM emergency agency, early on to take immediate steps to address the damage.
"We are going to have New York declared a disaster area, we have also spoken with the White House. And that will mean money, money for homeowners and individuals, money for small businesses that may have been lost, and money for our city, state and other local governments for the amount of money they have had to pay to deal with this crisis, "said Schumer. . "And I will make sure, as I have in the past, that there is no stone left unturned and of all the federal generosity. In the federal government, we know that when a disaster hits an area, the whole country comes together and helps, and that is what we are going to ask for here for New York.
The President of Queens, Donovan Richards, appreciated the announcements of aid from both the Government and the Mayor's Office and the federal Government promised for his county, and assured that investments previously made in infrastructure works in various parts of the city, prevented the Thursday night's nightmare at dawn would have been much worse.
"All 2.4 million Queens residents deeply mourn the lives of those who were lost in the early hours of the morning due to this catastrophic storm. But I'm happy to say that Rosedale and The Rockaways, because of the city's investment, I want to thank the mayor for his $ 2 billion investment, to say that in South Queens we definitely saw a lot, this time a different story, a product of that. investment, "said Richards, who urged authorities to reach more into their pockets in prevention work and work on the effects of the climate.
"We know that it is still not enough and that is why we are here today. We need Washington DC to move with a level of urgency. We have been here before in Hurricane Sandy. We are still awaiting the Rockaway Reformulation Plan. We have a Howard Beach plan, "the politician warned. "There are many parts of this county that have historically been flooded and are only going to get worse. If we do not address climate change, we will continue to lose lives not only in this municipality, but throughout this country ".
The President of Queens also asked New Yorkers who suffered material losses in their homes and businesses to document everything very well, in order to make their claims.
"I have talked to some homeowners here, I have filed a claim with the Comptroller and also with their insurance companies. I know many residents struggle with flood insurance, but here are some key things to do, "said the former councilman. "There is much work to be done. We are not out of the woods. Queens needs to see a lot more investment in infrastructure. We can't wait till tomorrow. We need it today. These lives could have been saved if we had had an investment that we only needed a long time ago.
Facts about the tragedy left by the storm
12 deaths have been confirmed so far in New York City
Most of them drowned in basements
14 months old had the youngest victim
86 years old was the oldest victim
1 Hispanic from Brooklyn died from downpours
Some of the victims were identified as:
Roberto Bravo, 66
Lobsang Lama, 14 months
Ang Lama, 50
Mingma Sherpa
Phamatee Ramskriet, 43
Khrishah Ramskriet, 22
Darlene Hsu, 48
Yue Lian Chen, de 86 años

eldiariony.com
Eddie is an Australian news reporter with over 9 years in the industry and has published on Forbes and tech crunch.