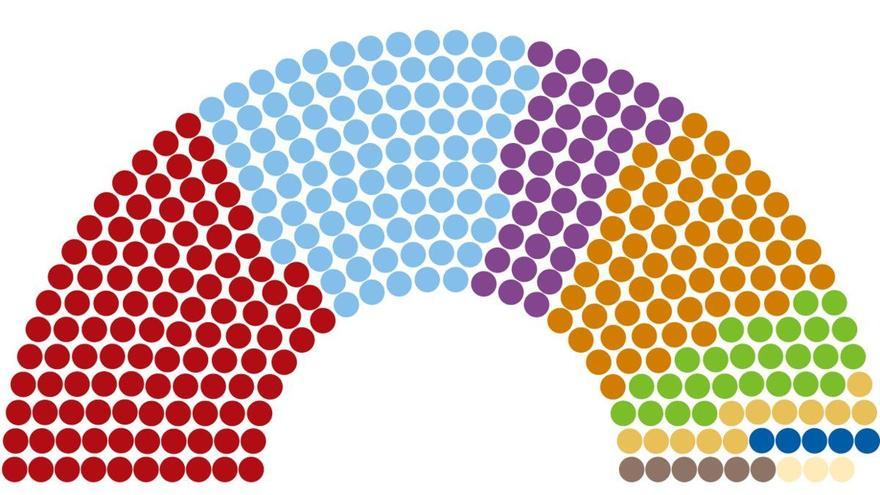 With the covid somewhat more tamed, the current political course has started with turbulence both left and right. The members of the Executive have just gone through their biggest crisis in the legislature on account of the labor reform. And in the PP the waters go down very turbulent in Madrid, with Pablo Casado waging a war without quarter with Isabel Diaz Ayuso to try to stop him from forging an internal counterweight to his power.
In the midst of so many seismic movements, the average of the polls published this year outline a favorable electoral map for the right-wing, but for the moment Casado has not managed to distance himself clearly from Pedro Sanchez. The popular ones take only one point from the socialists, a distance that, however, translated into representation in Congress, supposes a score of advantageous seats for the PP. Socialist attrition could cost up to 17 deputies, while popular growth could reach 32 parliamentarians.
When this year 2021 began, Sánchez was six points above Casado, which shows the strong erosion that the government coalition has suffered. It was in June, just after pardons of the 'process', when the PP turned the tables and got ahead of the PSOE, reaching a two-point advantage. But the board turned around again as of September, as a consequence of the changes in government and the growing internal stress in PP.
The calculations made by EL PERIÓDICO based on a formula used by Ivan Serrano, researcher at the IN3 (Internet Interdisciplinary Institute) of the UOC, correspond to the Weighted average of the main polls published. The weighting is carried out, as in other formulas of this type, depending on the sample size (the bigger, the higher the value) and the fieldwork date (the more recent, the more significant).
With this average number of seats, the sum of PP and Vox would caress the absolute majority (176), but it should be remembered that the support of the extreme right can neutralize Casado's options to seek other partners, and he would not have enough with Ciudadanos, which is on the verge of being left out of Congress. Now, the PSOE and United We can have it more crude, whose joint wear could leave almost 50 deputies of the absolute majority.
2023 will be an electorally intense year, and 2022 will have at least one advance party: the elections in Andalusia. There is no shortage of rumors of electoral advancement, even that the Andalusian president agrees with his Valencian counterpart, in this case socialist, to synchronize the calls. But for now, they all contain the possible temptations. If the calendar is not altered, the event in Andalusia would open a dizzying electoral cycle, with municipal, regional and general in 2023.

www.informacion.es
Eddie is an Australian news reporter with over 9 years in the industry and has published on Forbes and tech crunch.