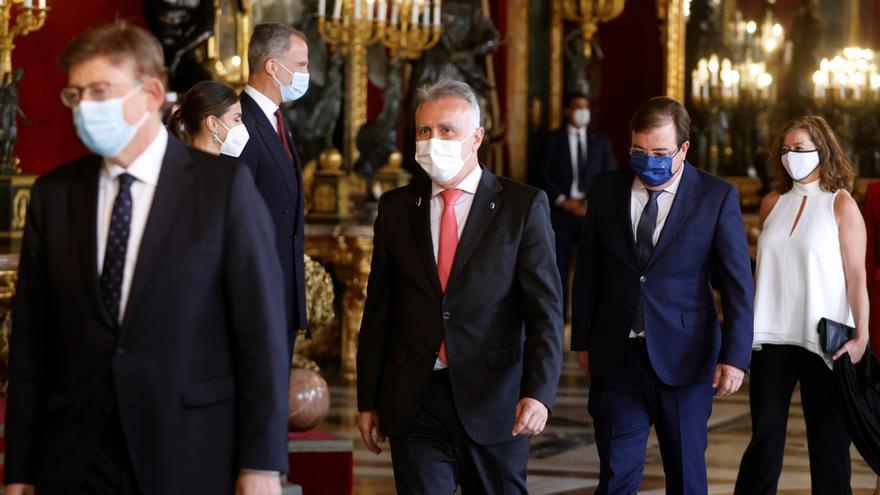 The head of the Consell has assured that it is not a new question of now, but that this debate has been raised for years, and has said that he does not understand the "intolerant" attitude of some people, who do not even accept that it can be opened or name this debate. In this sense, the president of the Community of Madrid, Isabel Diaz Ayuso, has branded as "house" decentralization and predicts that "it will not be carried out", and has warned that the Madrid Executive "will give a response to each attack received" by autonomy. Puig, however, has stressed that all the regional presidents of Spain "in general terms" agree on this debate, "which has been spoken informally" and in that sense has insisted that "it is not about generating a confrontation with a community – in reference to Madrid – but to add ".
In this way, the President of the Generalitat has defended that there are "many possibilities" to carry it out since with "teleworking it would not be about large transfers of officials" or turning this debate into "a market" to see which headquarters is going to each site, but to address it in a "reasonable" way such as locating the Constitutional Court in Cádiz or Puertos del Estado in Valencia as it is the first port in the Mediterranean. However, he stressed that it is not about facing this debate in a partisan way, asking if it will be treated in the PSOE Convention this weekend, "but about uniting Spain from diversity and capitalizing on the territory."
Puig has found support for his idea of ​​decentralizing state institutions in Four of the six groups from Las Cortes, although Compromís, Ciudadanos and Unides Podem have put nuances to the idea: the Valencian coalition advocates "decentralizing powers, more than buildings"; the liberal formation values ​​the idea but asks to carry it out "in a reasonable way" and the left confluence shares the principle but asks to "go further" and address a change in the state model.
This is how the parliamentary spokespersons of the three formations -Fran Ferri, Ruth Merino and Pilar Lima- have spoken after the Board of Trustees this Wednesday, in which the socialist spokesman, Manolo Mata, has also supported the idea, who considers that this proposal closer to a "federal" state. Meanwhile, PP and Vox have criticized the proposal: the popular trustee, María José Catalá, has described the idea as a "smokescreen" to avoid talking about financing, while the deputy spokesperson for Vox, José María Llanos, has wondered if Puig would complain if Barcelona were the city that hosted these institutions and not Madrid.
Puig has found support for his proposal in his own parliamentary group, from which Manolo Mata He recalled that this debate has been taking place since 1978 and has pointed out that there have been proposals such as moving the Senate to Barcelona or the Constitutional Court to Andalusia. Mata has influenced Puig's idea that "it does not make sense that the Oceanographic Institute is in Madrid", and has pointed out that the autonomous communities "are state", so the fact that there are "general administration centers in regional headquarters is good news ".
The Commitment Trustee, Fran Ferri, he agrees with Mata in pointing out that the autonomous communities are also a state, which is why, in his opinion, "they should be treated as such." "More than sending us buildings that work for the state, we want to exercise those powers," he said. Thus, he has pointed to competition in Ports, which is currently being decided from a city that has no sea, such as Madrid, for which he has asked that the communities "be able to freely decide what to do with their ports and their seafront."
This question has also been the subject of debate by the PP trustee, Maria Jose Catalá, who has considered that it would be "fantastic" if Puertos del Estado were in Valencia so that the Minister of Climate Emergency, Mireia Mollà, "had a direct dialogue as soon as she got out of the official car about her personal story of sinking the northern expansion of the port of Valencia ". However, he has stressed that "there is no proposal on the table" regarding decentralization and has rejected "political fiction." Asked about the specific case of Puertos del Estado, which Puig asked to transfer to Valencia by letter to the Government, she has been asked if there has been a response from the central executive. Catalá has wondered under what conditions this transfer would take place and if it is a proposal to "get out of the way" in the Federal Congress organized by the PSOE this weekend in Valencia. "If you are serious, great," he added.
On behalf of United We Can, Pillar Five has defended that they share the decentralization proposal, but have asked "to go beyond" the change of headquarters of organizations, and has asked "to talk about something else", such as fiscal policy, or the change of the state model, and also about the monarchy. Lima has remarked that there are recent polls that show that the population would be in favor of the establishment of a republic and has asked "to overcome the exhausted model of autonomies."
Meanwhile, the trustee of Citizens, Ruth Merino, has agreed on the idea that "it does not have to be all concentrated in the capital", but has asked that "if decentralization is carried out, it must be done in a reasonable way, following criteria of effectiveness and efficiency and not at all as tool to confront some autonomies with others ". "The decentralization of public institutions is a good idea, but in no case can it be a bargaining chip between territories for the privileges of nationalists and populists, as we are unfortunately used to in this country." Likewise, Merino "is struck by the fact that Puig claims something that he himself does not apply in the Valencian Community, where half of the institutions are located in Valencia." For this reason, the Cs spokesperson has urged the president to "be more coherent" and to "dedicate less to separate and more to work for what is necessary, such as a fair regional financing system."
Catalá (PP) has spoken along the same lines, which has pointed out that the Ministry of Tourism has not been created in Alicante that was promised and that 80% of the officials of the Ministry of Innovation, based in Alicante, work from Valencia.
The socialist spokesman, Manolo Mata, has asserted in this regard that this is the "government that has more decentralized" the autonomous administration and has ensured that they have tried to "have institutions throughout the Valencian Community", such as the Ministry of Innovation and the AVI in Alicante and the Antidepopulation Agency in Castellón.
Regarding the decentralization proposal, Catalá has considered that Puig has launched a "smokescreen" because "he does not want this week to talk about the change in the financing model." "He invents sterile debates about the location of ministerial headquarters so as not to have to stand up to his boss on Saturday and demand that they change the financing model now," he added. "The Valencian Community will lose 2,000 million euros next year due to Sánchez's unwillingness to change the financing model. And this is what Puig wants to hide. We will have 2,000 million less for health, education and social policies", the leader has denounced.
From Vox, Jose Maria Llanos he has criticized that Puig is asking to decentralize the headquarters that are in the Spanish capital, precisely "to copy Vox badly or with the desire to attack Madrid." And he has said that "if Barcelona were the city where all the institutions were, he would not see any problem". José María Llanos has assured that "it is possible that Ximo Puig is trying to copy Vox, but he does it badly" since, "when Vox proposes an administrative decentralization, what it proposes is a decentralization of the organizations that can help the infrastructure of each province ". In his opinion, "it does not make sense is a decentralization of the basic institutions of the State so that a Valencian has to go to Finisterre to carry out an administrative procedure and another procedure has to be carried out in Cádiz".
The president of the PPCV, Carlos Mazon, has accused Ximo Puig of "inventing false debates to cover up the problems of the Valencian Community" and believes that he is trying "to divert attention from the problems that he is unable to solve." "The Consell, after seven years of tripartite, is hiding and is unable to manage anything," Mazón said in a statement, after yesterday's statements by Puig, who defended that the decentralization of State institutions and public companies "would help to the cohesion of Spain "in the face of pro-independence and centralists and that would reduce the" capital effect, so harmful to Spain. " Mazón has ironized that "even Puig believes that everyone is waiting for the Constitutional Court to move its headquarters to Cádiz or things like that" and has recommended "to talk less about offices and more about companies and investments, youth employment, lack of water, or claim infrastructures such as the Mediterranean Corridor. It should focus its efforts on what really matters to citizens, "he demanded.
For his part, the head of the Consell has replied to the president of the PPCV that "I do what is important for the Valencian Community, we do not invent problems, the leaders are here to defend the interests of the Community and for the Community it would be good to have headquarters ", said Puig, who added:" I defend the Community, others can defend other communities. "

www.informacion.es
Eddie is an Australian news reporter with over 9 years in the industry and has published on Forbes and tech crunch.