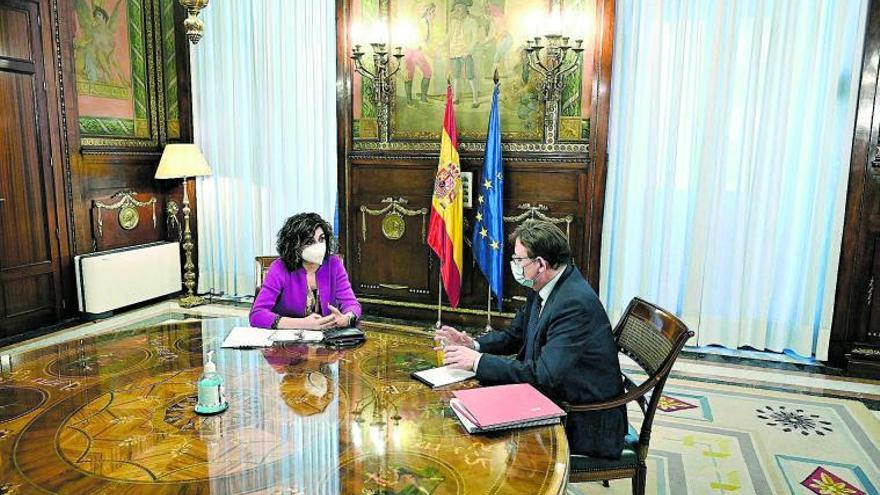 The focus of the meeting was the 650 million in direct government aid to Valencian companies, but spend an hour and twenty minutes with the Minister of Finance and not addressing the reform of regional financing, the central issue on the Valencian agenda, would have been difficult to justify. This was the first issue that the President of the Generalitat commented upon leaving his meeting yesterday with María Jesús Montero.
Puig was forceful in his claim: "System reform is critical to economic recovery." "You can't keep blocking it," he added. And he appealed to the need for an agreement with a vision of the future beyond the conjunctures and electoral processes. He affirmed that it is necessary to seek a consensus on financing that "guarantees sufficiency and equitable distribution among the communities."
The claim of the Valencian Government is known. Also the difficulty of obtaining from the Executive of Spain, whatever color it may be, important advances on this complex issue, which requires a territorial agreement and another parliamentary agreement. And so it happened yesterday too. Montero "has promised to speed up the reform in the coming months," the Generalitat said in its statement. Without further details. No more specific deadlines.
Both the minister and the Prime Minister, Pedro Sánchez, announced last year the idea of ​​having a "skeleton" of the new system before the end of last year. But the pandemic arrived and Montero has already said that this crisis would delay the plans. In that scheme it continues.
While the reform remains stranded, the Government does support the worst-financed autonomies so that they receive resources, but these are still a "funny" contribution, without any security for the future.
The minister could not say much about the new regional financing model, but she could say about the palliative measures of under-financing that already worked in 2020. The new covid fund will be an extraordinary 13,400 million euros for the communities in 2021 (last year were 16,000 million) and Montero transferred to Puig that the ministry intends to activate him "immediately." It is a transitory formula, but it has been key for the liquidity to flow in the Generalitat's treasury during the health crisis.
On the plan of 650 million of the central Government in direct aid for companies and the possibility of accessing another 400 in lines of financial support, Puig asked the minister that the transfer of funds be as fast as possible to expedite the payment to the mercantile. The president said that they have set a period of one month to sign the agreement and thus be able to summon the aid and distribute the funds. The communities will have a certain capacity to adapt the aid according to the needs of their sectors.

www.informacion.es
Eddie is an Australian news reporter with over 9 years in the industry and has published on Forbes and tech crunch.