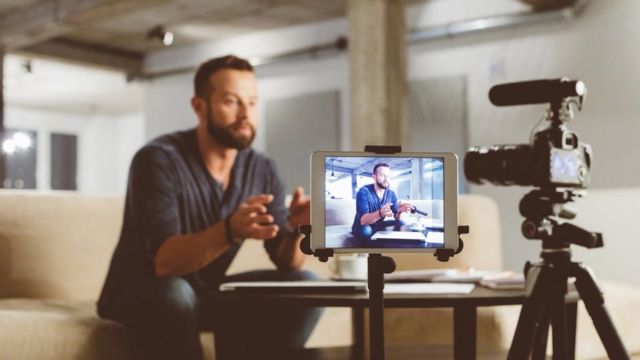 The "pump-and-dump", which in Spanish would be something like "inflar y botar" or "inflar y unchando", is a simple and very little honest strategy that some "influencers" use to earn money in the stock market.
The mechanism is not complex: I tell you that the price of a share that I bought cheaply is going to rise (pump); I convince you that it is a good idea to invest and that inflates the price; and I sell all my shares (dump).
YouTube, TikTok, Instagram, Reddit, Twitter, Telegram, Facebook … any platform works for those who want to convince you to buy shares in companies with a dubious future.
He who does it, on his own initiative but sometimes even paid by a company, always chooses companies cwith a relatively small market capitalization and cwhose shares are worth almost nothing (known in trading lingo as penny stocks): so there are more unwary who put their money and the rise in the price is more dramatic.
Those who buy these shares whose value was manipulated, obviously, risk losing a lot: and they end up colliding with the reality that, when the "influencer" has already sold and the price begins to fall, there are no investors to endorse Titles at such inflated prices.
And with the proliferation of apps so that anyone can invest in the stock market without paying commissions and of financial "gurus" on social networks, it is increasingly easy to start the pump-and-dump.
"It is very difficult to show that there was a concerted effort with the intention of deceiving"Eric Chaffee, professor of Law at the University of Toledo, in Ohio, United States, who specializes in the regulation of securities markets, tells BBC Mundo.
"Social media is a major concern," says Chaffee. Especially because "internet facilitates anonymity ".
Practices like pump-and dump they cause confidence in the stock market to be lost and eventually "could lead to a collapse of the markets."
"It is a megatrend"
Social media is full of amateurs telling you where to invest your money. But giving financial advice is subject to regulations that vary from country to country.
The common thing is that the "expert" must have a certification to advise the purchase or sale of securities. And in the United States, if you make a recommendation, you must clarify whether you have been paid to give that advice.
That is why many financial gurus on networks always use the warning that their content is not an investment recommendation but "purely entertainment".
And some openly say they seek a pump-and-dump and they call on others to coordinate efforts to artificially inflate a company's stock price.
Something similar to what happened in GameStop, although in that case those who "pumped" the price of that company through the social network Reddit openly sought to trap the large funds that had sold short.
This type of practice they have awakened the fury of those who try to inform about how the financial markets work, without recommending the purchase of certain shares.
"The pump-and-dump among retail investors it's not just a trend … it's frankly a megatrend"warns Andrei Polgar, founder of the YouTube channel One Minute Economics and author of books like" The Age of Anomaly. "
"From influencers like Dave Portnoy to groups on Reddit like Wallstreetbets, a whole culture has been built that promotes dubious investments," he says in a dialogue with BBC Mundo.
Polgar argues that ultra-speculative practices are the symptom of a much larger problem: that since the Great recession Asset owners have gotten richer and ordinary people have not.
Of course, although many do it for personal gain, others speak of finance with honest intentions and simply seek to disclose and educate.
Do you have how to know which is the Yhonest outuber And who is tricking you into buying a stock whose price was pumped? Not really.
Although it is possible to wonder why those who fall for this are novices and not expert investors.
The reason is clear: professionals comply with certain standards of minimum diligence and before buying they study in depth the profile of the company, both its economic fundamentals and the evolution of prices in the charts.
They are not blindly guided by the recommendation of a supposed "trader" who with promises of easy money convinces you that you are facing the great opportunity of your life to get rich.
El cripto "pump-and-dump"
The world of cryptocurrencies has become a paradise for price "bombers" through social networks that incite the unwary to invest their money.
This is indicated by an academic investigation, published in November last year, which detected 355 cases of "pump-and-dump" in a period of just seven months, generating millionaire profits for its organizers.
"Cryptocurrency markets are riddled with manipulations pump-and-dump", comments one of the study authors, Anirudh Dhawan, a researcher at the University of Technology in Sydney, Australia, in dialogue with BBC Mundo.
"All the 'pump-and-dump' cases we studied were organized through chat groups on the social network Telegram", Explain.
And he adds that, unlike what happens in the stock markets, the manipulation strategy with cryptocurrencies openly declares its intention to increase the price of a currency.
Along the way, they discovered how overconfidence and an inclination to make bets can explain people's involvement in these kinds of schemes.
They detected price distortions by an average of 65%, abnormal trading volumes in millions of dollars, and large transfers of funds between participants.
And these manipulation schemes are likely to persist, says the economist, as long as regulators continue "turning a blind eye".
Remember that you can receive notifications from BBC News Mundo. Download our app and activate them so you don't miss our best content.

www.bbc.com
Eddie is an Australian news reporter with over 9 years in the industry and has published on Forbes and tech crunch.