Guillermo D. Olmo @BBCgolmo
BBC Mundo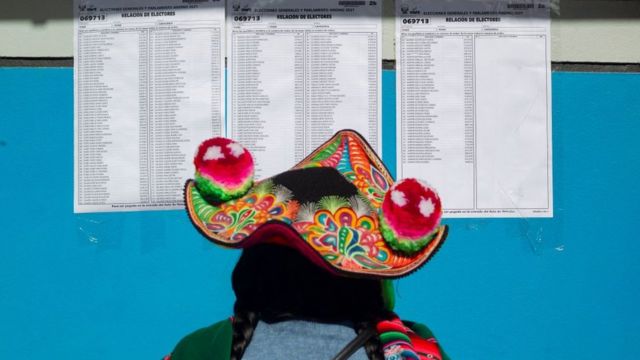 A new element of discord has recently added to the tense Peruvian political climate.
When Prime Minister Guido Bellido addressed congressmen in the Quechua and Aymara languages ​​in the August 26 session in which he asked for their confidence in his new government, he provoked shouts of protest and reproaches from the opposition bench.
The president of the Chamber, María del Carmen Alva, asked him to reduce his intervention in the native languages ​​and use Spanish. "It was agreed with the table that you were going to translate it," he said, adding: "The rest of us don't understand you."
Bellido finally completed his message in Spanish, but not before recalling that the Peruvian Constitution recognizes the official status of the country's original languages ​​and that many Peruvians do not understand or speak Spanish.
"When we do not speak Quechua, and our brothers do not speak Spanish and only speak Quechua, we are practically leaving them aside."
The episode caused great controversy in the Peruvian media and on social networks, between those who believed that Bellido should be able to express himself in Quechua and those who thought he should do so in Spanish. Why?
What is the situation of Quechua in Peru
Shared with six other Latin American countries, Quechua is the most widely spoken native language in Peru, followed by Aymara.
According to the 2017 census figures, about four and a half million Peruvians have an original language as their mother tongue and 13.6% of the population has Quechua as their first language.
In reality, as Hugo Coya, former president of the Peruvian Radio and Television Institute, which promoted the first news programs in Quechua, indicates, the number of Quechua speakers could be higher.
"The figures are debatable due to a problem of racism and classism. Quechua and native languages ​​have traditionally been identified with people with less culture or illiteracy, so many do not recognize that they speak an original language when asked" Coya told BBC Mundo.
Carlos Molina Vital, linguist and Quechua instructor at the Center for Latin American and Caribbean Studies at the University of Illinois, in the United States, told BBC Mundo that "there is still part of the population that only uses Quechua and not it is handled with comfort with the Castilian ".
Quechua is official in Peru since 1975, when the leftist military government of Juan Velasco Alvarado recognized him as an official.
The 1993 Peruvian Constitution affirms that Quechua, Aymara and "the other aboriginal languages" are official "where they predominate", and in 2011 a specific law was enacted for the preservation and development of native languages, which guarantees on paper the right of their speakers to communicate with the State in their mother tongue.
This implies that public entities have interpreters to serve this population.
Gustavo Zambrano, former director general of the Rights of the Indigenous People of Peru, affirms that this "poses serious technical and operational difficulties throughout the country, and that is why the Ministry of Culture has been promoting a registry of translators and interpreters to which any person can resort. public entity that requires it ".
But the majority of public bodies that only use Spanish are still, as was clear in Congress, where Bellido's words could not be translated.
The writer and journalist Santiago Roncagliolo told BBC Mundo that "the reality is that the economy, politics, justice … everything works in Spanish. If you want the state to listen to you, you have to speak Spanish."
Quechua and other native languages ​​were traditionally associated with the indigenous and peasants, the most disadvantaged sectors of the population, while Spanish was seen as the language of the whites, mestizos and the more affluent circles of Lima and the coast.
So much so that many of the speakers of Quechua and other native languages ​​had the main objective of learning Spanish and began to study it if they ever achieved a status that allowed it, which caused a sustained decrease in the number of Quechua speakers, especially from the second half of the 20th century, when there was a massive emigration from the countryside to the big cities.
In recent years, interest in Quechua has recovered, many times on the part of young people who study it to learn the language of their parents and grandparents, and reaffirm your roots.
How Quechua jumped into politics
Molina Vital believes that "by speaking in Quechua, Bellido showed an open fracture in Peruvian society for centuries."
Quechua has taken on an unexpected role since Pedro Castillo became president (took office on July 28).
One of his main promises was to serve rural Peru in the face of what it considers to be historical marginalization for the benefit of cities and the main native language has become one of its flags.
For Hugo Coya, "the government is using Quechua as a political instrument."
"Prime Minister Bellido knows perfectly that by expressing himself in Quechua he is sending to the marginalized and displaced the message that those who always had power no longer have it," he adds.
Polls show a decline in popularity for President Castillo, gripped by his weakness in Congress, where he does not have a sufficient majority, and tensions within his own party, Peru Libre.
Therefore, according to analysts, the vindication of pre-Columbian languages ​​and other symbols of the Peruvian indigenous heritage are emerging as a favorable political asset for the president.
The writer Roncagliolo predicts that in the near future "symbolic and cultural wars will occupy more attention", because "the Castillo government knows that this is important for its voters and it will not stop raising it."
Now you can receive notifications from BBC News Mundo. Download the new version of our app and activate them so you don't miss out on our best content.

www.bbc.com
Eddie is an Australian news reporter with over 9 years in the industry and has published on Forbes and tech crunch.