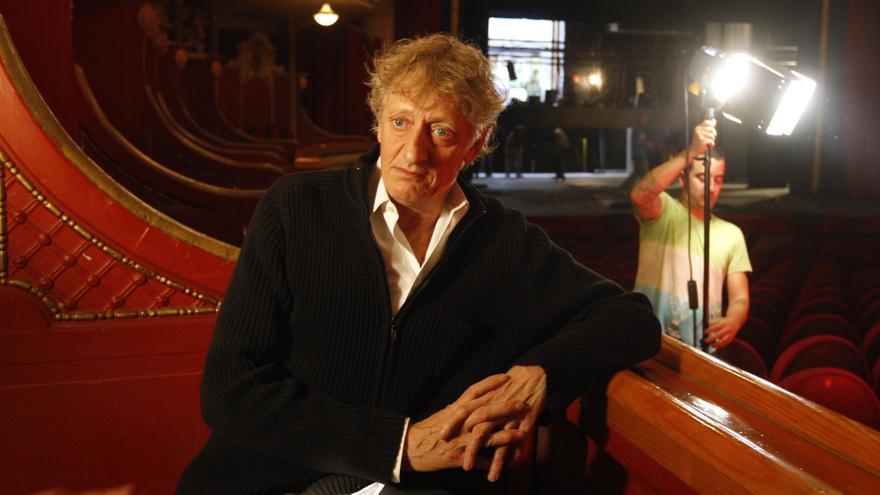 Actor of singular physique, Hispanic Mel Brooks, fifty-five feature films, forty plays and twenty television series behind him, in addition to a 'docureallity' that bears his name, Quique San Francisco he was a good guy, according to his friends, and a difficult man to define in words.
If anything, repeat your own: "They call me a drug addict, a party animal and a womanizer. And everything is true", said the comedian with the frog eyes, to introduce himself to a new and young audience, that of Flooxer, Atresmedia's online channel, which dedicated a series to him in which the actor himself recounted his bizarre life, 'Follow San Francisco'.
In the presentation of the series, Enrique, unable to understand why someone would want to tell his life, and even less, why someone would want to know it, impassively accepted the questions of the press, poker face, beer in hand.
Friends such as Antonio Resines, Jorge Sanz, Los Morancos, Hombres G or Pablo Motos collaborated in this welcome of the less attractive musician of the 'Orquesta Club Virginia' to the world of screens and social networks.
Quique San Francisco's life has been anything but calm and discreet; He squeezed every minute to the fullest and expressed his opinions without ever cutting himself off and without taking into account what they will say, either because of his constant comings and goings on drugs orr his also stubborn economic ruin, marked without a doubt by its excesses.
He went through jail several times, he was a legionary, he was very battered due to a motorcycle accident and lately he was releasing big guns, wherever they wanted to listen to him, against the Government, the managers of the pandemic and the creators of a vaccine against Covid that he would not wear.
And said that he liked a lot of the Vox stuff, causing not only a stir, but the animosity of many colleagues. Although San Francisco never liked everyone; he knew it, and he didn't care.
He was born on March 10, 1955 in Madrid, the son of actor parents, Enriqueta Cobo (Queta Ariel) and Vicente Haro, although his mother was single and did not meet his father until he was 17 years old, which took him long to decide to go to Madrid. to look for it.
He lived his childhood in Barcelona with his mother and, after having advertised, with only six years he made his film debut.
He arrived at the theater in 1963, in the play 'A Midsummer Night's Dream', and his first television appearance was two years later as the protagonist in the TVE series 'Santi, hotel buttons', at the Miramar studios in Barcelona.
At 17 he participated in 'Crónicas de un pueblo' (1972) and also went through 'Curro Jiménez' (1978), 'Proceso a Mariana Pineda' (1984), 'The Cristal ball', from 85 to 88,'Thieves go to the office', from 93 to 97, and in 2001 he joined the cast of'Tell me how it happened', to become Tinín serving the bar of a neighborhood bar.
Everything was going reasonably well, personally, professionally and financially when San Francisco, a great lover of motorcycles, suffered a terrible accident on October 24, 2002 when he was attacked by a tourist that left him lying in the heart of Madrid.
With a fractured tibia and fibula, he needed eight operations to eventually be in a wheelchair for a year and a half, which prevented him from continuing in the series.
San Francisco has always been one of the most easily recognizable faces in Spanish comedy, not only on TV, but also in theater – 'The eighties are ours' (1996); 'Saturday night' (1991) or 'We said yesterday' (1997) – or in the cinema, where he achieved two Goya nominations: for 'El baile del pato' (1989) and for 'Orquesta Club Virginia' (1992) .
Framed within the known as'cine quinqui', left his mark on the genre after taking part in some of Eloy de la Iglesia's films:'Colleagues' (1982), 'Navajeros'(1980) and'Peak' (1983).
His worst years were marked by heroin and cocaine, which undermined his health, his image and his personal relationships and alienated even the people who loved him the most, such as his long-time girlfriend Rosario Flores.
His life was full of anecdotes: his days in the barracks are famous for having punched a monkey who disputed the sandwich in Thailand.
All this he told Bertín Osborne in the program 'My house is yours'. His last appearances on TV were in the series 'Gym Tony' (2016), and in his unforgettable collaborations in the Campofrío commercials.
Currently lived in a hotel room on the outskirts of Madrid, given that he had to leave his home due to financial problems. On January 23, he should have presented the humor show 'La penultima' in Getxo (Vizcaya), but he suspended days before because he was no longer well.

www.informacion.es
Eddie is an Australian news reporter with over 9 years in the industry and has published on Forbes and tech crunch.