MADRID
Updated:
Save

Two squares, those of Tirso de Molina and Lavapiés, have divided the anti-NATO protesterson a day specially controlled by the National Police. At 8:00 p.m., two protests were called in both enclaves: on the one hand, the Antirepressive Movement and other groups of the extreme left had spent days announcing their appointment in Tirso, after the Government Delegation in Madrid prohibited the initial concentration planned in Atocha street; and on the other, the 'NATO No' platform yesterday disclosed a new scenario just 500 meters from the first to show its rejection of the summit. None of the concentrations had been previously communicated, an essential requirement to be able to occupy public roads.
Since early afternoon, the agents of the Police Intervention Units (UID), with the support of the Prevention and Reaction Units (UPR), the Information Brigade and the patrols of the Central district, have controlled the streets surrounding both points in order to avoid any attempted violence.
And the fact is that no one present was unaware that very close to the place, in the Prado MuseumPedro Sánchez was going to offer a dinner to the leaders of NATO and the European Union.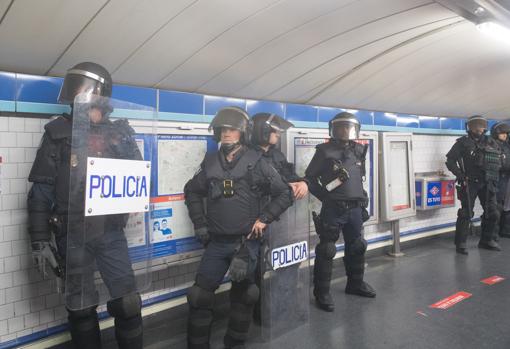 The announcement at the last minute of a new protest in the Lavapiés square has reduced the influx in Tirso, where the radicals have been grouped in a small space in the center of the square and have barely reached fifty. The pocketing on the part of the agents it has not even been necessary and they have stayed a few meters from the mass.
In anticipation of possible altercations, the Antirepressive Movement had spread the name of the lawyers Alejandra Matamoros Alexandrova and Gonzalo de Lara de Blas so that their acolytes could write them on the arm or memorize them, a common technique among extreme leftist radicals to avoid being identified. This time, however, all the slanders poured out on social networks have been reduced to chants against NATO and some of a pro-Russian nature: «Solidarity, with the people of Donbass» or «Zelensky, you fucking Nazi», among others.
The first cries began after 8:00 p.m., when the concentrates, some of them hooded and with their faces covered with masks, they have displayed a banner that read "Criminal NATO, complicit government!" away from the unrest provoked last year in the protest at Puerta del Sol for the imprisonment of rapper Pablo Hasel, the day has remained calm, to the point that an hour later the radicals have folded candles and have withdrawn without noteworthy incidents.
In full rout, the riot police have cut off the path towards Plaça de Antón Martín, leaving the isolated protesters. The strategy has been repeated in other exits from the square with the clear premise that the radicals disperse in small groups and thus prevent them from causing incidents in the vicinity.

www.abc.es
George is Digismak's reported cum editor with 13 years of experience in Journalism