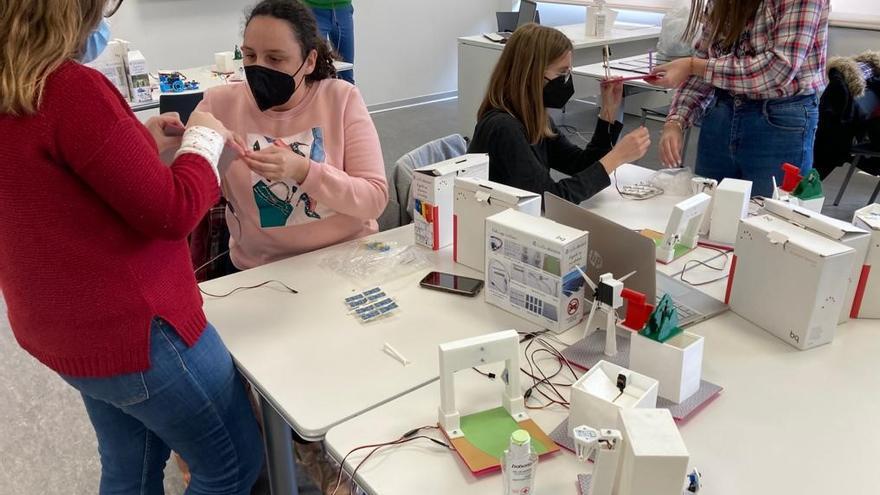 The Sustainability Week organized by the Cardenal Herrera CEU University Between 1 and 5 March it has had the objective of making students reflect on how daily habits affect nature, the environment and their relationship with the Sustainable Development Goals (SDG) of the United Nations. An action that, in the opinion of the participant in these conferences and Head of Communication-Institutional Relations and Sustainability Valencian Community Coca Cola, Fernando Álvarez Alonso, helps to «introduce the sustainability concept as a transversal dimension, both in the degrees and training of students, as well as in that of the teaching staff themselves ».
For this expert, events such as the CEU Sustainability Week They are an example of the "fundamental role of the university in the formation and generation of knowledge", while "providing students with tools so that they can develop critical thinking and be able to develop transformative attitudes."
Depending on the 17 Sustainable Development Goals linked to the 2030 Agenda, CEU managers planned more than 40 activities according to different areas of knowledge. The CEU of Elche dedicated a "chapter" related to goal number 11 of making cities and human settlements inclusive, safe, resilient and sustainable.
Thanks to this, students from Teaching of the CEU of Elche they met the "Sustainable City" project, a didactic initiative designed for students in the 4th, 5th and 6th grades of Primary Education whose objective is to work on curricular content linked to the development of sustainable cities and communities based on robotics and creativity. Ultimately, this project is about introduce sustainable cities in Primary Education with new technologies.
Professor Francisco Ruiz was in charge of giving a workshop where they worked on concepts of sustainable development and they learned to build and program a robotic model of a sustainable city thanks to the use of STEM (Science, Technology, Engineering & Maths) subjects and artistic creativity (A) to promote the learning of scientific content.
Thus, the students of the CEU of Elche saw that the curricular contents that are worked on in the "Sustainable City" project connect directly with several of the objectives of the Agenda 2030 signed by Spain in 2015. As Francisco Ruiz recalled, it addresses the eleventh objective "although it also addresses issues related to several other objectives among those included in the 2030 Agenda."
Robotic model of an efficient city
This initiative to bring sustainable cities to the Primary education is part of CEU's STEAM project, an initiative that combines robotic Y art to study science and that is already being applied in some schools.
From the didactic point of view, "Sustainable cities" It is structured in the form of a cooperative project where the groups investigate the different concepts related to sustainable development and learn to build and program a robotic model of a sustainable city. For work on theoretical concepts they bet on the flipped classroom. In this way, when arriving to class, each member of the group, who has seen a different video at home, takes responsibility for a part of the learning.
The original project of combining STEM skills with creativity It is the result of the thesis of Francisco Ruiz, directed by Nicolás Montes and Alberto Zapatera. A work that has evolved in its five years of existence and has given rise to several research projects that try to improve it and propose new applications.
For this reason, in the workshop, the students of the HEAVEN have also had the opportunity to understand the advantages of integrating STEAM skills of students (science, technology, engineering, art and mathematics) in any didactic project. As stated by María Pascual, Vice Dean of Education and promoter of this workshop, "this is one of the main lines of work in educational innovation in the 21st century."
For Francisco Ruiz, promoter of other related projects, the robotic it is emerging as an interdisciplinary teaching tool. «In addition to facilitating the development of STEAM skills, it manages to awaken students' interest in the Science and Technology», He warns. And, in this sense, robotics boards, to design and program robots as a team that pass tours and tests in them, are one of the methodologies that is best adapted to teaching.
"Sustainability in the company involves new ways of living with society and the environment that surrounds it"
Fernando Álvarez Alonso, Head of Communication Institutional Relations and Sustainability Valencian Community Coca-Cola
Fernando Álvarez, Head ofe Communication, Institutional Relations and Sustainability Valencian Community Coca-Cola, participated with a 1.5-hour presentation in the Sustainability Week of the HEAVEN. Hand in hand with his classmates Santiago Ruiz and Ramón Alonso, he showed the students initiatives to promote the green economy such as "Circular Mares" and "Bottle to Bottle". A master class, according to Ana Isabel Mateos, professor of CEU de Elche Business Management, who accompanied them in the session.
– Its "Advance" program places sustainability as a business strategy. How does it benefit companies from linking their sustainability strategy to the business one?
Sustainability has become one of the essential axes in the business strategy of many companies. For companies, sustainability is presented as an opportunity for change and transition towards a new way of doing business. But, also, towards new ways of living with a society and the environment that surrounds it. In Coca–Cola We believe that a better future is possible for everyone.
We are convinced of the importance of acting in a sustainable and responsible manner throughout our value chain. We are aware of the challenges we are experiencing and of the role that, as benchmarks in the food and beverages sector, we must and want to assume.
Therefore, we are consolidating our commitment to business, people and the planet directly through the SDGs. We prioritize six of them as a guide for our actions: beverages, packaging, society, water, climate and supply chain. Currently, we already have projects and commitments that respond to 14 of the 17 SDGs proposed by the UN.
– Coca Cola has set itself an ambitious but equally necessary challenge: to reduce greenhouse gas (GHG) emissions to zero by 2040. At the same time, they assure that they will try to influence public policies to contribute to a future with low carbon emissions. How do they do it?
Large companies can and must play a decisive role in alleviating climate change and, at the same time, be a loudspeaker for society. At Coca-Cola we face this challenge by adopting measures that help reduce the impact on the environment of our business and help create a better future for all.
For this reason, we participate in various international initiatives, joining statements such as the aforementioned "Recover Better". Also joining forces with other large companies that share our conviction that the growth economic It must be linked to sustainability as the backbone. Likewise, within our commitment to sustainable recovery and the fight against climate change, we signed the letter "Business and investor CEO letter on EU 2030 GHG emissions targets", together with representatives of 150 European companies and investors, members of the Corporate Leaders Gropus (CLG).
The purpose is to promote the European Green Deal and request the European Union to increase the emission reduction target for 2030 to at least 55% and to make Europe a climate-neutral continent by 2050. In this sense, taking SDG 17 is especially important, which aims to strengthen alliances and increase efforts to achieve objectives.
– What do you think SMEs can or should do in matters of sustainability?
All companies must contribute our grain of sand, with objectives and impact appropriate to each circumstance and scope of action. The sustainability it has to be integrated with the business and with the daily strategy of each company, regardless of the size and number of workers.
– What should organizations, companies and institutions do to increase the visibility of sustainability actions, as a way to raise awareness?
Organizations and institutions must show society all the actions they carry out through all their channels (campaigns, social networks, etc.) to show, raise awareness Y involve the population.
– From your experience, how can society, citizens collaborate in sustainability beyond what we know today?
Currently, citizens can collaborate on sustainability in many ways. With individual actions such as recycling, showering instead of bathing, betting on sustainable mobility or promoting energy efficiency habits (computers and equipment turned off at the end of the day, taking advantage of natural daylight, saving paper, etc.). Or participate in the waste management and collection through initiatives promoted by different entities and institutions. There is a social responsibility of each citizen to contribute, as far as possible, to achieve a more sustainable world.
– The VII Report on the Social Impact of Deloitte Companies indicated education, health and social welfare as the main investments in 2019. Do you think that with the current health crisis, it will continue in these areas or will it be diverted to other areas?
Betting on a sustainable future, which generates positive changes in our society, is a key element to face an economic recovery. On the one hand, social, to fight against the inequalities that the crisis can cause.
And, on the other, to make a transition towards a green economy. In this sense, throughout the past year, from Coca-Cola we signed different commitments such as, for example, the "Green Recovery Deal", which aims to support and promote green investment packages post-crisis as accelerators of the transition towards climate neutrality; 'Recover Better', which calls for policies that build resilience in the face of future crises and act responsibly to contribute to the future of communities and ensure sustainability in business, all with the objective of reaching zero emissions by 2050; and "Build Back Better" by the Ellen MacArthur Foundation, which promotes the circular economy, to boost economic growth, restore the environment and benefit society.
How has the pandemic affected Primary Education in the UK?
The CEU Cardenal Herrera Teaching students in Elche already knew, first-hand, how has affected by the pandemic in Primary Education in Spain. During CEU's sustainability week, they were also able to find out what has happened in the United Kingdom through a meeting with Miles Smith and Jayne García, from Plymouth Marjon University.
Knowing the Pope's commitment to the UN Sustainable Development Goals
The students of 2nd grade of Primary Education and 5th grade of Teaching double degree in Elche have known the commitment of Pope Francis with the United Nations Sustainable Development Goals and the common house set out in his Encyclical "Laudato si '". Laura Menéndez, representative of Manos Unidas, showed the Pope's vision on Nature and the Environment.

www.informacion.es
Eddie is an Australian news reporter with over 9 years in the industry and has published on Forbes and tech crunch.