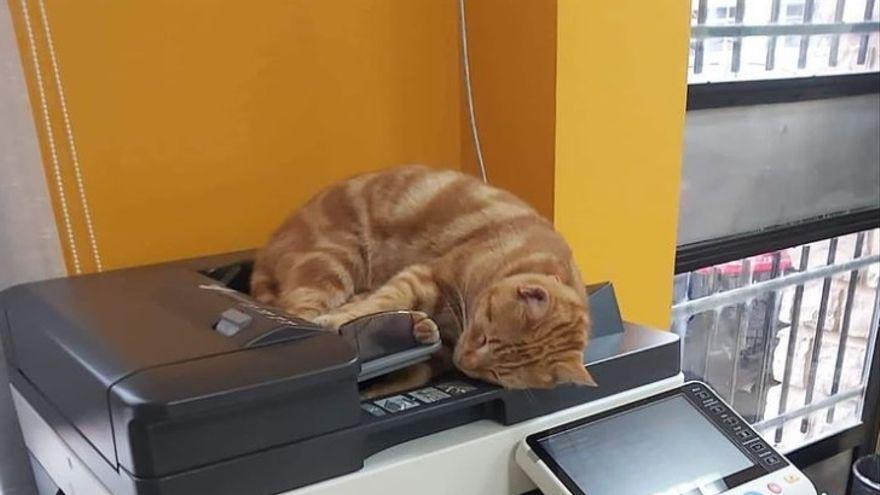 For two months, the Almussafes City Council, in Valencia, has had the daily visit by a member from outside your facilities: a cat owned by a well-known family from the town, called Ramón.
An animal that, stealthily and without disturbing or hindering anyone, enters through the main door of the consistory and as soon as he sunbathes at a window as he takes a nap on one of the photocopiers. A cat that has won the affection of the citizens: "It is an extraordinary one, has gained a lot of fame in the town. People esteem him very much, he is very calm and affectionate, "says Jaime Wic, councilor for Animal Welfare.
Ramón's story is, to say the least, curious. And it is that he grew up in a country house, and his owners decided to bring him to the town house. "He does not know how to be locked up at home, he likes the street, where he is affectionate with all the people, but when he is inside the home he is quite the opposite, very surly, "says Wic.
Also, the cat is already considered as an influencer on the net: "It is a very curious cat, in addition to being pleasant and well cared for by its owners, who know where it is and that nothing bothers us, in the Facebook group in the Almussafes neighborhood, people upload many images of him that soon are filled with likes and comments. It is a peculiar story, "says the councilor. "What's more, not only is he loved, but he is respected. On one occasion, being a car of a Local Police patrol at a traffic light, the cat got on the hood and the agents did not move the vehicle until he decided to get out"Jaime laughs." He has many stories, each one more funny and unique, "he adds.
For Wic, Ramón is the best example of public awareness about the change in the municipal ordinance that his council is studying: "From the Animal Welfare Council, which is new to this legislature, we want to give more visibility to animals and take initiatives in their favor. And we are studying the possibility of a change in the municipal ordinance to authorize the entry of domestic animals, together with their owners, to some municipal offices where they do not cause discomfort, "explains the councilor." For example, a well vaccinated, dewormed dog , with his vaccinations and everything in order, why can't he enter the town hall with his owner if he has to carry out some paperwork? It is something that they are already doing in many local businesses in Almussafes ", he adds.
"There are many animals that show, like Ramón, knowing how to be, so this cat is an excellent example for the most suspicious neighbors to see that an animal can be inside municipal buildings without causing any harm," he concludes.

www.informacion.es
Eddie is an Australian news reporter with over 9 years in the industry and has published on Forbes and tech crunch.