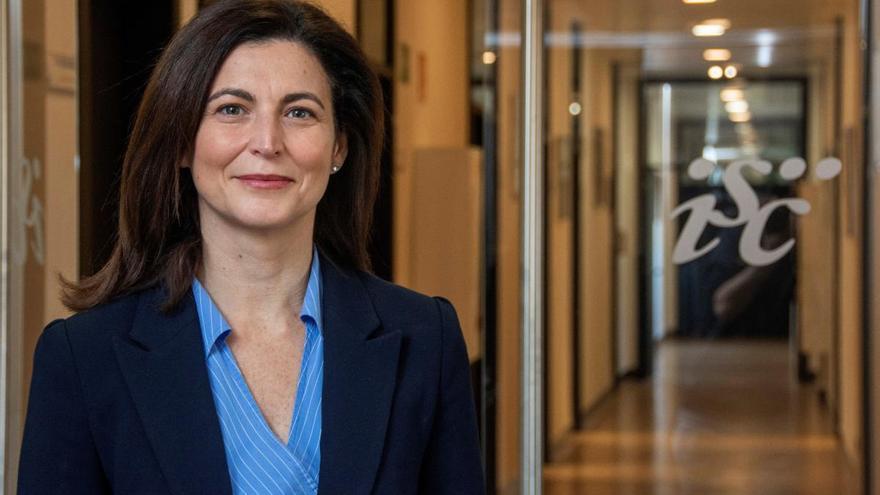 The Director of the Carlos III Health Institute (ISCIII), Raquel Yotti, is concerned that the "noise" generated around the vaccine against covid-19 has been able to instill fear to wear it, so she launches this simple but forceful message: "An unsafe vaccine will not be proposed to anyone".
In an interview with Efe, the cardiologist reviews the evolution of the pandemic in Spain that officially leaves more than 46,000 dead, a figure that is far from Carlos III's estimates of around 68,000; but if they coincide, he warns, "it would be very worrying" because it would denote a methodological error.
"Very possibly the number of deaths is not even that of confirmed cases because there is an underdiagnosis nor, of course, that of excess mortality, because it overestimates it by including deaths from other causes, "he predicts.
The researcher, at the head of the ISCIII since 2018, also talks about Christmas, and although she recognizes the need of many Spaniards, even for mental health, to reconnect with their family during these holidays, she invites us to reduce mobility to the bare minimum: "There are ways to find ourselves minimizing risks."
– When you heard about the first cases in Wuhan a year ago, did you imagine what happened could happen?
– At that time it was difficult to predict. It is true that experts who already knew what had happened with MERS and SARS-COV-1 knew that eventually at some point it could happen and there were reports about it, but I think it was difficult to imagine a pandemic like the one we have experienced.
– With the level of information that there was could have acted differently?
– Frankly, and this is my honest opinion, I think the actions have been taken based on the knowledge that was acquired.
– Why has Spain been one of the worst hit countries?
– There are serious studies in relation to the factors, first of all, Spain is one of the countries with the highest mobility, of receiving travelers, of international connections; second, the way we relate, our capacity for social interaction.
After they have been included factors related to the measures implemented and the time of its implementation based on the data. There is a whole deep analysis to do and it will be the most appropriate moment at the end of the second wave when we can take stock.
– Was the de-escalation the origin of the second wave?
– The de-escalation was very similar throughout Europe, therefore attributing to the speed of the de-escalation in Spain the beginning of the second wave, from my point of view, it is not the most appropriate. In addition, it started here first, but later it reached other countries.
The most plausible thing is that it has more to do with activities carried out during the summer, which are different from those of other European countries where there is different mobility and way of doing tourism.
– Do you think that when all the data have been cleaned up, the death toll will be more like the nearly 70,000 of the MoMo and the INE or the officials of the Ministry of Health, which exceeds 46,000?
– They are different information, the one in the Ministry's registry are confirmed cases and reported by the communities, while the estimate made by the MoMo or the INE are of excess mortality for all causes. It would be very worrying if the figures were identical because it would mean that there is a methodological error between those who died with the infection and excess mortality from all causes.
Therefore, it is not foreseeable that these figures come close because they give different information.
– Will it be possible to know who has died with coronavirus and coronavirus, especially in the first wave?
– What is going to be known are the patients who at the time they were notified had a confirmation of having the infection, but doing retrospective research in many cases can be very difficult because there are no sources of information.
Spain has made a great effort to have consolidated mortality dataThe communities have done it, they are the ones who have searched case by case and I do not believe that the mortality data of confirmed cases will be subject to many changes.
– A recent ISCIII article published in the British Medical Journal points to a fatality rate of between 0.8% and 1.1%. She's very tall?
– It is related to another question: what is the number of deaths? The ones from MoMo? The notified? Very possibly the number of deaths is neither that of confirmed cases because there is an underdiagnosis nor, of course, that of excess mortality because it overestimates it by including deaths from other causes.
The fatality range is dramatically different by age, since in the elderly it reaches values ​​of even 14 and 15%. The percentage is much higher than the flu, ten times more.
– Are the first results of the fourth wave of the seroprevalence study known?
– Next week I think we can give preliminary data. The entire data dump has been made, there are thousands of records that must be purified and combined with the previous information that we had.
– Are you afraid that Christmas could be the origin of a third wave? Was it necessary to allow mobility to see family members?
– The biology of the virus will be the same at Christmas, the epidemiology of the infection and its transmission routes also. It must be borne in mind that throughout this year there have been many families who have lost relatives, and especially the most vulnerable have been subjected to situations of isolation and loneliness, and being reunited with their loved ones is a necessity.
– How can we reconcile this virus with the need, even for health and mental health, that many families have to meet again?
– Maybe we have to be creative, it should not be a Christmas like others but there are ways to find ourselves trying to minimize the risks.
My personal recommendation is that mobility be reduced to the bare minimum; The indispensable word must be reflected upon within the framework of the authorities' recommendations and within the framework of each family.
– Has the health crisis been politicized?
. I think so, unfortunately in certain situations and moments … I don't think it is a reflection of what has happened: for many months and for making very important decisions there was a greater consensus than what has been visualized. Aspects of discord have been widely publicized and joint work has been made invisible of all the communities that had never happened before.
– What impact is the flu having?
– The surveillance system was disrupted by covid, so that se is rearranging right now to get the data.
The forecast, and what is being seen for example with the syncytial virus in children, is that it seems that there is a decrease in the incidence of other respiratory viruses, something that was already expected. The factors of protective measures and increased vaccination are likely to reduce the epidemic wave of influenza.
– More than half of Spaniards do not want to be vaccinated immediately against covid …
– A vaccine that is not safe will not be proposed to anyone. We have long-standing international and national organizations whose reason for being is to ensure the safety of citizens.
In addition to a lot of information, There has been a lot of noise that reaches the homes of many people, also the most vulnerable, and this worries me because it is possible that we will soon have a vaccine whose preliminary efficacy data are very high and that, after passing all the corresponding regulatory filters, can be offered to these people, and due to lack of information or due to a fear created in relation to safety do not want to put it on.
It's a very simple message: vaccines are safe. You have to trust the professionals who work in regulatory agencies, who are independent from governments and other pressures.
– Should people be vaccinated with antibodies? Will it be decided based on the seroprevalence study?
– It's something that is being worked on. The study will provide information, yes, but along with it we must analyze the information that is being generated in relation to the immunity produced by vaccines and their duration. At this moment a body of knowledge is accumulating that must be integrated to decide whether to vaccinate these people.
– If the efficacy of those of Pfizer, Moderna is confirmed … Should Spain continue to investigate its vaccines?
– You must continue investigating not only for the final product, but because we have the experience that you can only investigate more when you have investigated before.
The work carried out in Spanish laboratories to generate vaccines, even if the clinical phases do not finish, has produced a wealth in itself. But in no case, even in the hypothetical that the clinical phases of all the Spanish vaccines were not completed, would it be considered a lost investment, never.
– Will there be a Spanish brand vaccine?
– I do not know. There are some of them that have a chance, to be sure, but they still have possibly a year ahead of doing rigorous clinical trials. They have our confidence.
– Will 2021 be the year in which hugs without masks return?
– I think so. The first semester is going to be about maintaining caution. Hopefully, and it is a wish because forecasts are very difficultWith the data we have, with the vaccines, at the end of the year we can return to social dynamics like those that Spanish society like, of human contact that we now miss so much, and to be able to do this interview in my office.

www.informacion.es
Digsmak is a news publisher with over 12 years of reporting experiance; and have published in many industry leading publications and news sites.