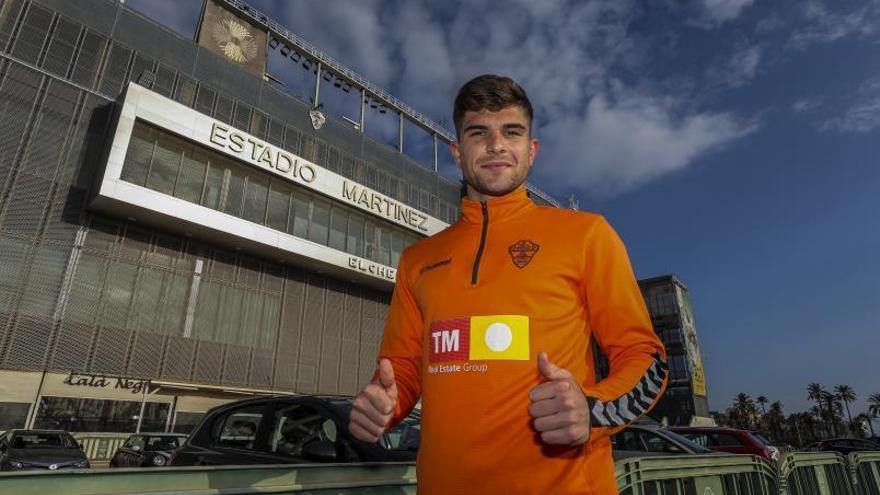 What has the change of coach and the arrival of Fran Escribá meant for the squad?
Almirón was a very good coach, but we were in a bad streak from which it was difficult to come out after many games without winning. The team needed a change to regain confidence and change the chip. To this day, we are very happy because it has given us confidence and peace of mind.
It was you who punched the table after the defeat in Vigo against Celta and said that the team was down and that the situation was critical …
The team was in a difficult situation and you have to know how to stand up in difficult moments. We all know what it costs to win in a category like this. The most important thing is that the team has always been united and has known how to push forward. We had to be consistent with the situation we were in and we needed to improve so that Elche can continue in the First Division.
Is there more joy in the dressing room now?
When you win and you're on a roll that's always the case. Now the sensations are different. As in all work, when things go well, there are always more smiles. Now there is that joy that we needed and deserved so much for the work we were doing.
Is it now more feasible to achieve permanence?
We know that we still have a long and complicated road ahead. We have to be constant. At the bottom there are many teams and we are very tight in the classification. We are aware that we cannot lower our arms, because there is much left and now we are focused on Saturday's game against Real Madrid and trying to get the three points.
Can you beat Madrid?
Why not. We have to think positive and what we can dream of. We have to go for the three points. Real Madrid is a great team, but so was Sevilla and nobody expected us to win and we did.
In the last matches, Raúl Guti has been seen to be more liberated, more participative and with arrival. Even against Sevilla he scored a goal …
I've always said that I work to help the team. At the beginning of the season it was hard for me. I needed an adaptation process, which was more difficult than I expected. It was the first time I left home, I came to a new city and category. Little by little my best version is seen, although I do not put any roof on myself and I work every day to improve.
To what extent has being the most expensive signing of the squad pressured you with those 5 million that had to be paid to Zaragoza?
This has not been pressure at all. Quite the opposite. As I said in my presentation, it is a pride. I am aware that I have been the most expensive signing in the history of Elche and that when you are in a bad dynamic all eyes turn to me and there are comments on my performance. But for me it has not been difficult to carry it. Quite the opposite. It has made me stronger. I am not a player who can be pressured. It is a pride to have been the most expensive signing of Elche and what I always want is to help the team and win.
How have you handled the fact of leaving your life team, leaving home and embarking on a new adventure?
At the beginning it is difficult, because I have always been at Zaragoza since I was a child. But I have adapted very well thanks to the help of my colleagues, who are very good people. There are very good costumes and that makes adaptation and day-to-day dynamics easier. The city is beautiful, we have a beautiful stadium and the people at the club are very helpful and are being very good to me.
What does Raúl Guti do when he is not dedicated to football?
I am a boy who likes to be calm at home, watching series and reading books. I take this opportunity to go shopping. I am not a person who likes to be on the street from one side to another. I prefer to be resting at home and more in these months with such a tight schedule with many games.
Have you had the opportunity to get to know the city and its surroundings?
Elche I am getting to know him. I have made a visit to the city center and it is very beautiful. I've also gone to the beach for a few moments. The truth is that the temperature has no comparison with the cold of Zaragoza. It is like night and day.
He signed for five seasons. Do you see yourself many years in Elche?
I see myself as long as it takes. I only know that I am very happy and very comfortable. The future cannot be predicted because it does not depend on me. What I want now is to achieve permanence and for Elche to continue in the First Division.
With which teammate do you get along the best?
I get along with everyone. I try to interact a lot with people. Then there are some with whom I have more relationship and more friendship, such as Dani Calvo, Nino, Gonzalo Verdú, Cifuentes …
Who is the joker in the locker room?
Fidel without a doubt. He is the one who plays the most joke. It is the crack of the locker room. The truth is that there is a very good atmosphere. Josan and Cifuentes are in charge of the music and I also like to put on a song.
And what are Argentines like?
Very nice people too. There is a great human group and very united. That is very important and it is what will lead us to achieve the goal.
After this difficult "Tourmalet" against Barça, Seville and Madrid will come the last matches against most of their direct rivals. Is permanence going to be played there?
They will be super important matches. They are all important, but the direct confrontations against teams from the lower zone will give us one more plus. But now we only think of Madrid, which is the closest match to us.
Finally, what message would you like to send to the fans?
That they are calm and trust the team, because we are going to leave our souls in each game to leave Elche where it deserves.

www.informacion.es
Eddie is an Australian news reporter with over 9 years in the industry and has published on Forbes and tech crunch.