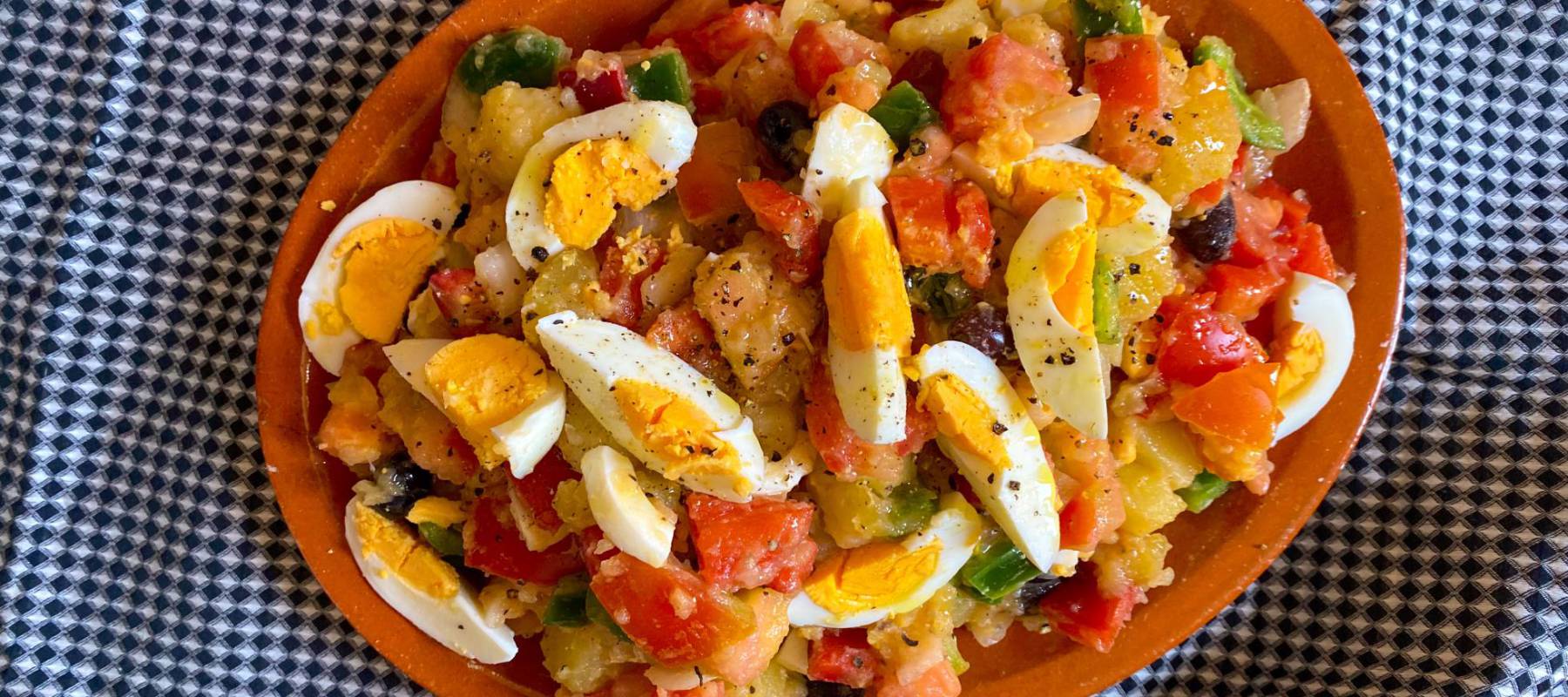 Nacho has not cooked the country salad, because his obligations in the RAE They barely leave him free time: "I dare to suggest a clearer wording in point 6 of the country salad recipe; I read it several times and although I understand it, it has taken me a while. 'Dressing with the vinaigrette and your vegetables' would refer to 'dressing with vegetables', in addition to the vinaigrette, and I understand that what is meant is dressing the vegetables, diced tomato, olives and half of the eggs, leaving the other half of the eggs for the end of the sentence, since it is the only element that is not definitely added to the salad ".
Nacho, it took you a while but you got it totally backwards. When Mònica Escudero indicates that it is necessary to dress with the vinaigrette and her vegetables, she means that it is necessary to add the complete vinaigrette, with the pepper and onion that have been added to the mixture of oil, vinegar, salt and pepper 20 minutes before to assemble the salad. I have reviewed the text and for me it is correct and perfectly intelligible, since in step three a vinaigrette is prepared with vinegar, oil, salt, pepper, onion and pepper.
An imprecise watermelon
Lola usually weighs her watermelons on a livestock scale, which is why she writes us puzzled: "I wanted to make the recipe for the watermelon gazpacho. Despite wanting to put imagination, the quantity is a mystery. 1/4 of watermelon 250 g will not be. But some of the watermelons I buy weigh 14-16 kg. And another 10. Any guidance to get a little right in the amount of watermelon to put? ".
Jesus Christ, Lola, you buy small watermelons. I imagine that you take them rolling home as if you had organized a bolloencierro Or you'll have the fridge door full of flyers for the physiotherapist hanging up. The recipe is designed for watermelons that are found in the markets and that range between five and six kilos. In the videoOur almighty Iturriaga says that a quarter of a large watermelon is enough, so we are going to calculate that he has used one of six kilos. We cut a quarter and we already have a kilo and a half. We remove the crust, which is very heavy, and we would be left with approximately 1,000 or 800 g.
Some almost alive prawns
Ozu kicks us a bit by declaring himself an unconditional fan of El Comidista, confessing that he waits "like a drooling puppy" for the publication of each new recipe and that he has not prepared the prawn laksa curry because he does not dare: "In step 7 he says that we turn off the heat and put the rice noodles in the laksa, and that when there are 2 minutes left we add the prawns to cook. I await instructions, because at the moment I am going to prepare this raw shrimp tartare. "
When reviewing the recipe I saw that the cooking of the noodles and prawns is done with the residual heat of the stew just after turning off the heat. Rice noodles should not be cooked like their relatives, wheat pasta, because they are so delicate that they would fall apart and look like snail drool. The cooking proposed by Clara P. Villalón is correct, but it lacked precision so that you would not have to consultar a Reminder on when to add the prawns.
Clara explains it like this: "I don't put minutes of cooking because I cook the rice noodles in the residual heat of the laksa. In my head it makes perfect sense, but I understand that people who are not used to it can implode. More or less, my noodles take between three and four minutes. So I should put them in the broth for about two minutes and then let it rest for another two minutes with the prawns. "
And we come to the crux of the matter, the cooking of the prawns. Of course, if you like them tight, hard and supercooked like plaster cats, this way of cooking them is not the one for you. Villalón confirms that there is no error in the wording of the instructions: "The prawns are also cooked with the residual heat of the laksa, so that they remain juicy."
I did the test by preparing a laksa base and following the recipe times scrupulously. The result was perfectly cooked, whitish, crispy, tender and juicy prawns. I understand that San Epifanio de la Cocción Intensa has greatly influenced the way of cooking and eating Spanish, and that many people do not feel fully happy if they do not boil hard during two rosaries. On this, Ozu, I can only recommend that you trust the recipe and try it for once. If you are still not daring, reverse the order and put the prawns in the laksa at the same time as the noodles. If this does not convince you: like crazy, bring them to a boil that you consider before turning off the heat and putting the rice noodles to rest.
Some documented anchovies
Manuel writes with the creeps and doubting the professionalism of this defender as a recipe writer: "I have read something in your article about anchovies that has made me doubt what you write. This morning I bought a kilo of anchovies. I have been cooking for 50 years and I stew fish in all its forms a minimum of three times a week. In Cádiz we have a municipal market with more than 50 fish stalls, and in all of them they carry out the usual operations and I assure you that if any of those competent professionals had asked them to remove the guts and bones from the kilo of anchovies, one of two, or he would have had a fit of uncontrollable laughter or he would have thrown at my head the first thing he found. Cleaning the kilo of anchovies took me exactly 39 minutes. So, my dear, I don't think you have ever cleaned anchovies in your life nor do you know how long it takes to do it. Try to document yourself before writing. "
Manuel, dear, believe me if I tell you that I usually do my research before writing, but in this case I have not needed it, because I have cleaned fish all my life. Not only have I been born and lived in a sea port where we eat antxoas with devotion and assiduity, but, because of my profession, as a cook, I have had to remove many guts and thorns.
I do not know how fish is worked in the fishmongers of Cádiz, but in Madrid, where I live, if the fishmonger is good and the fish is not on sale –boquerones included– they prepare and clean it as you ask. In Juan and Marcelo's fish shop, where I usually buy the fish, they mount some queues that not even a U2 concert, but the clients know that they are going to treat us à la carte, and that if we want some open anchovies, gutted and dressed as lagarterana, they will prepare them for us that way delighted. However, the anchovies that I used to make that recipe, I cleaned at home. Half because I was lazy to buy, half because I know how to do it and it comes out pretty quickly. Do not despair: with a little determination and indications of this video, I'm sure you're going to become a real ninja cleaning the boquerón.

elcomidista.elpais.com
Eddie is an Australian news reporter with over 9 years in the industry and has published on Forbes and tech crunch.