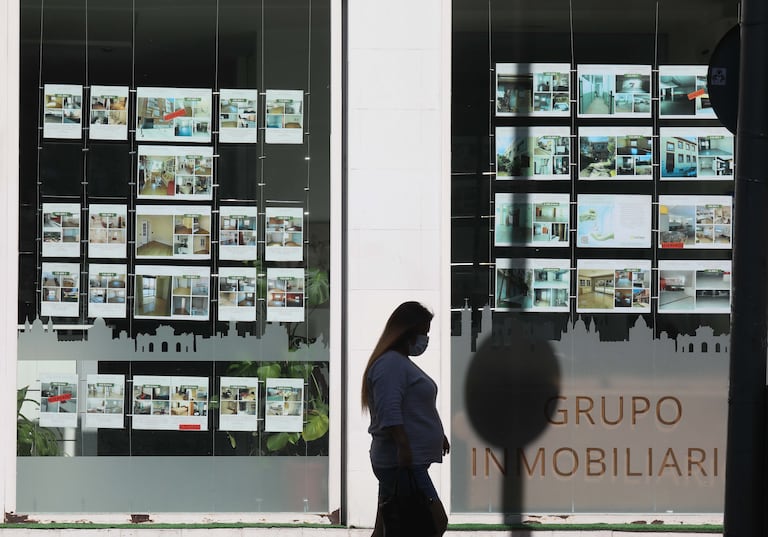 "Refrain foreigners", "refrain from calling people of foreign origin", "not foreigners". A quick search through a real estate portal reveals the discrimination that is practiced when renting a home in Spain. Painfully clear and piercing messages that Silvia Duran, a 42-year-old Venezuelan, suffered when she arrived in Spain in 2017.
Silvia was denied access to a home due to her nationality. Her accent gave her away, but it was showing her passport to a real estate agent and all the doors were closed. "When I arrived I worked as an intern in a house, then I brought two of my four children and they welcomed me into a CEAR (Spanish Commission for Refugee Aid) house," says this Venezuelan who now works for the same NGO. He finally found a flat thanks to the support of a real estate agency owned by a "Colombian boy" who helps migrants. He lives in Madrid and pays 650 euros per month. Silvia gives an account of many non-EU foreigners who are going through situations of racism, especially women with children. "They ask for at least one year of payroll, three months of bail, bank guarantee … There are many obstacles."
Discrimination is a normalized phenomenon. "72.5% of contacted real estate companies accept explicit forms of discrimination. This overwhelming majority only has lower levels in Barcelona, ​​which could be associated with the opening of the first sanctioning file by the City Council for reasons of residential discrimination. Of the remaining 27.5% who do not accept it explicitly, 81.8% tolerate other indirect and hidden forms. In other words, we hardly find real estate companies that reject any form of discrimination based on origin ". It is the conclusion of the report To rent? Racism and xenophobia in the rental market, prepared by Provivienda on behalf of the Ministry of Inclusion, Social Security and Migrations. This same week the document was presented to Minister José Luis Escrivá and to the Secretary of State for Migration, Hana Jalloul.
To carry it out, the non-profit association has made 1,836 calls to 200 agencies responding to rental advertisements and using the methodology of the testing (calls were made from a Spanish profile and a foreign one with identical socioeconomic, family and gender conditions). Thus they have been able to verify the differences in treatment by origin received by people who want to rent a home in the free market.
The non-EU foreigner is asked for more income, worse housing is offered or more requirements are demanded than a national. An example: While 34.8% of Spaniards are asked for a permanent contract, that percentage is almost double (62.2%) in the migrant group. Real estate companies ask 32.3% of foreigners for a guarantee, compared to 19.9% ​​of Spaniards. Aicha, from Algeria, who participated in the study, acknowledged that "in agencies they always ask you about payroll and contracts and I have always been working without payroll at home. I have always needed someone I know to rent […] If you don't have the things they ask you up to a year in advance ".
Discrimination is often indirect, but it raises barriers so high that it is impossible to get a rental. A typical case is to request the DNI, leaving out of the selection people with a passport or NIE. "It is an apparently neutral requirement, but in practice it has a discriminatory effect," says Elena Martínez Goytre, head of the Provivienda Research Area. Although the first sieve is logically the accent. Telephone contact is the first filter that agencies and individuals use to deny, limit or condition access for reasons of origin and cultural stigmatization.
With equal conditions between profiles – a family with two adults and two minors is studied – the non-EU migrant population is denied to a greater extent the availability of flats in the first contact (36% compared to 29.2% in the case of Spanish). "There is a presumption of economic precariousness against foreigners, which does not agree with reality, even more so when we have used the methodology of testing real estate and both profiles, national and foreign, had identical socioeconomic conditions ", says García Martín.
Sometimes access is not directly denied, but the conditions of the flat offered to this group are worse. 38.5% of foreigners are offered homes without a lift, almost double that of Spanish people (21.2%), according to Provivienda research. And when they request flats similar to those in the advertisement for which they ask for information, 50.4% of Spanish people are offered by real estate agencies with three or four bedrooms, compared to 39.8% of foreigners.
Excuses
When what you want is to close the door to a rental, the most frequent excuse detected by Provivienda is to indicate that the house is already rented. "In our testings We have verified that this argument is a widely used excuse given that in a time interval of approximately 10 to 15 minutes a call was made by a national profile to the same advertisement and real estate, and in many cases the apartment was available ", says Alberto García Martín who, along with Esteban Buch Sánchez, are the main investigators of the report. Other very common pretexts of agencies are to say that the owner no longer wants to rent it, that someone else offers more money or that the apartment is already reserved.
"All this exposes the migrant population to residential overcrowding and worse living conditions of the houses," says García Martín. Many have no choice but to give up their attempt and rent a room as a solution to have a roof to live on. "They don't have problems for renting rooms, although they charge you more than a Spaniard," says Silvia.
The Provivienda report focuses on the role of real estate agencies as agents of residential discrimination. However, the half dozen companies consulted deny this point. They say that landlords want greater security in operations, especially now that the price is falling, but that they do not use racial criteria to select tenants.
Although already in 2017, a report from the Spanish Observatory of Racism and Xenophobia, carried out by the CIS, stated that 18.5% of the population would try to avoid renting a flat to immigrants and that 17.7% would reject it clearly. The economic crisis triggered by the coronavirus pandemic could be accentuating this trend. Inequality in Spain has climbed to maximum levels last spring and the impact is even stronger among young people and immigrants, according to the Institute of Political Economy and Governance, Pompeu Fabra and CaixaBank Research.

elpais.com
Digsmak is a news publisher with over 12 years of reporting experiance; and have published in many industry leading publications and news sites.