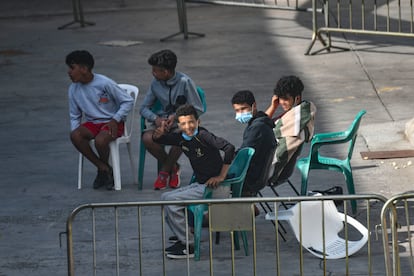 "My mother has told me that if I go home my stepfather is going to kill me. He hates me and always hits me and this time, if I come back, he will kill me. I am very afraid". Amin, the fictitious name of a 14-year-old boy, does not want to return to Morocco. He entered Ceuta during the border crisis last May and his testimony, collected by Save the Children, is one of those that has most marked the team that is in the autonomous city to identify the most vulnerable children. There are dozens and cases of abuse within the family, begging, abuse and sexual and labor exploitation have been detected.
After unleashing the crisis, with the entry of more than 10,000 people in just three days, the Ceutí Minors Area, surpassed, agreed with Save the Children to carry out interviews among the more than 1,100 children, between 12 and 17 years old, who were they stayed in the autonomous city. The objective is to have a detailed report on each of them and propose solutions depending on their situation. In some cases they will have to be cared for in a specialized center, in others a foster care will be appropriate and in others repatriations will continue, frustrated until now despite the fact that King Mohamed VI gave orders to facilitate them.
In these almost two months, Save the Children's technicians and mediators have completed 260 interviews and the children's testimonies reveal that a quarter of them suffered physical violence, abuse or mistreatment in their country of origin, Morocco in the immense most cases. Some suffered it at home with their parents, or by their extended family, but others are children who come from the street, exposed to the aggressions of other children and adults. Furthermore, one in six minors surveyed suffered torture or degrading treatment before arriving in Spain. "All the children have escaped from situations of poverty, but we are seeing that there are profiles that show greater vulnerabilities and it is urgent to take measures," explains the coordinator of the organization's team in Ceuta, Rodrigo Hernández.
Amin said that he lost his father and that his mother married another man who took him out of school when he was 10 years old. So, she went on to force him to beg or shine shoes all day to bring money home. When he could not do it or the money was not enough, the stepfather responded with beatings to him and his mother. Another of the children interviewed, aged about 13, was expelled from home because his family could not support him. A woman took him in, but only gave him food and bed if he paid. He spent three years begging for money and working on the streets. Until he decided to flee to Ceuta.
The group of girls, although not so numerous, has required special attention. Among the 85 girls in the emergency centers set up by the city, cases of sexual violence and sexual exploitation have been found, girls forced into prostitution.
The team is also identifying psychological and cognitive problems among the minors. They have anxiety attacks, nightmares, tremors, they find it difficult to speak or avoid relating to others. In some cases it is a consequence of their experiences and in others – Save the Children is studying case by case – it is possible that it was precisely these problems that have exposed them even more to abuse. "At night I have nightmares in which I see what I have suffered in life on the street. I wake up screaming and my roommates freak out, they think I'm crazy, "Mohammed, the fictitious name of a 13-year-old Moroccan boy, told interviewers.
The reasons why minors leave Morocco are known to the local authorities. Ceuta has been receiving very delicate cases in its centers for years and even very sick children that their parents abandon on this side of the border in the hope that they will have medical treatment. But this crisis has brought smaller minors than usual and the number of boys and girls who remain in the city and who need special attention is "unsustainable", local government sources insist.
There are 800 minors living together in ships, in a barracks camp and a sports center and another 200 off the radar, who live in houses or on the street. The distribution of 200 children that the city already welcomed before the crises and that the autonomous communities agreed has not yet finished. Several regional authorities, local government sources reveal, have not yet responded to the requests of the Ceuta Minors Area to specify the transfers.
Save the Children calls for the involvement of the Central Government, other communities and even Europe. "These children have rights and we as a society are committed to guaranteeing them," defends Hernández, the organization's coordinator. "Many times we get lost in discourses of skills and abilities, and we forget that the problem is not us but the children".
Meanwhile, Ceuta is looking for solutions on its own. Father Ángel, founder of Mensajeros de la Paz, has been in Ceuta this week to study with the city the transfer of fifty children to the NGO's facilities in the Peninsula. It is a step to delegate the custody of children to social entities, but, even if it is materialized, it is insufficient. An officer from Unicef ​​Geneva is also in Ceuta who will map the reception centers and will collaborate in coordinating actions with the rest of the organizations that are working in the city. The local government is especially concerned with the arrival of September, when the school year begins and children should go to school. "There is no in the city to serve them or tools for their educational or labor inclusion," they maintain. At the moment, the Government delegate in Ceuta, Salvadora Mateos, has already announced that schooling is not being considered, because the educational system does not have the capacity, and continues to bet on a repatriation that, for the moment, still does not prosper.

elpais.com
Eddie is an Australian news reporter with over 9 years in the industry and has published on Forbes and tech crunch.