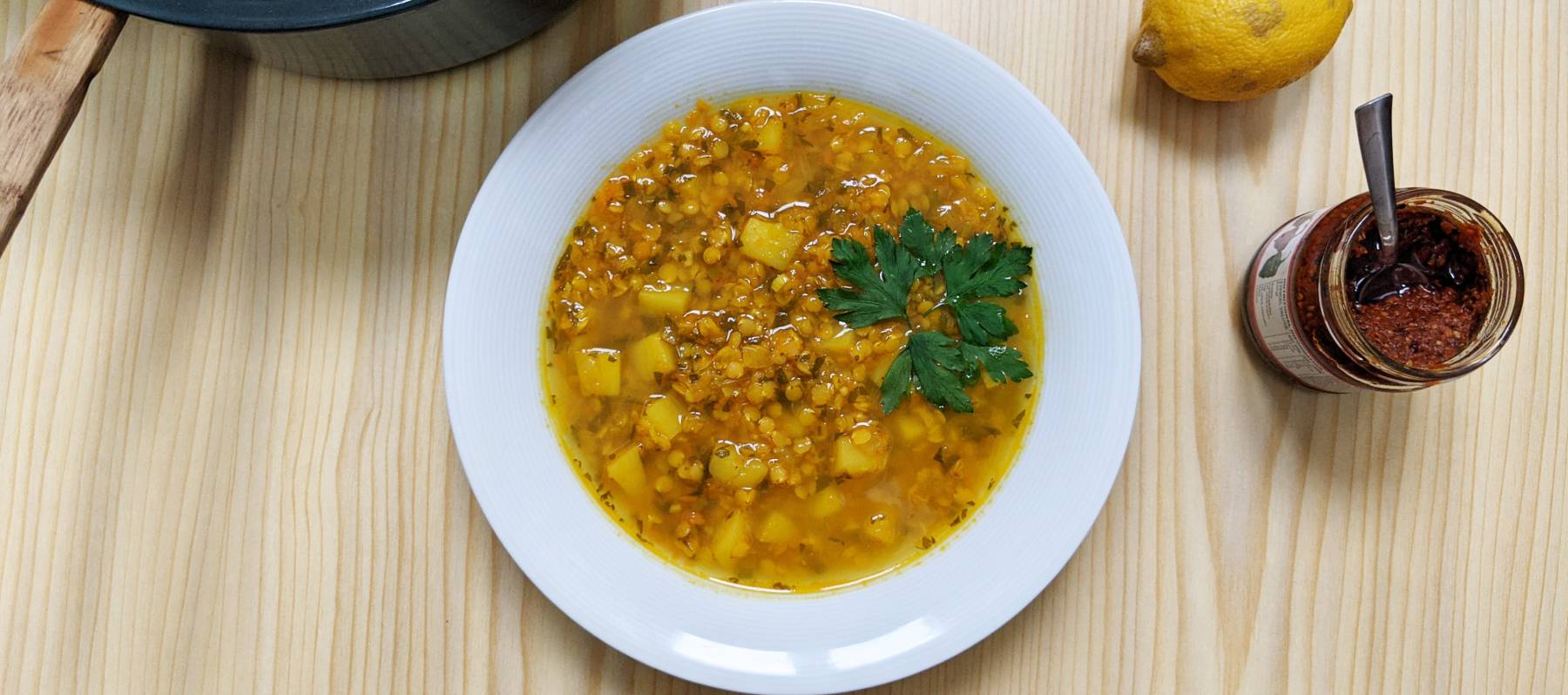 The last edition of the contest Invited Eater it was a success. Such was our joy to see so many quality recipes, that we had to deliver a first prize equally: for the garlic potato soup and for this Turkish red lentil soup, sent by Marije Hristova and María Leo. As winners that they are, they will be able to stick a tribute of the good ones with the wonderful lot Ondarreta, valued at 177 euros, that our beloved store Amaiketako offers as a prize.
And now that we are at Christmas, with all the excesses that it brings with it – it is useless that we swear year after year that it is the last time – nothing goes in better than a good soup. But a comforting, tasty and with an exotic touch, like the one that Marije and María sent us. "What do a Dutch woman and a woman from Huesca do when they meet in a kitchen in Vallecas? Lentil soup, a red lentil soup that Marije learned from her Turkish friend, was adapted by a Bulgarian and acquired its final details in Madrid, "the winners tell us." It is a fixed dish on the weekly menu in our homes, "they add.
In the version that they have sent us, ingredients so common in soups such as potatoes or carrots are mixed with other more unusual such as beer or the spicy Mr. Naga dressing (which you can substitute with other hot sauces). As they promise, the preparation is easier than learning all the languages ​​involved in a recipe loaded with flavor.
Ingredients
For 6 people (as a single dish)
4 garlic cloves, finely chopped
1 medium onion, finely chopped
4 medium carrots, finely grated
6 small potatoes, diced
Juice of one lemon
¾ cup of red lentil
¾ cup of beer (same volume as lentils)
1 heaping tablespoon turmeric
¼ teaspoon Mr. Naga (or other hot sauce)
1 bunch of chopped parsley (approximately 30 g)
Salt to taste
Preparation
Chop the garlic and onion and cook in a large saucepan with a little olive oil and a pinch of salt over low heat.
While the garlic and onion are poached, peel and grate the carrot and add to the casserole.
Peel and chop the potatoes into small cubes and add to the casserole.
Add the tablespoon of turmeric and the quarter teaspoon of Mr. Naga (better not to abuse the first time, you can always add more in the dish if we like spicy).
Wait for the spices to start to smell and cover with water and lemon juice. Bring to a boil, lower the heat and cook for an hour with the pan covered.
At the hour, add the mug of beer, the red lentils and the chopped parsley. Cook for 20 minutes over medium-low heat and turn off.
Serve, if you like, with more lemon juice and Mr. Naga on the plate.
If your recipe wasn't one of the winners, don't worry. In January, the Guest Comidista will return with a different challenge, but with the same objective: that you can be the protagonist of El Comidista for a day.
You can read the call for this contest here.

elcomidista.elpais.com
Eddie is an Australian news reporter with over 9 years in the industry and has published on Forbes and tech crunch.