Pinita Gurdián wept for two days when the Sandinista National Liberation Front (FSLN) lost the 1990 elections. She and her family had given everything for the Sandinista revolution: they handed over their family farm to the agrarian reform promoted by the revolutionary government, their Children marched to war to defend the revolution, she worked as a volunteer to improve the lives of the poor in a country impoverished by the Somoza dictatorship. And more than 40 years later, he sees how those ideals were betrayed by a couple who claimed to defend them. Gurdián is the mother of Ana Margarita Vijil and the grandmother of Tamara Dávila, two of the political prisoners of the regime of Daniel Ortega and Rosario Murillo. Since his capture, he has not heard from them. They are not allowed to see them, talk to them, give them food. The right to have a lawyer hired by the family is not fulfilled either. "It is a horrible situation. I am afraid, because we know in whose hands they are ", Gurdián explains to EL PAÍS. "I feel immense anger. I did not join the revolution for this, "he says.
Political crisis in Nicaragua
Dávila was arrested on June 12. She is a young feminist and activist who stood up to the Ortega regime since before 2018, when massive protests broke out demanding the end of the mandate of the former Sandinista guerrilla. He could always be seen in the demonstrations, with green scarves symbolizing the feminist movement or the blue and white flag of Nicaragua, an emblem of rebellion against the Government. The arrest was at his home, overnight. "That night her daughter (five years old) was with her. They had time to chase Tamara. The police followed her wherever she went and she told the girl that the police took care of her, so that she would not be scared. If she went to school, to the market, they never left her alone. On the day of the capture, a huge number of officers arrived. The girl saw all that movement, it is a great trauma for her ", says Guardián.
A day later, Dora María Téllez, a heroine of the Sandinista revolution, the commander of of the mythical takeover of the Somoza Congress that Gabriel García Márquez immortalized in his chronicle Assault on the Palace. Along with her, Ana Margarita Vijil was arrested. That morning the regime deployed a large contingent at the Téllez farm, located in a rural area half an hour away from Managua, as if it were hunting a dangerous criminal. Drones flew over the property. And then they came in with violence. Before the capture, Vijil recorded a video for social networks, which ended with the phrase "Here it is not cracked [acobarda] no one!". "We don't know how they are. We know that Dora María and Ana Margarita were beaten. They were surrounded by a huge number of vehicles, motorcycles, parastatals, police and riot police. They waited in the house for them to enter. Ana Margarita called me on the phone: 'Don't worry, this is inevitable and necessary, but they won't shut us up,' "says Gurdián.
She does not know exactly where her relatives are, although she suspects that they have been locked up in the cells of El Chipote, a prison that has been denounced as a torture center by human rights organizations. "Dora María has back problems and we also know that she was hit in the stomach. I have been very worried, but with great calm, because I know that they are clean and do this for a noble cause. And that fills me with great peace ". Despite this sentiment, Gurdián does not hide his disappointment at what he considers a betrayal of revolutionary ideals. "We have always believed in the liberation of the oppressed and that is why we committed ourselves to the revolution," he explains. "We made a commitment to the Sandinista Front because it was the first time that the possibility of a change, of justice, was seen. My three sons went to military service and my daughters participated in the brigades [de solidaridad]. A son was seriously injured in '87 and has a permanent head injury. He underwent six operations. But we always stood firm with the revolution, because we said it was time to do what we had always dreamed of. "
Like Gurdián, Verónica Chávez knows nothing about her husband, the journalist Miguel Mora. Chávez goes to the prison where he thinks Mora is on the days when visits are supposed to be planned, but he has had no luck: they won't let him deliver the food that he lovingly prepares for him, or the medicines; They only accept bottled water. His image outside the jail, his face decomposed by so much restlessness, has become one of the symbols of this new repressive wave unleashed by the Ortega regime. "What I want is for them to allow us to see our relatives, because from the moment they were arbitrarily captured, we don't know anything," says Chávez. "I don't know if Miguel has been beaten. He has vision problems. We need to see our family members to know that they are okay. I want to make sure personally, because it is a right to see it ", begs the journalist, who is also a journalist.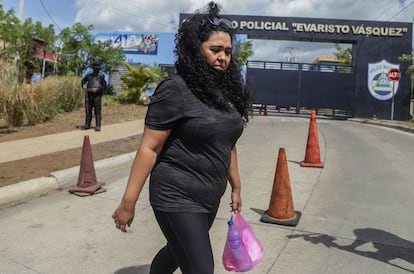 Mora had already been jailed in 2018, when his channel, 100% Noticias, broadcast Ortega's protests and repression day and night. His set became an open forum to denounce the excesses of the regime and in his editorials he harshly criticized Ortega. One night in December the channel was raided by the police. Mora and his editor-in-chief, Lucía Pineda, were arrested and imprisoned. The newsroom was confiscated and now the regime has turned it into a public clinic. After several months in prison, Mora was released, but he continued with his firm position against Ortega, even running as an opposition candidate for the presidency, another affront that the president did not forgive him for and for which he ordered his arrest. "We are not asking for anything that is not part of a human right," says his wife. "They are being investigated illegally. They have lost their freedom illegally, but not their rights, "says Chávez.
From exile, Berta Valle expresses her anxiety at not knowing anything about her husband, the opposition candidate Félix Maradiaga, also detained ("kidnapped", she notes) illegally by the regime. "No one has had contact with him. We presented an appeal for personal exhibition and the judge did not give rise, arguing that he is fine and that his rights are being respected. All these procedures are arbitrary, so we insist that Félix is ​​missing ", explains Valle from Miami, where she went into exile with her daughter due to the constant persecution of her husband.
Maradiaga was arrested on June 8, after appearing before the Prosecutor's Office, in Managua, within the investigations carried out by the authorities under Ortega's orders for an alleged money laundering. "He entered the Prosecutor's Office accompanied by his lawyer. After three hours of an interview, he boarded his truck, but minutes later he was arrested: he was intercepted by a patrol, beaten and taken away. Since then we have not heard from him. We assume that it is in El Chipote, but we have not been able to verify it. This is an assault. I am very concerned, because there is a history of torture in El Chipote, "says Valle.
All detainees are being investigated under a law passed in December by the National Assembly, which Ortega controls. This regulation penalizes those who conspire against the regime by requesting foreign intervention. They are also charged with money laundering and terrorism, although no evidence has been presented against them. "This is a prolonged anguish," says Berta Valle. At night I don't sleep and I think that something bad may be happening to him. I know that Ortega is capable of anything. How do you explain to your seven-year-old daughter that her dad can't call him like he did every night? How painful it is that I have to go through this, "he adds. Like all the relatives of the regime's prisoners, Valle also shows admirable poise despite the anguish: "As a mother and as the wife of a presidential candidate, I must continue to support my husband, be an extension of his voice. I must honor what he delegated to me: the commitment to fight for the freedom of Nicaragua ".
Subscribe here to newsletter from EL PAÍS América and receive all the informative keys of the current situation of the region.

elpais.com
Eddie is an Australian news reporter with over 9 years in the industry and has published on Forbes and tech crunch.