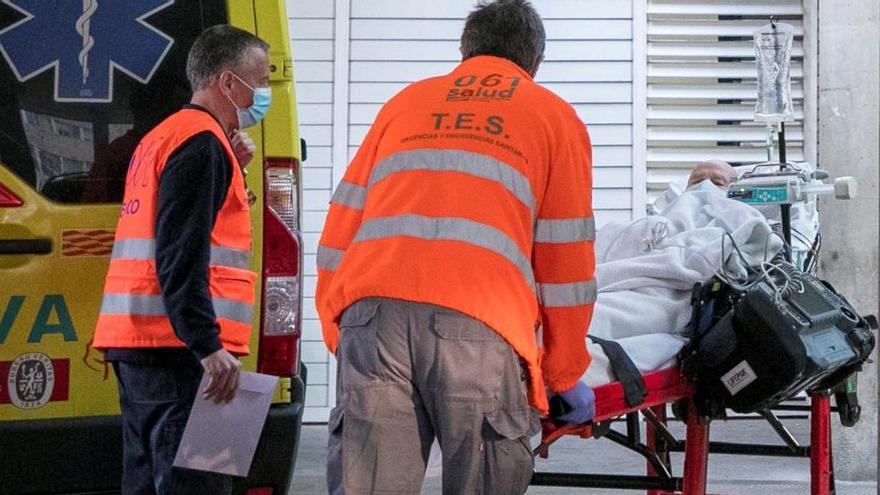 About 2.5 million people will be vaccinated in the first stage of the vaccination campaign against COVID in Spain, and the first to receive the drug will be the residents and health and social health personnel of nursing homes and large "most vulnerable" dependents and all those who work in them.
This is how the Vaccination strategy against COVID-19 in Spain and the first update of this document that the Ministry has made public this Monday and that, among other things, details and defines the four priority groups to receive the vaccine since the number of doses in this first stage will be limited.
According to the strategy, the first doses will be destined to vaccinate, in this order, residents and health and social health personnel who works in homes for the elderly and care for large dependents; and first-line health and social health personnel.
After completing these groups, "and to the extent that there is more availability of doses" It will continue with other health and social health personnel and with people considered as large dependents that are not currently institutionalized.
People who have passed the coronavirus and are among these groups will also be vaccinated, and those who have recently overcome it and are still in isolation will be dispensed when they receive the epidemiological discharge.
In people in quarantine for being close contact of a case of coronavirus, The strategy contemplates that vaccination will be postponed until the end of the vaccination.
Vaccination will be voluntary but the document considers it important to record the cases that refuse to receive it to know "the possible reasons of reluctance" in different population groups.
When receiving the vaccine, it will be done with a verbal informed consent and in the cases of people who have limited capacity to make decisions, it will be "convenient" that the information and authorization be in writing.
The strategy defines who is included in each group.
Group 1
Thus, in the first group, in addition to the rresidents, vulnerable or highly dependent people who attend day centers, provided that these centers are linked to residences (that have shared activities and staff).
Regarding those who are in a terminal situation, the health workers will assess the vaccination individually and in the residences where there is an active outbreak, an assessment of the situation and the vaccination will be made by Public Health.
They will be the "most vulnerable" residences where the vaccination begins, understanding by these as the ones with the highest number of inmates, the least capacity to adopt prevention and control measures and / or residences that have not had cases of coronavirus.
All the people who work in these centers, including those who perform functions other than the provision of health services, such as administrative staff, cleaning staff, kitchen staff, among others, are included in this category.
Also to employees in day centers linked to centers for the elderly.
Group 2
After these collectives, will go the health and social health personnel of "first line", that is, "the one with the highest risk of exposure from carrying out direct care activities for patients" with coronavirus and having a greater probability of contact with a positive case.
Among the health personnel are those who work with the patient, in the following environments – including those that perform functions other than the provision of health services: covid units, consultations or circuits; doors of entry of acute patients to the health services, and mobile units of direct attention to positives.
Also the personnel of urgent medical transport, of intensive care services or other units that assume these functions if necessary, any non-intensive care service where procedures that may generate aerosols are performed; services and units with high-risk patients, such as oncology, and central services where samples that may contain viable viruses are handled.
The public health health personnel who work in the direct management of the pandemic and depending on their risk of exposure and that of the vaccination teams, including those of occupational health and preventive medicine who will participate in the administration of vaccines, will found in this second priority group.
If necessary, detail the strategy, se will prioritize vaccination in professionals from 50 years of age or with high-risk conditions, who work in areas of covid and those of Primary Care.
This second group is completed by personnel from other centers for care for the elderly and at risk other than residential ones.
Group 3
Group 3 is made up, according to the strategy, by health and social-healthcare personnel not included in the previous groups and who work in healthcare and social-healthcare centers and establishments, who carry out activities that require close contact with people who may be infected, "that is, , depending on the risk of exposure and transmission".
Group 4
In group 4 are the large dependents, both those who have recognized the degree and those who have not applied for it but "is medically accredited" for having diseases that require "intense support measures" to develop their life, including those institutionalized and non-institutionalized.
And the time of vaccination "will be carried out as soon as possible, taking into account the characteristics of conservation and use of the available vaccine."
The caregivers of these large dependents will be vaccinated in the same visit, if they have not been vaccinated previously.

www.informacion.es
Digsmak is a news publisher with over 12 years of reporting experiance; and have published in many industry leading publications and news sites.