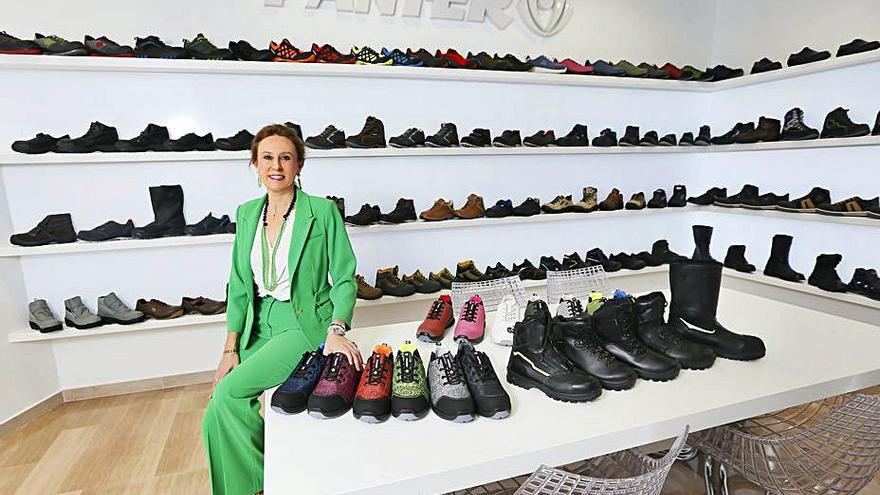 Rocío Pajares, along with her brothers Ramón and Visen, directs Panter, the Spanish leading company in the manufacture of safety, protection and uniform footwear, and Rombull Ronets, specialist in cordage, ropes, nets and meshes.
How did your professional career start? And when does your journey begin in Panther?
In 1988, when I finished my business studies in Murcia, my professional career began in P'AGUA – factory of PVC boots for water and industry – and Panter –factory of safety, protection and uniformity footwear- I start next to my father Ramón Pajares Manresa, the best teacher. The nice thing about the case is that it was simply going to be about 15 days and it has been more than 30 years. I loved going with him, watching him, listening to him, seeing how he solved the problems that arose on a daily basis, in short, with a mad desire to learn this trade. He was the founder and soul of our companies Panter and Rombull, among others, an example of dedication, effort, commitment and improvement.
How did your interest in the hardware and industrial supply sector arise?
Well really, I think this blessing fell from heaven, because I would never have thought to dedicate my working life to EPIS, but life sometimes opens doors and invites you to come in. And that's what I did I entered this sector to help my father in his company And since I am a woman with an attitude and concern to learn constant, I discovered how beautiful this sector of PPE – personal protective equipment – was, especially when you are a manufacturer and it is in your hands to be able to create a shoe from scratch after its process see the shoes going to any country in the world with the Spain brand. Knowing that you are manufacturing shoes to protect a person from injury, in a possible work accident is a great responsibility, and at the same time a gratifying feeling.
Do you think you are in an eminently male sector?
Yes, of course, you just have to see any photograph of the sector. In any case, it is a reflection of the same society in which we live, which is evolving and transforming every day, leaving behind stereotypes.
Do you think the perception of gender has evolved in your sector?
Undoubtedly yes, it is simply a generational and cultural issue. The truth is there are more and more enterprising, trained and courageous women holding positions of responsibility in business. Years ago when I went to any meeting or presentation related to our sector, they were all men, now there are more and more women.
Do you think that the work of women in this sector is given sufficient visibility?
There are still a few years to pass, but a lot has already been achieved. Labor excellence does not understand gender if not of people with masterful qualities that must come together to be greater.
What would you advise women who aspire to high office?
That they train very well, be persistent, put hope, attitude, take advantage of any opportunity and assert themselves in the absence of "alien" culture. And remember: "They will steal your ideas, but never your talent."
What would you say are the challenges facing your industry?
Enforce national manufacturing. The essential nature of EPIS for health has been highlighted. EPIS manufacturers and distributors are a key player in the economic recovery. Manufacturing here generates employment and wealth. The manufacture of EPIS has been put in the hands of foreign producers, playing against the health of people and our economy. We have the obligation and the duty to rebuild Spain socially and economically and this must be done together and quickly. The euro must run between Spanish hands multiplying. Another important challenge is to combine digitization without detriment to people's jobs.

www.informacion.es
Eddie is an Australian news reporter with over 9 years in the industry and has published on Forbes and tech crunch.