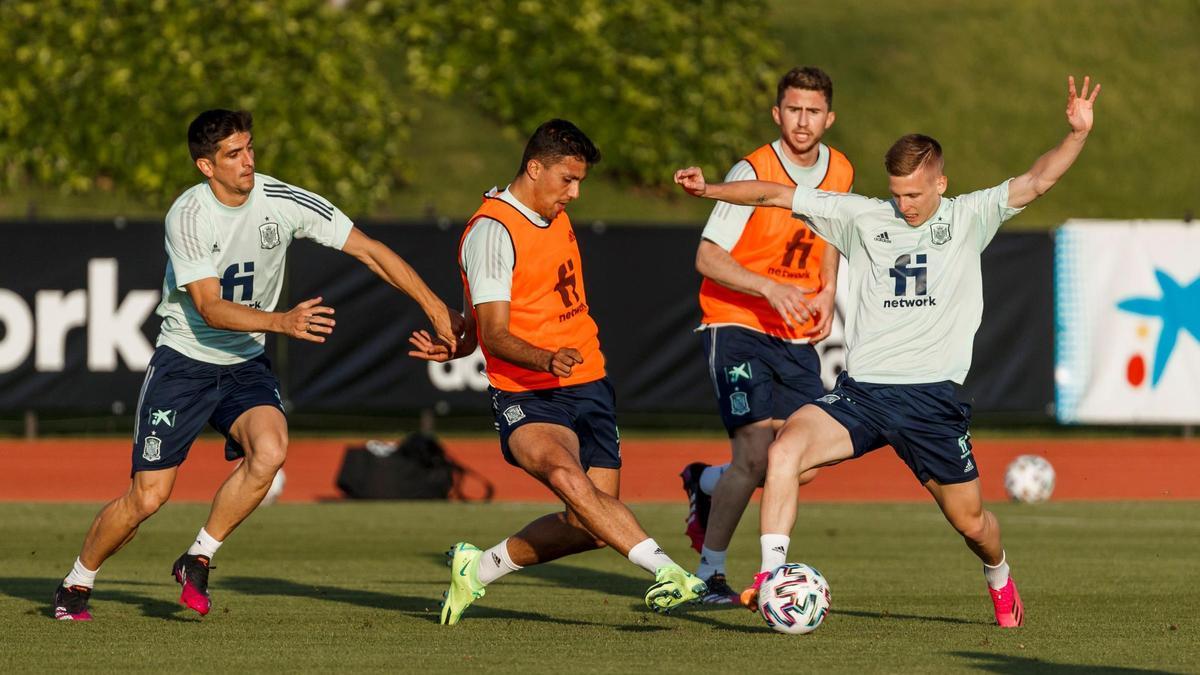 Rodrigo Hernandez, Manchester City's international center, said Thursday that the Spanish team "of course" has "options" to win the Euro 2020, but warned that in recent tournaments they have not reached the final rounds, so does not think they start as favorites.
"We have to be aware, I have spoken it many times, that we are a new and exciting generation and we are aware that in recent tournaments we have not reached the final stages, so I do not think we are favorites, but we do have a powerful team that we can fight ", explained the midfielder.
"I am convinced that we can achieve it through sacrifice, solidarity and knowing that the only way we can win is collectively. If we win, it's because of the team we have, those who play and those who don't", added after the presentation of the doll 'Baby Pelón La Roja', already on sale on the website of the Spanish Football Federation and whose profits will go to the Juegaterapia Foundation for the humanization of hospitals and children's areas of these centers , with the creation of new rooms, cinemas, gardens and pleasant environments.
He was also asked if Robert Sánchez is prepared to assume the title in the national team's goal. "If he is here it is for something, because he has shown a very good level this season with his team. Any of the three goalkeepers that we have would be a great choice. We have a high level in that area," he said. "The coach has decided that he is here, then the decision depends on him (whether or not he is a starter). He has the level, he is very young, he is 23 years old, he has good mirror to look at with De Gea, who is the oldest, and he and Unai Simón are younger. Any of the three options would be good. The important thing is the season he has had at his club that has brought him here, "added Rodri.
Llorente: "It is a great moment for the country to be united"
Marcos Llorente, footballer for the Spanish national team and Atlético de Madrid, said this Thursday that, after a year and two months of a pandemic due to covid-19, Euro 2020 is "a great moment for the country to be united" and remarked that the players are "very psyched of how important this is" for themselves, "for the country and for the people." "It is a great moment for us all to go together. We are sure, and you can be sure, that we will give everything to get it"said the versatile player.
Sergio Ramos is not on the list of 24 players for Euro 2020. "In the end, the list is what it is. There are many, many players who are also very important to us and have not been able to come. Obviously regretting all those absences, but we can't come 45 players, We are adapting to the players that we are, the team that we are, and the idea of ​​the game of the 'míster' (coach Luis Enrique) and taking the day to day very well, "he declared.
Marcos Llorente placeholder image the bed has been brought in which he sleeps at home at the concentration of the national team. "When I came here and I knew that we were going to spend many days in the Ciudad del Fútbol, ​​I asked the national team if they could bring me the bed. I'm sure that everyone, if they could, would bring it to them. It's something I trust a hundred percent. I like to take care of all the details and this is one more, "he said.

www.informacion.es
Eddie is an Australian news reporter with over 9 years in the industry and has published on Forbes and tech crunch.