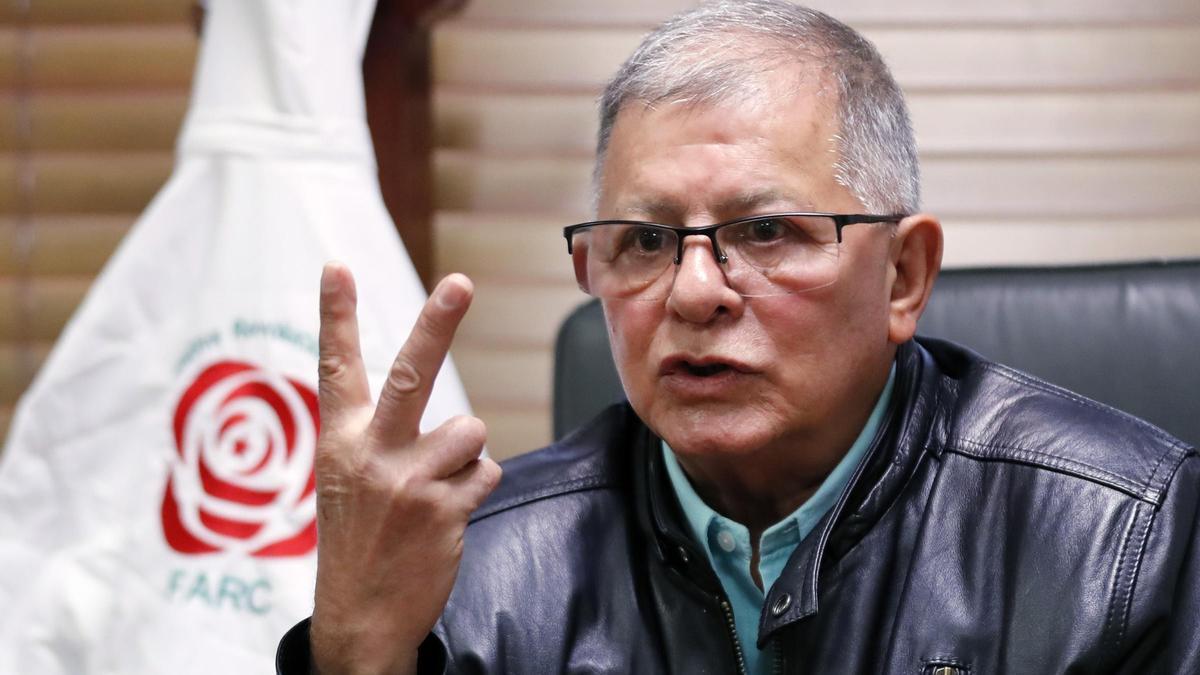 The former leader of the extinct FARC Rodrigo Granda was arrested this Tuesday upon arrival in Mexico City, according to official sources confirmed to EFE. Granda, who had the name Ricardo Téllez as an alias when he was a guerrilla and was known as the FARC's "chancellor" during his time as a member of the guerrilla, was allegedly arrested upon arrival at the Mexico City International Airport.
Granda traveled to Mexico invited by the Labor Party (PT) to attend the international seminar 'The Parties and a New Society' to be held on October 21, 22 and 23 and to which he was going as a representative of the Communes Party of Colombia together with Rodrigo Londoño. "One of the issues to be discussed (in the seminar) is the peace process in Colombia, the party appointed a delegation in which I am included and also Granda, we did all the procedures before the JEP -Special Peace Jurisdiction- as appearing parties and we were given the permits, "Londoño said in a video posted from Mexico on his Twitter account. "Today we arrive in Mexico City at 12 o'clock and this is the time at 8.15 p.m. (01.15 GMT on Wednesday) when Rodrigo Granda has not been able to enter Mexico City, I really don't know what happened, I don't want to presuming things, or speculating, called on the international community to be aware of Rodrigo Granda's security and status, "added Londoño.
Senator Carlos Antonio Lozada, from the Communes Party, warned this Tuesday through a message on Twitter that Granda, 72, had been detained in Mexico. "Urgent, they arrested Rodrigo Granda in Mexico, despite the fact that left the country with authorization from JEP (Special Jurisdiction for Peace) inform us that government of @IvanDuque asked Interpol to activate red circular while he was flying to Mexico, in clear violation of the Peace Agreement that they want to tear apart, "Lozada wrote.
The JEP is a court created to judge crimes committed during the war in Colombia and that was born from the historic peace agreement signed in 2016 between the Government of Juan Manuel Santos and the FARC guerrillas ended a half-century armed conflict.
Meanwhile, the party, also on Twitter, said they expected a pronouncement from the Iván Duque Government on why the red circular against Granda "was reactivated while flying to Mexico, with permission @JEP_Colombia, to attend an international seminar. "Granda left Colombia without problems, but upon arriving in Mexico he was arrested after an Interpol red token was activated against him. According to Interpol, a notification Red is a request to law enforcement agencies around the world to locate and provisionally detain a person pending extradition, surrender or similar legal action.

www.informacion.es
Eddie is an Australian news reporter with over 9 years in the industry and has published on Forbes and tech crunch.