E n el Colegio de San Ildefonso, founded by the Jesuits next to the Zócalo from the Mexican capital, Rozana Montiel (Mexico City, 49 years old) shows her work in three rooms not far from the portrait of Hernán Cortés and La Malinche painted by José Clemente Orozco. In Montiel's homes there are privileges and also a lack of means. There are plastic arts and architecture. That is why in its exhibition low-cost projects, linear parks and bourgeois houses coexist that seek to update the modern tradition by adapting it to the place where they have been built. Energetic and willing, Montiel works alone with a team that varies between two and eight people. He teaches at the Cornell University (New York) and has made a name for herself as solvent, imaginative, and committed.
Why are you interested in designing for a population as majority as it is forgotten by architecture?
As architects we have a social responsibility. More in Mexico. Here the differences are abysmal. I grew up in the western part, the rich part of the city, where the Chapultepec forest is, there is more water and vegetation. The east, the poor part, is an arid area with little vegetation and informal settlements. However, we have seen how neighborhoods that began as self-construction have been transformed into consolidated neighborhoods. It happened in Neza (Ciudad Nezahualcóyotl), which now even has an urban grid.
What made you think that you could improve the lives of those who live very differently from yours?
A personal concern. It started when I was studying architecture, not because we were taught to pay attention to how most people live, but because the Ibero-American University where I studied was built in Santa Fe, which was a landfill, after the 1985 earthquake damaged the original headquarters. . It was very low cost land that nobody wanted. And when I went to class, the smell of garbage was impressive. The contrast between what I was learning at the university, which is also a private center, and the reality that surrounded it woke me up. Today it is very expensive to live in that area, converted into an overcrowded city, badly thought out and without public spaces. In 20 years I have seen a drastic change that is not what I want to do as an architect.
How did you jump to another way of working?
It is very difficult to make a living from architecture and social jobs that seek to improve homes or informal neighborhoods, I do them with scholarships or a probono. They take time because they are experimental and require repairs and adjustments until the prototype works well. In the university that was not studied. There they prepared you to build shopping malls, skyscrapers or airports, but not housing for people who had little money
As if the informal neighborhoods weren't an urban reality.
Keep it up. They ask the students to build boutique hotels rather than social projects. For this reason, when I graduated with that void to attend to other realities, I went to Barcelona to study at the UPC. When I returned, I wanted to do something for my country by studying areas of poverty to try to turn them into more sustainable neighborhoods.
What showed you a path?
My father, who was a chemist but passionate about architecture, commissioned a house on the beach from Diego Villaseñor, who worked with palapas: roofs woven with palm leaves. Beyond that tradition, the house is full of details that show that whoever designed it understood the context. That marked me. Diego became famous making those houses. He did not do social architecture, he did local architecture.
Why is a palapa better than a tile roof?
They are the updated tradition: natural, cheap, locally available, a material that blends in with the landscape and works with the rain. Diego Villaseñor took the palapas to the houses of people with money. That made me think of other low-cost, sustainable, and fast-growing materials like bamboo. You have to know how to read the place to understand it, and that is what architects often don't do.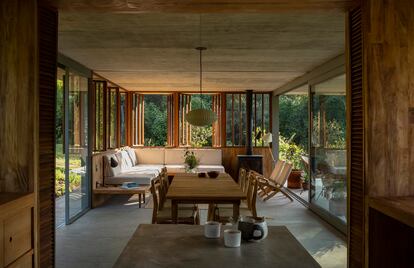 Were the manifest housing of the 20th century self-centered projects?
They were still selfish, but they opened many doors. What interests me is that, the openness. They responded with the means, creativity and yearnings of an era. I have sometimes started from the cleaning of Mies van der Rohe and have tried to give it warmth. With that knowledge and with that of popular architecture we can find other answers. It cannot be that when looking at architecture you ask yourself when we forget the traditions and materials that work.
Do social projects cost you money?
Now we are building a linear park paid for by the Government. The homes, some are probono and others I worked with INFONAVIT [la empresa nacional de la vivienda]. We ask for research grants because we could not live doing only social architecture.
What have you learned?
We are doing a project called Build your house that proposes to use materials such as bamboo, which is sustainable and works. The government, however, is not yet ready to approve its use. They only accept what they know, concrete or other industrial materials, to avoid problems that we have already investigated how to solve.
He used bamboo to build Un Cuarto Más in Temixco, in the west of the country. Have you seen him again?
Yes
And works?
In the first prototype, the recycled aluminum sheet on the roof failed. It was not well sealed and they changed it for us. We take the opportunity to improve the design. Now it works. It cost 5,000 euros.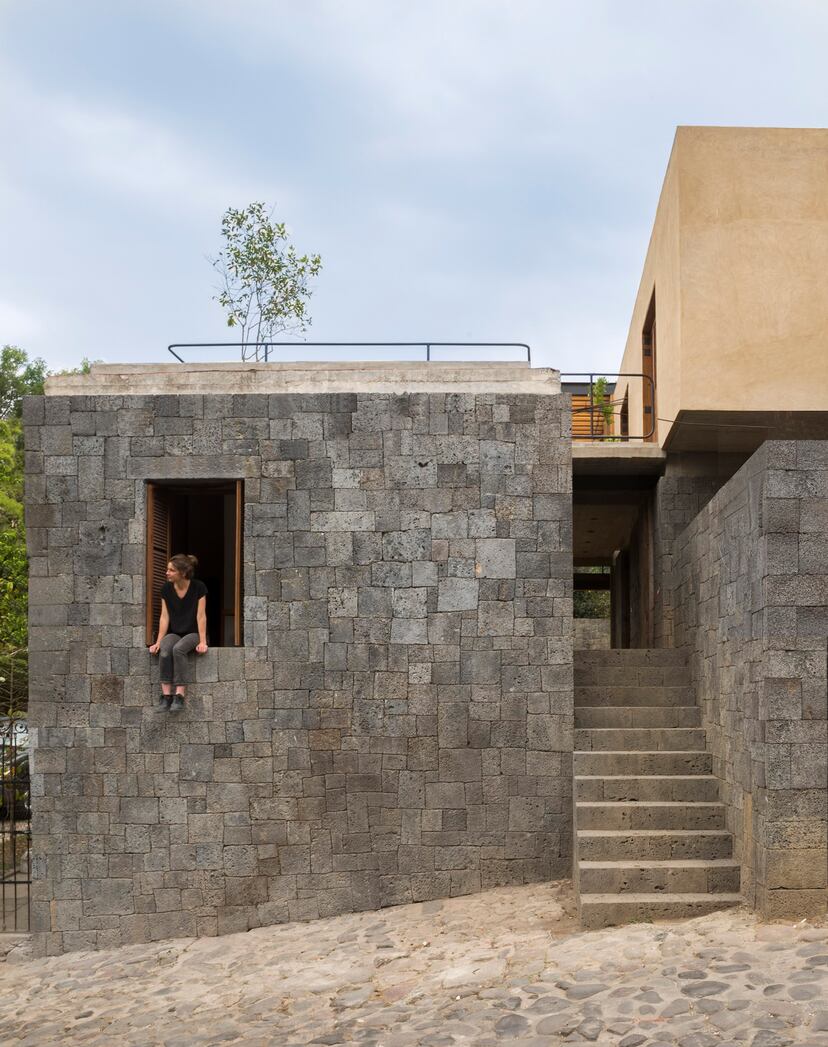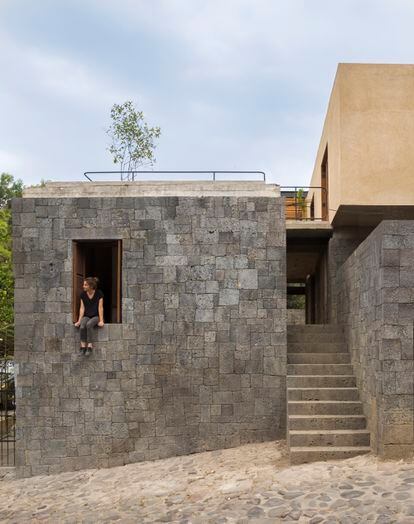 He makes social architecture and bourgeois houses. Does your focus change from one to the other?
The social is more demanding. There are fewer means. It cannot fail. But one infects the other.
Have you always lived in houses?
Except when I became independent. I went to Colonia Condesa and enjoyed walking and cycling to work. Then I had my daughter Jana, we wanted to give her a relationship with nature and we moved to my husband's house.
Who is also an architect, Mauricio Gómez de Tuddo. But they work separately.
Each maintains his office. He works for money people. But his sensitivity has led him to seek the most natural and vernacular, or even to propose leaving free space to take care of the environment.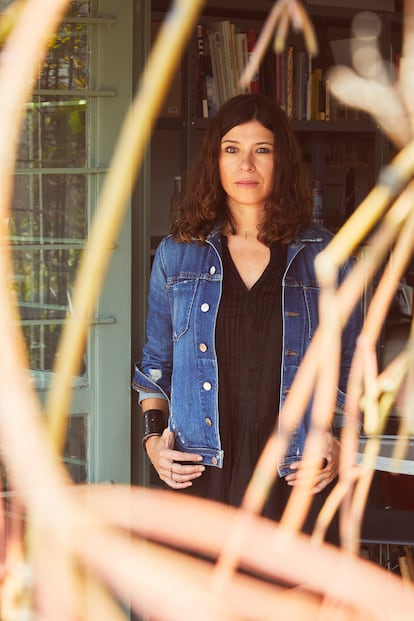 As a child she lived in El Pedregal, the urbanization started by Luis Barragán, winner of the Pritzker Prize.
It is a place built from volcanic stone. My house was one of the 12 that surrounded a pool that you reached by jumping between those stones. The stones were our playground.
She grew up rooted in the landscape, but isolated from the world. El Pedregal is a luxury development, almost a ghetto in Mexico.
That's how it is. We used the car to go out. I lived there 25 years. Later, after studying in Barcelona, ​​when I became independent, I thought that I had to live in the city walking, crossing the park, without a car and in an apartment where I lived for nine years. I believe in that neighborhood idea.
Now where do you live?
In a house with a garden in the Las Lomas area where my husband lived. I have always lived among gardens and books.
How do you keep in touch with reality while living away from it?
I keep the studio in Colonia Roma, a middle class neighborhood.
What costs little money and improves a house?
We have turned it around to build cheap roofs in which there is beauty. Beauty is a basic right and it should be for everyone.
How to improve lighting?
Knowing that the natural is never superfluous and the artificial is usually superfluous. A dim space can accommodate more than an excess of lit bulbs.
What to do with little space?
What to do with little space? Our obsession is how to generate abundance from scarcity. At Cornell University I teach a workshop with Sana Frini. We believe that scarcity is a creative tool.
How to explain that to those who do not have enough?
Scarcity is a filter that allows us to distinguish between what is necessary and what is expendable. When you have little you need to be more correct in your decisions.
What should consider who wants to build a house?
In the big ones, the usual problem is the most. People want more space. More meters for what? There are better options than enlarging. Plus doesn't always add up. The thresholds or the connection between the interior and exterior of a home change life in it.
Is tradition less questioned in social housing?
It is updated, but since the shortage. Tradition has found wise ways of living, such as the portico house. At project From the Territory to the Inhabitant We update this typology, but we add a second floor under the roof. With few or many means, my goal is always the same: to give more than what is asked of us. It is what we can do as architects: improve what they have imagined.
What led you to work like this?
I have always worked with women and I start from something that has been traditionally feminine: listening and caring. We have done many playful urban actions that establish a relationship between who makes the city and who uses it. That generates enthusiasm and confidence. It's about giving yourself time to get things done. Although there is no time.
Another of its characteristics is to work connecting everything, housing, nature, public space and the city.
That is the idea of ​​a fabric. Women have always been weavers. Of clothes, of relationships and also of the urban context. We make connections that create relationships.
Do your houses portray you or the users?
It would be a failure if we weren't both there. At Casa Ocuilan, Reina, who is a single mother like so many in Mexico, had a very small lot with no bathroom and no windows. Lack of space often generates domestic violence. As a result of the 2017 earthquake, many houses were built for single mothers. And we started from what she had: a very small lot. But we gave him height and built a room for his sons Caleb and Edgar. It sounds like nothing, but swapping a white bulb for a warm one makes all the difference in a home. We gave them a paper lamp that cost 10 euros and the house was different. The result of taking care of the details is that the users then take care of the house. Caleb takes off his shoes when he walks into his house. And he asks his mother to do it. He is proud of where he lives. For me, architecture is good for that. To help you grow better.

elpais.com
Eddie is an Australian news reporter with over 9 years in the industry and has published on Forbes and tech crunch.