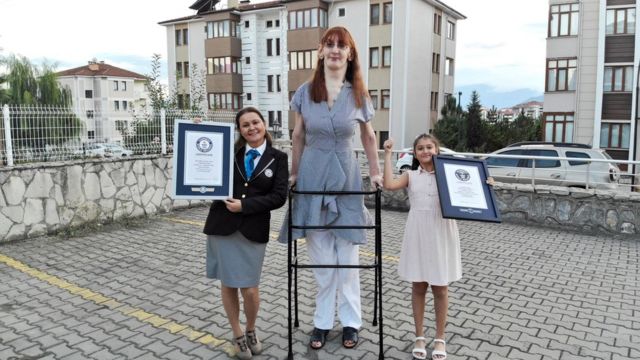 Rumeysa Gelgi is a 24-year-old Turkish woman who is 2.15 meters tall and has been confirmed by the Guinness Book of Records as the tallest woman in the world.
Gelgi suffers from Weaver syndrome, a rare condition that accelerates growth. Over the years she has been the victim of prejudice, but says the recent recognition has been a source of pride because it makes her feel special.
"As a child I had to deal with bullying. It was not easy to develop my self-esteem during those years. But the truth is that I always felt that I was unique thanks to the positive attitude that my parents instilled in me," she told the BBC.
At age 18, Gelgi held the record for tallest adolescent of the world.
Since then she has used her fame to raise public awareness of the lives of people with rare conditions like her own.
"I am very proud to be special. I never thought this would happen to me as a child. It is more than a dream come true and I am so glad I made my condition something to be thankful for."
Weaver syndrome
Gelgi's extraordinary stature is caused by a very rare genetic mutation called Weaver syndrome. Only 50 cases like hers have been described in the medical literature.
It is a multisystemic disorder characterized by tall stature, a typical facial appearance with ocular hypertelorism (the increased distance between the pupils), large and fleshy ears, and retrognathism of the chin or overbite.
The condition also brings with it serious physical disabilities such as scoliosis, lack of muscle and balance problems.
"It affects my mobility, my health and my appearance. Basically all aspects of my life," Rumeysa Gelgi told the BBC.
Normally travels in a wheelchair, but he can occasionally sit up and move around for short periods of time with the help of a walker.
"I have always wanted to have an independent life and as successful as possible. It is difficult to be independent due to my condition but I have tried to live as independently as I can," he explained.
"An inspiration"
She describes herself as a programmer who has just completed her professional training and will soon begin working with goals of "building a successful career".
"Every disadvantage can be turned into an advantage if you accept yourself as you are, know your potential and do your best," he said in a statement published by the Guinness Book.
While she acknowledges that when people stare at her it can feel uncomfortable, most people support her once they meet her.
Her message is that "it's okay to stand out" and she hopes she can inspire others to take pride in being different.
Curiously, the currently tallest man in the world also comes from Turkey. Sultan Kösen is 2 meters and 51 centimeters tall.
The Guinness Book said that the fact that the tallest man and woman come from the same country is a "rare event".
Gelgi now says that she is interested in meeting her male counterpart.
Craig Glenday, editor-in-chief of the Guinness Book of Records said: "It is an honor again to welcome Rumeysa to the record book."
"His untamed spirit and pride in standing out from the crowd is an inspiration."
Now you can receive notifications from BBC Mundo. Download the new version of our app and activate them so you don't miss out on our best content.

www.bbc.com
Eddie is an Australian news reporter with over 9 years in the industry and has published on Forbes and tech crunch.