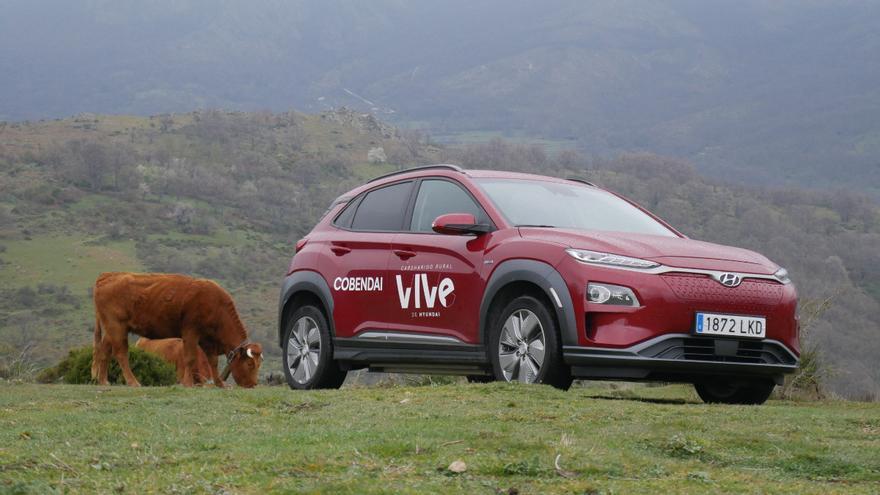 Hyundai Motor SpainHyundai Motor Spain remains firm in its eagerness to provide solutions sustainable mobility to those who need it most, through It lives, a service of 100% electric rural carsharing that allows the smallest municipalities in Spain to have an emission-free vehicle so that their inhabitants can move about with their daily needs.
Any municipality with less than 10,000 inhabitants can request this service at the nearest Hyundai dealership, and they will be in charge of starting it up and offering the necessary support. In addition, the Hyundai dealer network will carry out the installation of a recharging point in the locality.
This is the case of The Hiruela, as far as we go to see how VIVe had changed the lives of its citizens. It is a beautiful population of 65 inhabitants nestled in the Sierra del Rincón, a declared space UNESCO Biosphere Reserve. A privileged environment from the landscape and environmental point of view, which perfectly matches the respectful mobility of the Kona EVKona EV, a 100% electric vehicle free of polluting emissions.
With Hyundai VIVeHyundai VIVe, the inhabitants registered in these localities can enjoy the service completely free of charge during the first three months. From that moment on, the service will begin to be paid and will also be open to anyone who comes to these towns. The format flexibility in terms of users and rates It is one of the characteristics best valued by city councils, since they can customize the contract according to their needs and those of their neighbors and / or users.
Each municipality sets its rate system based on the use given by its citizens. There is no single billing system. There are them by time slots, half days, combined time and kilometers. There are municipalities that have it in a closed community (registered), others open (app users). For example, there are towns that are for municipal use in the mornings and paid for citizens in the afternoon.
To use the vehicle, you must download the VIVe app and follow the steps indicated therein. Through this application, users can reserve the vehicle, unlock it, access the available fleet, report any incident and make the payment. Yes indeed, journeys are limited to a radius of up to 150 kilometers, more than enough for daily chores.
Juanjo Martinez, communication director of Hyundai Motor Spain, is convinced of the great benefits that VIVe represents for citizens of rural environments. "Carsharing is revolutionizing the way we move in cities, but no company had opted to extend this shared mobility format to the rural world, where they often lack basic services. VIVe is a social initiative that improves the day-to-day life of the neighbors of many towns ".
Juanjo Martínez told us some moving stories in which VIVe cars have been protagonists, fulfilling a social task. For example, one in which "a young boy from Campisábalos regained social life since he had his closest friend in a town that took more than an hour to arrive by public transport", or another in which "a pregnant woman used the VIVe's vehicle to go give birth to her son, when she found that her car was not working.
With this initiative, Hyundai wants to create a sustainable mobility network for emptied Spain, which will improve the quality of life of its citizens and contribute to conserving air quality.
EXPANSION
Currently Hyundai VIVe has the service activated with 20 cars in 19 municipalities in 12 provinces, and is receiving requests from other municipalities in all corners of Spain, including the islands. At present there are more than 25 procedures open with municipalities in different phases (signing of agreement, installation of chargers …), and applications are beginning to be processed with another 20 municipalities.
Hyundai Spain is also in negotiations to launch the first regional mobility network in the Sierra de la Demanda (Burgos-La Rioja), an association of municipalities is coordinating the installation of several VIVe in the same region.
To date, all Hyundai VIVe cars have been toured more than 35,000 km, with an average of 3,000 km per month. There is a total of 773 total registered users, through the App and they have been counted more than 1,200 reservations. More specifically the Hyundai Kona EV used in La Hiruela since November 1 has traveled more than 4,300 kilometers, which represents an average of more than 800 kilometers per month. These figures speak of the usefulness of this vehicle for the residents of the beautiful town when it comes to moving around in their daily chores.

www.informacion.es
Eddie is an Australian news reporter with over 9 years in the industry and has published on Forbes and tech crunch.