Russia is using Europe's largest nuclear power plant as a base to store weapons including "missile systems" and shell the surrounding areas in Ukraine, an official with Kyiv's nuclear agency said, while nearly the entire country was placed on air raid alert.

","elementId":"e9071097-c0de-44d9-8447-6ca960604eec"},{"_type":"model.dotcomrendering.pageElements.TextBlockElement","html":"

Agence France-Presse reports the president of Ukrainian nuclear agency Energoatom said on Friday the situation at the Zaporizhzhia nuclear plant was "extremely tense", with up to 500 Russian soldiers controlling the plant.

","elementId":"3c00890b-084c-4637-95a8-120b5fbf3def"},{"_type":"model.dotcomrendering.pageElements.TextBlockElement","html":"

"The occupiers bring their machinery there, including missile systems, from which they already shell the other side of the river Dnipro and the territory of Nikopol," Pedro Kotin said in a televised interview, referring to the city across the water.

","elementId":"24bc8cb9-f1cd-4268-9aed-6ece3d3f5043″},{"_type":"model.dotcomrendering.pageElements.TextBlockElement","html":"

The plant in south-western Ukraine has been under Russian control since the early weeks of Moscow's invasion, though it is still being operated by Ukrainian staff.

","elementId":"e39a209b-db08-4ca3-9ac4-98192a04d11e"},{"_type":"model.dotcomrendering.pageElements.TextBlockElement","html":"

The most recent attack in the Dnipro region left three dead and 15 wounded, regional governor Valentin Reznichenko said on Telegram.

","elementId":"30514a52-de41-4ffa-b08d-08de93ab50fc"},{"_type":"model.dotcomrendering.pageElements.TextBlockElement","html":"

The threat of air raids across most of Ukraine was also raised after strikes were reported in areas far from the frontlines, with President Volodymyr Zelensky saying the Russian objective was to "cause maximum damage to Ukrainian cities".

","elementId":"5ef2a3c7-c2d1-43bb-ae73-6afb90728e9a"},{"_type":"model.dotcomrendering.pageElements.ImageBlockElement","media":{"allImages":[{"index":0,"fields":{"height":"3600″,"width":"6000″},"mediaType":"Image","mimeType":"image/jpeg","url":"https://media.guim.co.uk/d1e97728bd6af6801e10fa5103297b68a48052de/0_0_6000_3600/6000.jpg"},{"index":1,"fields":{"isMaster":"true","height":"3600″,"width":"6000″},"mediaType":"Image","mimeType":"image/jpeg","url":"https://media.guim.co.uk/d1e97728bd6af6801e10fa5103297b68a48052de/0_0_6000_3600/master/6000.jpg"},{"index":2,"fields":{"height":"1200″,"width":"2000″},"mediaType":"Image","mimeType":"image/jpeg","url":"https://media.guim.co.uk/d1e97728bd6af6801e10fa5103297b68a48052de/0_0_6000_3600/2000.jpg"},{"index":3,"fields":{"height":"600″,"width":"1000″},"mediaType":"Image","mimeType":"image/jpeg","url":"https://media.guim.co.uk/d1e97728bd6af6801e10fa5103297b68a48052de/0_0_6000_3600/1000.jpg"},{"index":4,"fields":{"height":"300″,"width":"500″},"mediaType":"Image","mimeType":"image/jpeg","url":"https://media.guim.co.uk/d1e97728bd6af6801e10fa5103297b68a48052de/0_0_6000_3600/500.jpg"},{"index":5,"fields":{"height":"84″,"width":"140″},"mediaType":"Image","mimeType":"image/jpeg","url":"https://media.guim.co.uk/d1e97728bd6af6801e10fa5103297b68a48052de/0_0_6000_3600/140.jpg"}]},"data":{"alt":"Russian forces driving through the gates of the Zaporizhzhia nuclear power station in Energodar, Ukraine, in May","caption":"Russian forces driving through the gates of the Zaporizhzhia nuclear power station in Energodar, Ukraine, in May.","credit":"Photograph: AP"},"displayCredit":true,"role":"inline","imageSources":[{"weighting":"inline","srcSet":[{"src":"https://i.guim.co.uk/img/media/d1e97728bd6af6801e10fa5103297b68a48052de/0_0_6000_3600/master/6000.jpg?width=620&quality=85&auto=format&fit=max&s=5b1e74678be3e7174c8101dcdf7ed56f","width":620},{"src":"https://i.guim.co.uk/img/media/d1e97728bd6af6801e10fa5103297b68a48052de/0_0_6000_3600/master/6000.jpg?width=620&quality=45&auto=format&fit=max&dpr=2&s=77a62f19136a61899526163d7ed9a489″,"width":1240},{"src":"https://i.guim.co.uk/img/media/d1e97728bd6af6801e10fa5103297b68a48052de/0_0_6000_3600/master/6000.jpg?width=605&quality=85&auto=format&fit=max&s=2a2441adec61cfae8482369e3fb0c0ee","width":605},{"src":"https://i.guim.co.uk/img/media/d1e97728bd6af6801e10fa5103297b68a48052de/0_0_6000_3600/master/6000.jpg?width=605&quality=45&auto=format&fit=max&dpr=2&s=43c501f4fa244ff237905d33d3de31da","width":1210},{"src":"https://i.guim.co.uk/img/media/d1e97728bd6af6801e10fa5103297b68a48052de/0_0_6000_3600/master/6000.jpg?width=445&quality=85&auto=format&fit=max&s=2284e17ebe332ff2b84403c2e0036522″,"width":445},{"src":"https://i.guim.co.uk/img/media/d1e97728bd6af6801e10fa5103297b68a48052de/0_0_6000_3600/master/6000.jpg?width=445&quality=45&auto=format&fit=max&dpr=2&s=06f4feaab51b55fda7b79bfb33de328a","width":890}]},{"weighting":"thumbnail","srcSet":[{"src":"https://i.guim.co.uk/img/media/d1e97728bd6af6801e10fa5103297b68a48052de/0_0_6000_3600/master/6000.jpg?width=140&quality=85&auto=format&fit=max&s=4122f59fa2326e672a3fde3d55ddf62a","width":140},{"src":"https://i.guim.co.uk/img/media/d1e97728bd6af6801e10fa5103297b68a48052de/0_0_6000_3600/master/6000.jpg?width=140&quality=45&auto=format&fit=max&dpr=2&s=729d1eb67bbaaa17832276de8421b798″,"width":280},{"src":"https://i.guim.co.uk/img/media/d1e97728bd6af6801e10fa5103297b68a48052de/0_0_6000_3600/master/6000.jpg?width=120&quality=85&auto=format&fit=max&s=7aca20294f8204e576d2ac4c26f04fc6″,"width":120},{"src":"https://i.guim.co.uk/img/media/d1e97728bd6af6801e10fa5103297b68a48052de/0_0_6000_3600/master/6000.jpg?width=120&quality=45&auto=format&fit=max&dpr=2&s=f4cf61b33064acf2c8c642184768602b","width":240}]},{"weighting":"supporting","srcSet":[{"src":"https://i.guim.co.uk/img/media/d1e97728bd6af6801e10fa5103297b68a48052de/0_0_6000_3600/master/6000.jpg?width=380&quality=85&auto=format&fit=max&s=8936e0d3b116298753b0bdf7138b682a","width":380},{"src":"https://i.guim.co.uk/img/media/d1e97728bd6af6801e10fa5103297b68a48052de/0_0_6000_3600/master/6000.jpg?width=380&quality=45&auto=format&fit=max&dpr=2&s=263d709d0044f597c662e9ea6c87f364″,"width":760},{"src":"https://i.guim.co.uk/img/media/d1e97728bd6af6801e10fa5103297b68a48052de/0_0_6000_3600/master/6000.jpg?width=300&quality=85&auto=format&fit=max&s=11e8919272492366b95157af7c7dae7d","width":300},{"src":"https://i.guim.co.uk/img/media/d1e97728bd6af6801e10fa5103297b68a48052de/0_0_6000_3600/master/6000.jpg?width=300&quality=45&auto=format&fit=max&dpr=2&s=7e875fdf29f66467c0dbfc5d3d9e60ea","width":600},{"src":"https://i.guim.co.uk/img/media/d1e97728bd6af6801e10fa5103297b68a48052de/0_0_6000_3600/master/6000.jpg?width=620&quality=85&auto=format&fit=max&s=5b1e74678be3e7174c8101dcdf7ed56f","width":620},{"src":"https://i.guim.co.uk/img/media/d1e97728bd6af6801e10fa5103297b68a48052de/0_0_6000_3600/master/6000.jpg?width=620&quality=45&auto=format&fit=max&dpr=2&s=77a62f19136a61899526163d7ed9a489″,"width":1240},{"src":"https://i.guim.co.uk/img/media/d1e97728bd6af6801e10fa5103297b68a48052de/0_0_6000_3600/master/6000.jpg?width=605&quality=85&auto=format&fit=max&s=2a2441adec61cfae8482369e3fb0c0ee","width":605},{"src":"https://i.guim.co.uk/img/media/d1e97728bd6af6801e10fa5103297b68a48052de/0_0_6000_3600/master/6000.jpg?width=605&quality=45&auto=format&fit=max&dpr=2&s=43c501f4fa244ff237905d33d3de31da","width":1210},{"src":"https://i.guim.co.uk/img/media/d1e97728bd6af6801e10fa5103297b68a48052de/0_0_6000_3600/master/6000.jpg?width=445&quality=85&auto=format&fit=max&s=2284e17ebe332ff2b84403c2e0036522″,"width":445},{"src":"https://i.guim.co.uk/img/media/d1e97728bd6af6801e10fa5103297b68a48052de/0_0_6000_3600/master/6000.jpg?width=445&quality=45&auto=format&fit=max&dpr=2&s=06f4feaab51b55fda7b79bfb33de328a","width":890}]},{"weighting":"showcase","srcSet":[{"src":"https://i.guim.co.uk/img/media/d1e97728bd6af6801e10fa5103297b68a48052de/0_0_6000_3600/master/6000.jpg?width=860&quality=85&auto=format&fit=max&s=af6dd6d93a50fe6c14260b010ce320bb","width":860},{"src":"https://i.guim.co.uk/img/media/d1e97728bd6af6801e10fa5103297b68a48052de/0_0_6000_3600/master/6000.jpg?width=860&quality=45&auto=format&fit=max&dpr=2&s=9df79c9e7a1a00a8373296745a6cc59d","width":1720},{"src":"https://i.guim.co.uk/img/media/d1e97728bd6af6801e10fa5103297b68a48052de/0_0_6000_3600/master/6000.jpg?width=780&quality=85&auto=format&fit=max&s=18498cd1270aa16d2b10bd5cfc9680e1″,"width":780},{"src":"https://i.guim.co.uk/img/media/d1e97728bd6af6801e10fa5103297b68a48052de/0_0_6000_3600/master/6000.jpg?width=780&quality=45&auto=format&fit=max&dpr=2&s=7741a5c243f38d9eddcc5cddd8ecaafa","width":1560},{"src":"https://i.guim.co.uk/img/media/d1e97728bd6af6801e10fa5103297b68a48052de/0_0_6000_3600/master/6000.jpg?width=620&quality=85&auto=format&fit=max&s=5b1e74678be3e7174c8101dcdf7ed56f","width":620},{"src":"https://i.guim.co.uk/img/media/d1e97728bd6af6801e10fa5103297b68a48052de/0_0_6000_3600/master/6000.jpg?width=620&quality=45&auto=format&fit=max&dpr=2&s=77a62f19136a61899526163d7ed9a489″,"width":1240},{"src":"https://i.guim.co.uk/img/media/d1e97728bd6af6801e10fa5103297b68a48052de/0_0_6000_3600/master/6000.jpg?width=605&quality=85&auto=format&fit=max&s=2a2441adec61cfae8482369e3fb0c0ee","width":605},{"src":"https://i.guim.co.uk/img/media/d1e97728bd6af6801e10fa5103297b68a48052de/0_0_6000_3600/master/6000.jpg?width=605&quality=45&auto=format&fit=max&dpr=2&s=43c501f4fa244ff237905d33d3de31da","width":1210},{"src":"https://i.guim.co.uk/img/media/d1e97728bd6af6801e10fa5103297b68a48052de/0_0_6000_3600/master/6000.jpg?width=445&quality=85&auto=format&fit=max&s=2284e17ebe332ff2b84403c2e0036522″,"width":445},{"src":"https://i.guim.co.uk/img/media/d1e97728bd6af6801e10fa5103297b68a48052de/0_0_6000_3600/master/6000.jpg?width=445&quality=45&auto=format&fit=max&dpr=2&s=06f4feaab51b55fda7b79bfb33de328a","width":890}]},{"weighting":"halfwidth","srcSet":[{"src":"https://i.guim.co.uk/img/media/d1e97728bd6af6801e10fa5103297b68a48052de/0_0_6000_3600/master/6000.jpg?width=620&quality=85&auto=format&fit=max&s=5b1e74678be3e7174c8101dcdf7ed56f","width":620},{"src":"https://i.guim.co.uk/img/media/d1e97728bd6af6801e10fa5103297b68a48052de/0_0_6000_3600/master/6000.jpg?width=620&quality=45&auto=format&fit=max&dpr=2&s=77a62f19136a61899526163d7ed9a489″,"width":1240},{"src":"https://i.guim.co.uk/img/media/d1e97728bd6af6801e10fa5103297b68a48052de/0_0_6000_3600/master/6000.jpg?width=605&quality=85&auto=format&fit=max&s=2a2441adec61cfae8482369e3fb0c0ee","width":605},{"src":"https://i.guim.co.uk/img/media/d1e97728bd6af6801e10fa5103297b68a48052de/0_0_6000_3600/master/6000.jpg?width=605&quality=45&auto=format&fit=max&dpr=2&s=43c501f4fa244ff237905d33d3de31da","width":1210},{"src":"https://i.guim.co.uk/img/media/d1e97728bd6af6801e10fa5103297b68a48052de/0_0_6000_3600/master/6000.jpg?width=445&quality=85&auto=format&fit=max&s=2284e17ebe332ff2b84403c2e0036522″,"width":445},{"src":"https://i.guim.co.uk/img/media/d1e97728bd6af6801e10fa5103297b68a48052de/0_0_6000_3600/master/6000.jpg?width=445&quality=45&auto=format&fit=max&dpr=2&s=06f4feaab51b55fda7b79bfb33de328a","width":890}]},{"weighting":"immersive","srcSet":[{"src":"https://i.guim.co.uk/img/media/d1e97728bd6af6801e10fa5103297b68a48052de/0_0_6000_3600/master/6000.jpg?width=1900&quality=85&auto=format&fit=max&s=3b41eed6773f55584daf3e401d85c0f6″,"width":1900},{"src":"https://i.guim.co.uk/img/media/d1e97728bd6af6801e10fa5103297b68a48052de/0_0_6000_3600/master/6000.jpg?width=1900&quality=45&auto=format&fit=max&dpr=2&s=74db6d5351d2ed0664491896a5d2c895″,"width":3800},{"src":"https://i.guim.co.uk/img/media/d1e97728bd6af6801e10fa5103297b68a48052de/0_0_6000_3600/master/6000.jpg?width=1300&quality=85&auto=format&fit=max&s=360fdb7650c63a92ba97bdb28ee9027d","width":1300},{"src":"https://i.guim.co.uk/img/media/d1e97728bd6af6801e10fa5103297b68a48052de/0_0_6000_3600/master/6000.jpg?width=1300&quality=45&auto=format&fit=max&dpr=2&s=80a2cf14997fab07347c4d9612590304″,"width":2600},{"src":"https://i.guim.co.uk/img/media/d1e97728bd6af6801e10fa5103297b68a48052de/0_0_6000_3600/master/6000.jpg?width=1140&quality=85&auto=format&fit=max&s=8642d09c4023d209696ee80e719ba468″,"width":1140},{"src":"https://i.guim.co.uk/img/media/d1e97728bd6af6801e10fa5103297b68a48052de/0_0_6000_3600/master/6000.jpg?width=1140&quality=45&auto=format&fit=max&dpr=2&s=6d5da9b333a76c0d1f7c81551d1b6cad","width":2280},{"src":"https://i.guim.co.uk/img/media/d1e97728bd6af6801e10fa5103297b68a48052de/0_0_6000_3600/master/6000.jpg?width=980&quality=85&auto=format&fit=max&s=67b962c029708b6f0c45fbe5c59950fc","width":980},{"src":"https://i.guim.co.uk/img/media/d1e97728bd6af6801e10fa5103297b68a48052de/0_0_6000_3600/master/6000.jpg?width=980&quality=45&auto=format&fit=max&dpr=2&s=b4d28fa5eff1514b0205d4f680f6129d","width":1960},{"src":"https://i.guim.co.uk/img/media/d1e97728bd6af6801e10fa5103297b68a48052de/0_0_6000_3600/master/6000.jpg?width=740&quality=85&auto=format&fit=max&s=95637c8fd7269958cd973e01c1b75631″,"width":740},{"src":"https://i.guim.co.uk/img/media/d1e97728bd6af6801e10fa5103297b68a48052de/0_0_6000_3600/master/6000.jpg?width=740&quality=45&auto=format&fit=max&dpr=2&s=f20be35fc4d9ba5a6abfbb3ae3d716fd","width":1480},{"src":"https://i.guim.co.uk/img/media/d1e97728bd6af6801e10fa5103297b68a48052de/0_0_6000_3600/master/6000.jpg?width=660&quality=85&auto=format&fit=max&s=bf100e9166e9eab47466b7cd596dd0f4″,"width":660},{"src":"https://i.guim.co.uk/img/media/d1e97728bd6af6801e10fa5103297b68a48052de/0_0_6000_3600/master/6000.jpg?width=660&quality=45&auto=format&fit=max&dpr=2&s=758e20133d5648c970d9d85d29e8814b","width":1320},{"src":"https://i.guim.co.uk/img/media/d1e97728bd6af6801e10fa5103297b68a48052de/0_0_6000_3600/master/6000.jpg?width=480&quality=85&auto=format&fit=max&s=216ed4f9ec28ffe4b75798281c435e98″,"width":480},{"src":"https://i.guim.co.uk/img/media/d1e97728bd6af6801e10fa5103297b68a48052de/0_0_6000_3600/master/6000.jpg?width=480&quality=45&auto=format&fit=max&dpr=2&s=6e7dd3a90d773926679e262ca0a88d30″,"width":960}]}],"elementId":"75680656-7067-4015-a3de-f651e43c7b7e"}],"attributes":{"pinned":false,"keyEvent":true,"summary":false},"blockCreatedOn":1657953151000 ,"blockCreatedOnDisplay":"07.32 BST","blockLastUpdated":1657955165000,"blockLastUpdatedDisplay":"08.06 BST","blockFirstPublished":1657955166000,"blockFirstPublishedDisplay":"08.06 BST","FirstblockPublishedDisplayNoTimezone":"08.06″,"title ":"Russia storing weapons in European nuclear plant – Ukrainian official","contributors":[]","primaryDateLine":"Sat 16 Jul 2022 08.22 BST","secondaryDateLine":"First published on Sat 16 Jul 2022 07.32 BST"},{"id":"62d242208f08b970599b7580″,"elements":[{"_type":"model.dotcomrendering.pageElements.TextBlockElement","html":"

Air raid sirens sounded across Kyiv on Saturday as Russia intensified its long-range bombardment of Ukrainian cities that has killed at least 34 people and wounded scores in the past three days.

","elementId":"5b4a85b9-8670-4ec8-a074-99644367d777″},{"_type":"model.dotcomrendering.pageElements.TextBlockElement","html":"

Late on Friday, Russian missiles hit the central city of Dnipro, killing three people and wounding 15, said the regional governor, Valentyn Reznychenko. Rockets hit an industrial plant and a street next to it, he said on Telegram.

Reuters reported footage on social media showing thick black smoke rising from buildings and burning cars.

Eight people were killed and 13 injured in a string of shellings in 10 locations in the eastern region of Donetsk, the governor, Pavlo Kyrylenko, said in a television interview.

On Thursday, Kalibr cruise missiles launched from a Russian submarine in the Black Sea hit an office building in Vinnytsia, south-west of Kyiv, in a strike Ukraine said killed at least 23 people.

","elementId":"98ad6d88-3b8c-4f54-8a50-c3aefabadfda"},{"_type":"model.dotcomrendering.pageElements.ImageBlockElement","media":{"allImages":[{"index":0,"fields":{"height":"4815″,"width":"8021″},"mediaType":"Image","mimeType":"image/jpeg","url":"https://media.guim.co.uk/e040d2a00a55551f2ef07090f36785967289ce88/0_370_8021_4815/8021.jpg"},{"index":1,"fields":{"isMaster":"true","height":"4815″,"width":"8021″},"mediaType":"Image","mimeType":"image/jpeg","url":"https://media.guim.co.uk/e040d2a00a55551f2ef07090f36785967289ce88/0_370_8021_4815/master/8021.jpg"},{"index":2,"fields":{"height":"1200″,"width":"2000″},"mediaType":"Image","mimeType":"image/jpeg","url":"https://media.guim.co.uk/e040d2a00a55551f2ef07090f36785967289ce88/0_370_8021_4815/2000.jpg"},{"index":3,"fields":{"height":"600″,"width":"1000″},"mediaType":"Image","mimeType":"image/jpeg","url":"https://media.guim.co.uk/e040d2a00a55551f2ef07090f36785967289ce88/0_370_8021_4815/1000.jpg"},{"index":4,"fields":{"height":"300″,"width":"500″},"mediaType":"Image","mimeType":"image/jpeg","url":"https://media.guim.co.uk/e040d2a00a55551f2ef07090f36785967289ce88/0_370_8021_4815/500.jpg"},{"index":5,"fields":{"height":"84″,"width":"140″},"mediaType":"Image","mimeType":"image/jpeg","url":"https://media.guim.co.uk/e040d2a00a55551f2ef07090f36785967289ce88/0_370_8021_4815/140.jpg"}]},"data":{"alt":"Flowers and toys placed near the site of Russia's missile strikes on Vinnytsia, Ukraine","caption":"Flowers and toys placed near the site of Russia's missile strikes on Vinnytsia, Ukraine, in which three children were among at least 23 people killed.","credit":"Photograph: Ed Ram/Zuma Press Wire Service/REX/Shutterstock"},"displayCredit":true,"role":"inline"," imageSources":[{"weighting":"inline","srcSet":[{"src":"https://i.guim.co.uk/img/media/e040d2a00a55551f2ef07090f36785967289ce88/0_370_8021_4815/master/8021.jpg?width=620&quality=85&auto=format&fit=max&s=099a0316dd839bd1f27de837ae8e9a84″,"width":620},{"src":"https://i.guim.co.uk/img/media/e040d2a00a55551f2ef07090f36785967289ce88/0_370_8021_4815/master/8021.jpg?width=620&quality=45&auto=format&fit=max&dpr=2&s=914dd4f9d0903c9634b2b103cd3a063b","width":1240},{"src":"https://i.guim.co.uk/img/media/e040d2a00a55551f2ef07090f36785967289ce88/0_370_8021_4815/master/8021.jpg?width=605&quality=85&auto=format&fit=max&s=afc88cb93081c6f5f484ff622623ffd4″,"width":605},{"src":"https://i.guim.co.uk/img/media/e040d2a00a55551f2ef07090f36785967289ce88/0_370_8021_4815/master/8021.jpg?width=605&quality=45&auto=format&fit=max&dpr=2&s=691b56549a8bd2c9bb2e343104cff14d","width":1210},{"src":"https://i.guim.co.uk/img/media/e040d2a00a55551f2ef07090f36785967289ce88/0_370_8021_4815/master/8021.jpg?width=445&quality=85&auto=format&fit=max&s=60a32376bfb658eedfa6def8ae9a4143″,"width":445},{"src":"https://i.guim.co.uk/img/media/e040d2a00a55551f2ef07090f36785967289ce88/0_370_8021_4815/master/8021.jpg?width=445&quality=45&auto=format&fit=max&dpr=2&s=877d67c50ef0c04fdc5876521bdbd9ec","width":890}]},{"weighting":"thumbnail","srcSet":[{"src":"https://i.guim.co.uk/img/media/e040d2a00a55551f2ef07090f36785967289ce88/0_370_8021_4815/master/8021.jpg?width=140&quality=85&auto=format&fit=max&s=22dc7fecc8053bbe52cba47db9d8a907″,"width":140},{"src":"https://i.guim.co.uk/img/media/e040d2a00a55551f2ef07090f36785967289ce88/0_370_8021_4815/master/8021.jpg?width=140&quality=45&auto=format&fit=max&dpr=2&s=9978adb8e6c06fb7966c14aef9d54085″,"width":280},{"src":"https://i.guim.co.uk/img/media/e040d2a00a55551f2ef07090f36785967289ce88/0_370_8021_4815/master/8021.jpg?width=120&quality=85&auto=format&fit=max&s=f5078defbe01479089b50fcbc74a0743″,"width":120},{"src":"https://i.guim.co.uk/img/media/e040d2a00a55551f2ef07090f36785967289ce88/0_370_8021_4815/master/8021.jpg?width=120&quality=45&auto=format&fit=max&dpr=2&s=6baf69ca39e99b46e617e0d1d9b60849″,"width":240}]},{"weighting":"supporting","srcSet":[{"src":"https://i.guim.co.uk/img/media/e040d2a00a55551f2ef07090f36785967289ce88/0_370_8021_4815/master/8021.jpg?width=380&quality=85&auto=format&fit=max&s=84248c4d443c81995b342c268266570e","width":380},{"src":"https://i.guim.co.uk/img/media/e040d2a00a55551f2ef07090f36785967289ce88/0_370_8021_4815/master/8021.jpg?width=380&quality=45&auto=format&fit=max&dpr=2&s=1a672d8a10aaec07d86c80a7afa8993d","width":760},{"src":"https://i.guim.co.uk/img/media/e040d2a00a55551f2ef07090f36785967289ce88/0_370_8021_4815/master/8021.jpg?width=300&quality=85&auto=format&fit=max&s=94f2fc9f64a1d515169a91e307e8fae4″,"width":300},{"src":"https://i.guim.co.uk/img/media/e040d2a00a55551f2ef07090f36785967289ce88/0_370_8021_4815/master/8021.jpg?width=300&quality=45&auto=format&fit=max&dpr=2&s=fdf275d42630dd1c84e62d28f4b37b1b","width":600},{"src":"https://i.guim.co.uk/img/media/e040d2a00a55551f2ef07090f36785967289ce88/0_370_8021_4815/master/8021.jpg?width=620&quality=85&auto=format&fit=max&s=099a0316dd839bd1f27de837ae8e9a84″,"width":620},{"src":"https://i.guim.co.uk/img/media/e040d2a00a55551f2ef07090f36785967289ce88/0_370_8021_4815/master/8021.jpg?width=620&quality=45&auto=format&fit=max&dpr=2&s=914dd4f9d0903c9634b2b103cd3a063b","width":1240},{"src":"https://i.guim.co.uk/img/media/e040d2a00a55551f2ef07090f36785967289ce88/0_370_8021_4815/master/8021.jpg?width=605&quality=85&auto=format&fit=max&s=afc88cb93081c6f5f484ff622623ffd4″,"width":605},{"src":"https://i.guim.co.uk/img/media/e040d2a00a55551f2ef07090f36785967289ce88/0_370_8021_4815/master/8021.jpg?width=605&quality=45&auto=format&fit=max&dpr=2&s=691b56549a8bd2c9bb2e343104cff14d","width":1210},{"src":"https://i.guim.co.uk/img/media/e040d2a00a55551f2ef07090f36785967289ce88/0_370_8021_4815/master/8021.jpg?width=445&quality=85&auto=format&fit=max&s=60a32376bfb658eedfa6def8ae9a4143″,"width":445},{"src":"https://i.guim.co.uk/img/media/e040d2a00a55551f2ef07090f36785967289ce88/0_370_8021_4815/master/8021.jpg?width=445&quality=45&auto=format&fit=max&dpr=2&s=877d67c50ef0c04fdc5876521bdbd9ec","width":890}]},{"weighting":"showcase","srcSet":[{"src":"https://i.guim.co.uk/img/media/e040d2a00a55551f2ef07090f36785967289ce88/0_370_8021_4815/master/8021.jpg?width=860&quality=85&auto=format&fit=max&s=f9eb6579dc36524bfbf035a79452ffc2″,"width":860},{"src":"https://i.guim.co.uk/img/media/e040d2a00a55551f2ef07090f36785967289ce88/0_370_8021_4815/master/8021.jpg?width=860&quality=45&auto=format&fit=max&dpr=2&s=1fde4dfd7580cafc303c9fe6d7370d5e","width":1720},{"src":"https://i.guim.co.uk/img/media/e040d2a00a55551f2ef07090f36785967289ce88/0_370_8021_4815/master/8021.jpg?width=780&quality=85&auto=format&fit=max&s=7e49607dbd2ea7da2274d4a30f7cc1fd","width":780},{"src":"https://i.guim.co.uk/img/media/e040d2a00a55551f2ef07090f36785967289ce88/0_370_8021_4815/master/8021.jpg?width=780&quality=45&auto=format&fit=max&dpr=2&s=d3e9f1603ff984c9748545ba18a45518″,"width":1560},{"src":"https://i.guim.co.uk/img/media/e040d2a00a55551f2ef07090f36785967289ce88/0_370_8021_4815/master/8021.jpg?width=620&quality=85&auto=format&fit=max&s=099a0316dd839bd1f27de837ae8e9a84″,"width":620},{"src":"https://i.guim.co.uk/img/media/e040d2a00a55551f2ef07090f36785967289ce88/0_370_8021_4815/master/8021.jpg?width=620&quality=45&auto=format&fit=max&dpr=2&s=914dd4f9d0903c9634b2b103cd3a063b","width":1240},{"src":"https://i.guim.co.uk/img/media/e040d2a00a55551f2ef07090f36785967289ce88/0_370_8021_4815/master/8021.jpg?width=605&quality=85&auto=format&fit=max&s=afc88cb93081c6f5f484ff622623ffd4″,"width":605},{"src":"https://i.guim.co.uk/img/media/e040d2a00a55551f2ef07090f36785967289ce88/0_370_8021_4815/master/8021.jpg?width=605&quality=45&auto=format&fit=max&dpr=2&s=691b56549a8bd2c9bb2e343104cff14d","width":1210},{"src":"https://i.guim.co.uk/img/media/e040d2a00a55551f2ef07090f36785967289ce88/0_370_8021_4815/master/8021.jpg?width=445&quality=85&auto=format&fit=max&s=60a32376bfb658eedfa6def8ae9a4143″,"width":445},{"src":"https://i.guim.co.uk/img/media/e040d2a00a55551f2ef07090f36785967289ce88/0_370_8021_4815/master/8021.jpg?width=445&quality=45&auto=format&fit=max&dpr=2&s=877d67c50ef0c04fdc5876521bdbd9ec","width":890}]},{"weighting":"halfwidth","srcSet":[{"src":"https://i.guim.co.uk/img/media/e040d2a00a55551f2ef07090f36785967289ce88/0_370_8021_4815/master/8021.jpg?width=620&quality=85&auto=format&fit=max&s=099a0316dd839bd1f27de837ae8e9a84″,"width":620},{"src":"https://i.guim.co.uk/img/media/e040d2a00a55551f2ef07090f36785967289ce88/0_370_8021_4815/master/8021.jpg?width=620&quality=45&auto=format&fit=max&dpr=2&s=914dd4f9d0903c9634b2b103cd3a063b","width":1240},{"src":"https://i.guim.co.uk/img/media/e040d2a00a55551f2ef07090f36785967289ce88/0_370_8021_4815/master/8021.jpg?width=605&quality=85&auto=format&fit=max&s=afc88cb93081c6f5f484ff622623ffd4″,"width":605},{"src":"https://i.guim.co.uk/img/media/e040d2a00a55551f2ef07090f36785967289ce88/0_370_8021_4815/master/8021.jpg?width=605&quality=45&auto=format&fit=max&dpr=2&s=691b56549a8bd2c9bb2e343104cff14d","width":1210},{"src":"https://i.guim.co.uk/img/media/e040d2a00a55551f2ef07090f36785967289ce88/0_370_8021_4815/master/8021.jpg?width=445&quality=85&auto=format&fit=max&s=60a32376bfb658eedfa6def8ae9a4143″,"width":445},{"src":"https://i.guim.co.uk/img/media/e040d2a00a55551f2ef07090f36785967289ce88/0_370_8021_4815/master/8021.jpg?width=445&quality=45&auto=format&fit=max&dpr=2&s=877d67c50ef0c04fdc5876521bdbd9ec","width":890}]},{"weighting":"immersive","srcSet":[{"src":"https://i.guim.co.uk/img/media/e040d2a00a55551f2ef07090f36785967289ce88/0_370_8021_4815/master/8021.jpg?width=1900&quality=85&auto=format&fit=max&s=a981474f148371535706b99878167ed9″,"width":1900},{"src":"https://i.guim.co.uk/img/media/e040d2a00a55551f2ef07090f36785967289ce88/0_370_8021_4815/master/8021.jpg?width=1900&quality=45&auto=format&fit=max&dpr=2&s=ba5c7419f84839fc927323d7aab9816b","width":3800},{"src":"https://i.guim.co.uk/img/media/e040d2a00a55551f2ef07090f36785967289ce88/0_370_8021_4815/master/8021.jpg?width=1300&quality=85&auto=format&fit=max&s=1e7e4d66bff2077fb5cc203771a9c36d","width":1300},{"src":"https://i.guim.co.uk/img/media/e040d2a00a55551f2ef07090f36785967289ce88/0_370_8021_4815/master/8021.jpg?width=1300&quality=45&auto=format&fit=max&dpr=2&s=fc7169d9e49840c5480fa6a65ebe4c50″,"width":2600},{"src":"https://i.guim.co.uk/img/media/e040d2a00a55551f2ef07090f36785967289ce88/0_370_8021_4815/master/8021.jpg?width=1140&quality=85&auto=format&fit=max&s=14c3d9c87d08503d416375cba614106b","width":1140},{"src":"https://i.guim.co.uk/img/media/e040d2a00a55551f2ef07090f36785967289ce88/0_370_8021_4815/master/8021.jpg?width=1140&quality=45&auto=format&fit=max&dpr=2&s=e5dcec3f36f641b7e3da2de812314e33″,"width":2280},{"src":"https://i.guim.co.uk/img/media/e040d2a00a55551f2ef07090f36785967289ce88/0_370_8021_4815/master/8021.jpg?width=980&quality=85&auto=format&fit=max&s=6bb51816be2ed3bfa7703ca01ee8f91a","width":980},{"src":"https://i.guim.co.uk/img/media/e040d2a00a55551f2ef07090f36785967289ce88/0_370_8021_4815/master/8021.jpg?width=980&quality=45&auto=format&fit=max&dpr=2&s=837fbce76ad0899f872943ead2c37d13″,"width":1960},{"src":"https://i.guim.co.uk/img/media/e040d2a00a55551f2ef07090f36785967289ce88/0_370_8021_4815/master/8021.jpg?width=740&quality=85&auto=format&fit=max&s=c018e95dafa39756e103faf0edc28ec6″,"width":740},{"src":"https://i.guim.co.uk/img/media/e040d2a00a55551f2ef07090f36785967289ce88/0_370_8021_4815/master/8021.jpg?width=740&quality=45&auto=format&fit=max&dpr=2&s=24d6d2cf3b64dccb2ecfc37cc4dbc7ba","width":1480},{"src":"https://i.guim.co.uk/img/media/e040d2a00a55551f2ef07090f36785967289ce88/0_370_8021_4815/master/8021.jpg?width=660&quality=85&auto=format&fit=max&s=12b6a07cb5cb21e5c6f96dfb46663e90″,"width":660},{"src":"https://i.guim.co.uk/img/media/e040d2a00a55551f2ef07090f36785967289ce88/0_370_8021_4815/master/8021.jpg?width=660&quality=45&auto=format&fit=max&dpr=2&s=251866e8d97a71b54a87864c27d7f75c","width":1320},{"src":"https://i.guim.co.uk/img/media/e040d2a00a55551f2ef07090f36785967289ce88/0_370_8021_4815/master/8021.jpg?width=480&quality=85&auto=format&fit=max&s=5999bb6d09f0b368f782bb2d6eba38f0″,"width":480},{"src":"https://i.guim.co.uk/img/media/e040d2a00a55551f2ef07090f36785967289ce88/0_370_8021_4815/master/8021.jpg?width=480&quality=45&auto=format&fit=max&dpr=2&s=385c5bf251fcbd36d225fff25e21080b","width":960}]}],"elementId":"722f5cda-9381-41f1-9197-93f8fa29d433″}],"attributes":{"pinned":false,"keyEvent":true,"summary":false},"blockCreatedOn":1657953151000 ,"blockCreatedOnDisplay":"07.32 BST","blockLastUpdated":1657953905000,"blockLastUpdatedDisplay":"07.45 BST","blockFirstPublished":1657953906000,"blockFirstPublishedDisplay":"07.45 BST","FirstblockPublishedDisplayNoTimezone":"07.45″,"title ":"Air raid sirens in Kyiv as Russia steps up long-range attacks","contributors":[]","primaryDateLine":"Sat 16 Jul 2022 08.22 BST","secondaryDateLine":"First published on Sat 16 Jul 2022 07.32 BST"},{"id":"62d235ce8f086e8f936975e6″,"elements":[{"_type":"model.dotcomrendering.pageElements.TextBlockElement","html":"

Hello and welcome to the Guardian's continuing coverage of the war in Ukraine. It is approaching 10am in Kyiv. Here's a summary of the latest developments.

","elementId":"3fb9f0fc-9fa8-4336-8267-17720ca8eed7″},{"_type":"model.dotcomrendering.pageElements.TextBlockElement","html":"
n
At least three people were killed and 15 injured following a missile attack on Friday on Dnipro in central Ukraine, the country's fourth-largest city with more than 1 million inhabitants. "The rockets hit an industrial plant and a busy street next to it," the regional governor, Valentyn Rezynchenko, said on his Facebook page.

n

The UK said the Kremlin was "fully responsible" for the death of a British captive in east Ukraine as rescue workers in Vinnytsia scoured debris for missing people after devastating Russian rocket attacks. The British foreign secretary, Liz Truss, said: "I am shocked to hear reports of the death of British aid worker Paul Urey while in the custody of a Russian proxy in Ukraine. Russia must bear the full responsibility for this." Rescue workers were still clearing debris in the wake of strikes in Vinnytsia, central Ukraine, that killed at least 23 people.

n

A top Ukrainian official has accused Russia of deliberately escalating its deadly attacks on civilian targets. Oleksiy Danilov, the secretary of Ukraine's national security council, told the Guardian that monitoring of Russian strikes suggested an increased emphasis in recent weeks on terrorising Ukraine's civilian population. "That's not my emotions but what our monitoring is telling us."

n

A wounded soldier who returned from Russian captivity has recounted how Russian forces would threaten Ukrainian soldiers with the death penalty if they refused to cooperate. Denys Piskun, an Azov soldier, told Azov Media: "They said that if you don't testify, if you don't cooperate, there will be the death penalty. You all have the death penalty on trial as a Nazi terrorist organisation."

n

Ukrainian officials have confirmed that the US House of Representatives approved $100m in funding to train Ukrainian pilots to operate American aircraft as part of the National Defence Authorisation Act. The pilots will be trained on F-15 and F-16 jets, according to Andriy Yermak, Ukraine president Volodymyr Zelenskiy's chief of staff.

n

Ukraine's military losses peaked in May, the defence minister, Oleksii Reznikov, said in a new interview aired on Friday. Speaking to the BBC, Reznikov said: "The biggest peak of our losses was in May," with up to 100 soldiers being killed a day.

n

Europe has "shot itself in the lungs" with sanctions aimed at Russia over its war in Ukraine, the Hungarian prime minister, Viktor Orbán, said on Friday. Orbán, a nationalist who has ruled Hungary since 2010 and frequently clashes with Brussels, has been a fierce critic of European Union sanctions on Russian oil. In an address on national radio, Orbán urged EU leaders to change the sanctions policy.

n

Ukrainian rocket strikes have destroyed more than 30 Russian military logistics centres in recent weeks and significantly reduced Russia's attacking potential, Ukraine's defence ministry spokesperson said on Friday. The official, Oleksandr Motuzianyk, emphasised the role played by US Himars (high mobility artillery rocket systems) rocket systems, one of several types of long-range weapon supplied by the west to assist Ukraine in the war.

n

M270 long-range multiple rocket launch systems have arrived in Ukraine, the Ukrainian defence minister announced on Friday. "They will be good company for Himars on the battlefield."

n
","elementId":"f43a5581-e182-4a67-b9d0-35ebce7bdbe0″}],"attributes":{"pinned":false,"keyEvent":true,"summary":false},"blockCreatedOn":1657953151000,"blockCreatedOnDisplay":"07.32 BST","blockLastUpdated":1657953144000,"blockLastUpdatedDisplay": "07.32 BST","blockFirstPublished":1657953151000,"blockFirstPublishedDisplay":"07.32 BST","blockFirstPublishedDisplayNoTimezone":"07.32″,"title":"Summary","contributors":[],"primaryDateLine":"Sat 16 Jul 2022 08.22 BST","secondaryDateLine":"First published on Sat 16 Jul 2022 07.32 BST"}],"filterKeyEvents":false,"format":{"display":0," theme":0,"design":9},"id":"key-events-carousel-mobile"}">
Key events:
A Russian strike hit the northeast Ukrainian town of Chuhuiv in Kharkiv region overnight, killing three people including a woman of 70, and wounding three more, the regional governor said.
The strike damaged a residential block, a school and a shop, and rescuers were going through the rubble, governor Oleh Synehovov said on Telegram.
Russia denies targeting civilians, Reuters reports.
moldova received about €600m in pledges at a donors conference on Friday, an official said, to help the tiny country overcome rising inflation and the impact of Russia's war in Ukraine.
More than 500,000 refugees have fled to Moldova, which borders Ukraine, since the Russian invasion on 24 February. Associated Press reports that the situation has put a huge strain on resources in Europe's poorest country, which is looking to forge closer ties with the west.
Moldova is also fully dependent on Russian gas supplies, with prices hiking four-fold in the past year, and is now contending with skyrocketing inflation.
The Moldova Support Platform donor meeting on Friday was held in Romania's capital, Bucharestand was co-haired by the Romanian foreign minister, Bogdan Aurescuhis German counterpart, annalena baerbockand the French secretary of state for development, Chrysoula Zacharopoulou. Delegates from the Group of Seven and the Organization for Security and Cooperation in Europe also attended the event.
Baerbock wrote online after the event:
We may not have the power to stop the war in Ukraine today or tomorrow, due to Russia's brutality. But we do have the means to help a democratic country to prevent it from being crushed by the effects of this war.
I'm Jedidajah Otte and taking over now for the next few hours.
Russia storing weapons in European nuclear plant – Ukrainian official
Russia is using Europe's largest nuclear power plant as a base to store weapons including "missile systems" and shell the surrounding areas in Ukraine, an official with Kyiv's nuclear agency said, while nearly the entire country was placed on air raid alert.
Agence France-Presse reports the president of Ukrainian nuclear agency Energoatom said on Friday the situation at the Zaporizhzhia nuclear plant was "extremely tense", with up to 500 Russian soldiers controlling the plant.
"The occupiers bring their machinery there, including missile systems, from which they already shell the other side of the river Dnipro and the territory of Nikopol," Peter Kotin said in a televised interview, referring to the city across the water.
The plant in south-western Ukraine has been under Russian control since the early weeks of Moscow's invasion, though it is still being operated by Ukrainian staff.
The most recent attack in the Dnipro region left three dead and 15 wounded, regional governor Valentin Reznichenko said on Telegram.
The threat of air raids across most of Ukraine was also raised after strikes were reported in areas far from the frontlines, with President Volodymyr Zelensky saying the Russian objective was to "cause maximum damage to Ukrainian cities".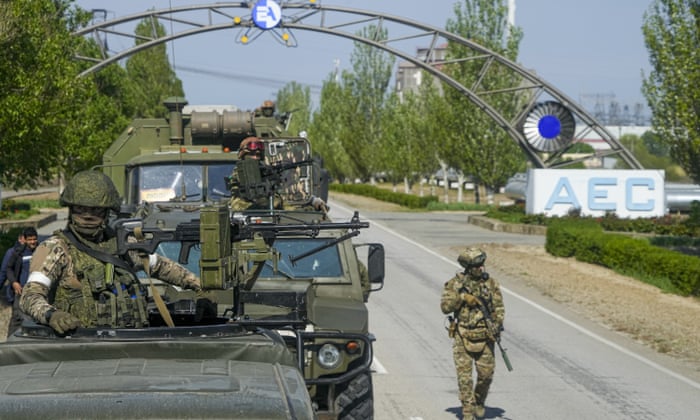 Russia and Ukraine have described progress towards an agreement to lift a blockade restricting the export of Ukrainian grain.
Turkey, mediating, has said a deal could be signed next week.
Asked if that timeline was realistic, a senior Ukrainian official who asked not to be identified told Reuters: "We really hope so. We're hurrying as fast as we can."
Russia's defense ministry said an agreement was close, but Moscow's negotiator cautioned that a grains deal would not lead to a resumption of peace talks.
A deal would probably involve inspections of vessels to ensure Ukraine was not bringing in arms and guarantees from western countries that Russia's own food exports are exempt from sanctions.
Moscow welcomed a written clarification by Washington on Thursday that banks, insurers and shippers would not be targeted by sanctions for facilitating shipments of Russian grain and fertilizer.
Air raid sirens in Kyiv as Russia steps up long-range attacks
Air raid sirens sounded across Kyiv on Saturday as Russia intensified its long-range bombardment of Ukrainian cities that has killed at least 34 people and wounded scores in the past three days.
Late on Friday, Russian missiles hit the central city of Dnipro, killing three people and wounding 15, said the regional governor, Valentyn Reznychenko. Rockets hit an industrial plant and a street next to it, he said on Telegram.
Reuters reported footage on social media showing thick black smoke rising from buildings and burning cars.
Eight people were killed and 13 injured in a string of shellings in 10 locations in the eastern region of Donetsk, the governor, Pavlo Kyrylenkosaid in a television interview.
On Thursday, Kalibr cruise missiles launched from a Russian submarine in the Black Sea hit an office building in Vinnytsia, south-west of Kyiv, in a strike Ukraine said killed at least 23 people.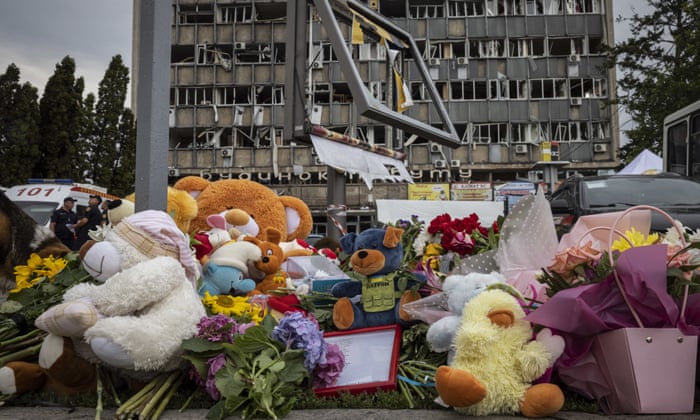 Hello and welcome to the Guardian's continuing coverage of the war in Ukraine. It is approaching 10am in Kyiv. Here's a summary of the latest developments.
At least three people were killed and 15 injured following a missile attack on Friday on Dnipro in central Ukraine, the country's fourth-largest city with more than 1 million inhabitants. "The rockets hit an industrial plant and a busy street next to it," the regional governor, Valentyn Rezynchenko, said on his Facebook page.
The UK said the Kremlin was "fully responsible" for the death of a British captive in east Ukraine as rescue workers in Vinnytsia scoured debris for missing people after devastating Russian rocket attacks. The British foreign secretary, Liz Truss, said: "I am shocked to hear reports of the death of British aid worker Paul Urey while in the custody of a Russian proxy in Ukraine. Russia must bear the full responsibility for this." Rescue workers were still clearing debris in the wake of strikes in Vinnytsia, central Ukraine, that killed at least 23 people.
A top Ukrainian official has accused Russia of deliberately escalating its deadly attacks on civilian targets. Oleksiy Danilov, the secretary of Ukraine's national security council, told the Guardian that monitoring of Russian strikes suggested an increased emphasis in recent weeks on terrorism in Ukraine's civilian population. "That's not my emotions but what our monitoring is telling us."
A wounded soldier who returned from Russian captivity has recounted how Russian forces would threaten Ukrainian soldiers with the death penalty if they refused to cooperate. Denys Piskun, an Azov soldier, told Azov Media: "They said that if you don't testify, if you don't cooperate, there will be the death penalty. You all have the death penalty on trial as a Nazi terrorist organisation."
Ukrainian officials have confirmed that the US House of Representatives approved $100m in funding to train Ukrainian pilots to operate American aircraft as part of the National Defense Authorization Act. The pilots will be trained on F-15 and F-16 jets, according to Andriy Yermak, Ukraine president Volodymyr Zelenskiy's chief of staff.
Ukraine's military losses peaked in May, the defense minister, Oleksii Reznikov, said in a new interview aired on Friday. Speaking to the BBC, Reznikov said: "The biggest peak of our losses was in May," with up to 100 soldiers being killed a day.
Europe has "shot itself in the lungs" with sanctions aimed at Russia over its war in Ukraine, the Hungarian prime minister, Viktor Orbán, said on Friday. Orbán, a nationalist who has ruled Hungary since 2010 and frequently clashes with Brussels, has been a fierce critic of European Union sanctions on Russian oil. In an address on national radio, Orbán urged EU leaders to change the sanctions policy.
Ukrainian rocket strikes have destroyed more than 30 Russian military logistics centers in recent weeks and significantly reduced Russia's attacking potential, Ukraine's defense ministry spokesperson said on Friday. The official, Oleksandr Motuzianyk, emphasized the role played by US Himars (high mobility artillery rocket systems) rocket systems, one of several types of long-range weapon supplied by the west to assist Ukraine in the war.
M270 long-range multiple rocket launch systems have arrived in Ukraine, the Ukrainian defense minister announced on Friday. "They will be good company for Himars on the battlefield."

www.theguardian.com
George is Digismak's reported cum editor with 13 years of experience in Journalism