A Moscow court sentenced Alexei Navalny to two years and eight months in a prison colony in a landmark decision over Vladimir Putin's crackdown on the country's leading opposition figure.
Navalny, who accused the Russian president and his allies of stealing billions, was sentenced to prison for violating the probation of a 2014 sentence for embezzlement. He said the case against him was politically motivated.
The judge subtracted 10 months that he spent under house arrest from his original sentence of three and a half years while rendering the verdict.
The court's decision makes Navalny Russia's most prominent political prisoner and may be the most important verdict against an enemy of Putin since the 2005 imprisonment of oligarch Mikhail Khodorkovsky.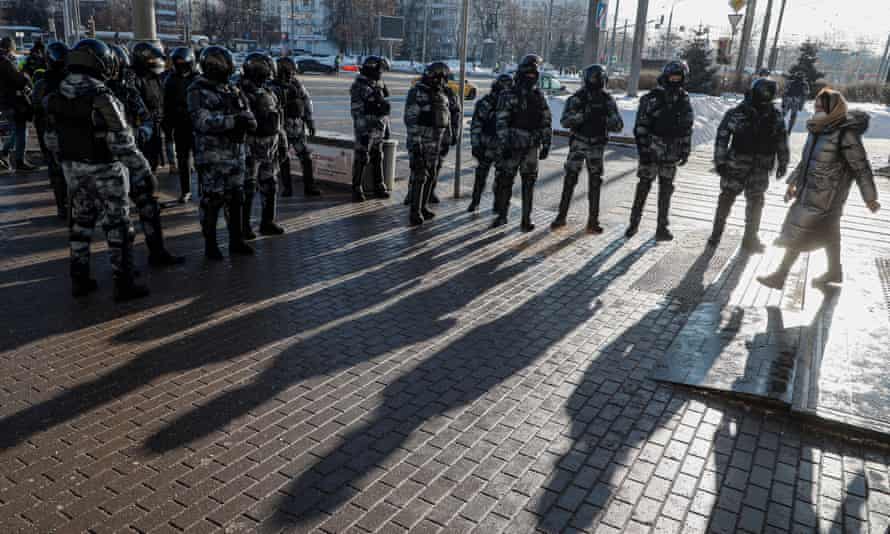 In an energetic speech from a Moscow city court decorated with portraits of Cicero and Montesquieu before the sentencing, Navalny accused Putin of ordering his assassination, saying that the Russian leader's "only method is to kill people."
He showed a heart sign with his hands to his wife Yulia when he later returned to hear her prayer.
The Kremlin's decision to send Navalny to prison came despite the threat of historic street protests and international condemnation from the US government and other foreign leaders. The court was attended by diplomats from more than half a dozen Western countries.
But the sentence showed the exhaustion of Russia's leaders with Navalny, who even from prison published a detailed investigation into a billion-pound palace on the Black Sea supposedly built for Putin's use.
He was arrested upon returning to Russia last month after surviving an alleged assassination attempt by the FSB with a novichok poison similar to that used in Salisbury in 2018 in August 2020.
Russian prison officials had said while Navalny was recovering in Germany that they would seek to imprison him for violating probation in the 2014 case in an apparent attempt to keep the Kremlin critic in exile, but he returned anyway.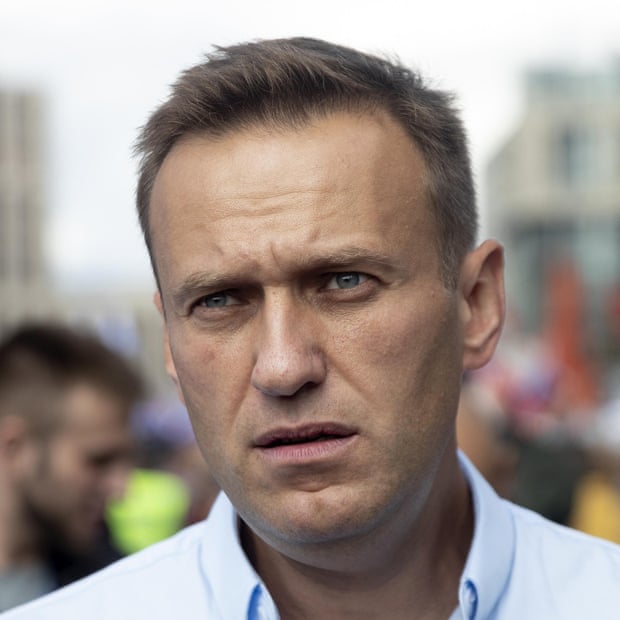 "Someone did not want me to take a single step in the territory of my country as a free man. And we know who and we know why: the hatred and fear of a man, who lives in a bunker, whom I offended by surviving when he tried to kill me, "he said about Putin. Their only method is to kill people. As much as he pretends to be a great geopolitician, he will go down in history as a poisoner. "
"This is not a political rally," the judge interrupted him at one point. "Let's not do politics here."
The 16-minute speech may be one of the opposition leader's last public prayers for years to come. Investigators are preparing to press new charges against Navalny for fraud and other charges that could carry a sentence of another decade in a penal colony if brought to trial.
In his comments, Navalny called on his supporters not to fear the government, saying "you can't put the whole country in jail." More than 5,000 people were detained in nationwide protests this weekend and Navalny's high-ranking aides were detained in government raids.
"Locking me up is not difficult," Navalny told the court. "This is happening to intimidate a large number of people. They are incarcerating one person to scare millions. "
He called the court case a "performance." "This is what happened when anarchy and tyranny became the essence of a political system, and it is horrible," he said.
For years, the government had hounded Navalny, keeping him under house arrest, incarcerating his aides and incarcerating his brother for three and a half years in 2014. But as of Tuesday, it had failed to give him a long prison sentence. apparently fearing a backlash.
In 2013, a judge abruptly released Navalny on probation one day after thousands protested his five-year prison sentence on the streets outside the Kremlin. The sudden change confirmed what many in the opposition believed: that important judicial decisions are made in the Kremlin.
The state of mind of the government It apparently changed after the failed assassination attempt and a deeply shameful investigation by Bellingcat, which exposed the attack as the work of an FSB assault squad that had followed Navalny around Russia for years. With a flourish, Navalny managed to extract a confession from a member of the FSB, the Russian intelligence service formerly led by Putin.
Before the verdict, hundreds of policemen fanned out around the Moscow city court, awaiting further protests. At 5 p.m., at least 235 people had been arrested, according to the monitor OVD-Info, although the court had not yet ruled.
The hearing was held in an oak-paneled courtroom in a crowded Moscow city court, where authorities prohibited reporters from taking photos or videos of the proceedings. Dressed in a blue hoodie, Navalny joked with his family and goaded the judge and prosecutor, who questioned him about whether he had missed the early 2020s parole checks.
From a glass-windowed holding cell called an "aquarium," he told his wife, "They showed you in my cell. They say you're still violating public order. You're a bad girl. I'm proud of you."
The diplomats who attended the hearing were chased by state television journalists who peppered them with questions about whether they were providing political support to Navalny. Navalny's allies have also called for new sanctions against some of Putin's closest allies and officials involved in his case.
Maria Zakharova, spokeswoman for the Russian Foreign Ministry, called the presence of Western diplomats "meddlesome."
"It exposes the petty and illegal role of the Western collective in attempts to restrain Russia," he said. "Or is it an attempt to psychologically pressure the judge?"

www.theguardian.com
George is Digismak's reported cum editor with 13 years of experience in Journalism