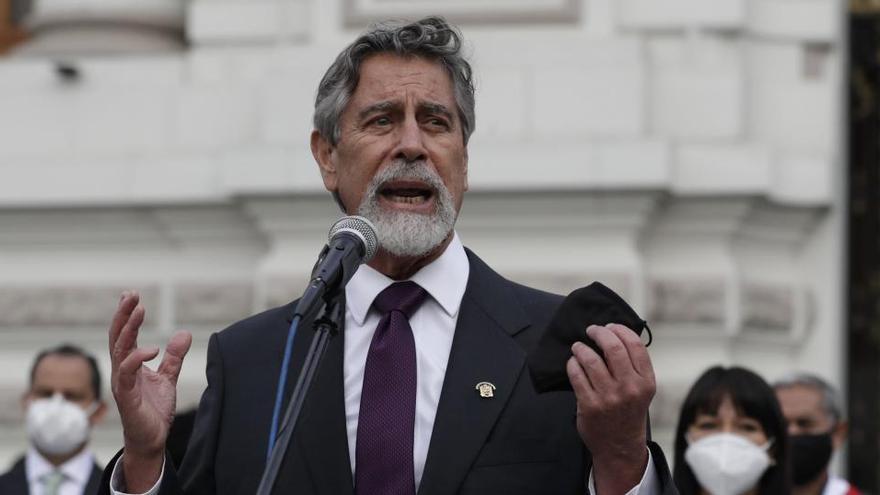 The elected president of the Congress of Peru, Francisco Sagasti, who will assume the Head of State this Tuesday, stated that he will "everything possible to restore hope to the citizenship "of his country, after the serious political and social crisis unleashed during the last week.
After being sworn in as president of the Legislature, the liberal parliamentarian, a 76-year-old industrial engineer, pointed out that the Peruvian Congress and Executive must "show" their compatriots "that they can trust" them and that they are "responsible".
"I am convinced that we can only get ahead by working together, collaborating," he emphasized before recalling that Peru is a few months away from celebrating the bicentennial of its independence, on July 28.
"That this moment is not an act of bitterness, that it be a moment of joy, hope and a glimpse that our country can finally become a true republic, with equal opportunities for all," he remarked.
Sagasti was elected this Monday as the new president of the Congress after the resignation of Manuel Merino amid massive citizen protests that broke out a week ago in rejection of the political class and the decision of the Legislature to remove Martín Vizcarra from the head of state.
It is not a day of celebration
The legislator, in a markedly slow, conciliatory tone that he sought from the beginning seek empathy among the deputies and before the entire nation, who was waiting expectantly for the first words of his new leader.
Sagasti began his speech by addressing his compatriots to tell them that "today is not a day of celebration", since two young people have died and dozens were injured by the police repression of the citizen protests in recent days.
"We have seen the death of two young people in protests expressing his point of view, democratically and practically without violence, "he remarked before paying tribute to Inti Sotelo and Jack Pintado, the two young men killed on Saturday in Lima.
Sagasti regretted that now they cannot change that situation or "bring them back to life", but he told the legislators that they can "from Congress, from the Executive, take steps so that this does not happen again. "
"When a Peruvian dies, and even more so if he is young, all of Peru is in mourning, and if he dies defending democracy to mourning, indignation is added," he emphasized.
Channel the outrage
Sagasti said that the protests in his country are a show of citizen outrage that politicians must "recognize, accept, and lead along peaceful paths", something that he considered to be "one of the central tasks of the Peruvian State."
"These demonstrations are a powerful wake-up call. The pandemic, the economic crisis, the problems of insecurity were not enough, we had to wait for the death of two young people so that the enormity of the situation we are experiencing falls on us," he said. .
For this reason, he greeted the youth of his country and recalled that he too, in the early 1960s, "went out to protest peacefully" with the central idea of ​​"the vocation to serve, to deliver the best that each of us has".
Short task
The President of Congress remarked that the new Board of Directors of the Legislative has a "short assignment", until next July 28, so it must "concentrate, define very specific tasks," since general elections will be held in April.
"We will be putting all our talent, all our effort at the service of all of you, so that Congress can function in a way that the country feels recognized," he added before asking his compatriots to trust them.
"We will act in the way we say, we will be fulfilling our proposals and promises," he said before also saying that "empathy to feel close to citizens is important, and responsibility for other people," he said.
Constitutional succession
After swearing in as president of Congress for his "country, for youth and for a better future for all Peruvians ", Sagasti took the oath to Mirtha Vazquez, of the Broad Front, as first vice president and who will exercise the leadership of the Legislative when he assumes the leadership of the State, this Tuesday.
Its board of directors is completed by Luis Roel Alva, from Acción Popular (AP) and Matilde Fernández, from Somos Perú (SP), who was sworn in as third vice president in Quechua language.
The Purple Party legislator will occupy the presidency of Peru after the resignation of Manuel Merino, whose short term unleashed a serious political and social crisis, and is now facing criminal investigations for serious human rights violations.

www.informacion.es
Digsmak is a news publisher with over 12 years of reporting experiance; and have published in many industry leading publications and news sites.