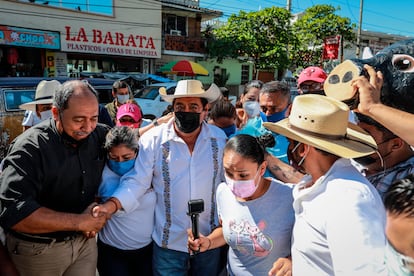 Andrés Manuel López Obrador counts on Salgado Macedonio for the moral regeneration of Mexico even though he has been accused of having raped a minor in the presence of an escort: Patron, it's a girl! The president supports his candidate for governor of Guerrero in the June legislative elections despite the fact that the victim of the attack testified in court that the then senator for a PRI dissidence immobilized her by the neck, stripped him naked and committed the crime. Incriminated in four more outrages, Macedonio continues in the fray, leaning his shoulder in the construction of the rule of law. As the president considers him a victim of opposition perfidy, a martyr of the reaction, the plagued man ignores the cancellation of his candidacy by the electoral authority, which resorted to a pretext formality to remove him.
The government Morena was created by López Obrador to recruit compatriots against the prevailing system of disgrace, because only the people can save the people, only the organized people can save the nation and only the people, at his command, will organize in a free society , fair, supportive, democratic and fraternal, with ethics and a vocation for service. The National Regeneration Movement is an open, inclusive space, with people from all social classes and currents of thought, religions and cultures, among them a concatenation of inmates of rape and homophobia, politicians and pancistas since the movement recognizes its essence in the plurality.
Real change begins with changing the traditional way of intervening in public affairs, and politics is not just a matter for politicians. It is therefore necessary to exacerbate the masses to seize parliamentary power by fanning historical reparations, heroes and villains and the illusory Fourth transformation. Lawsuits and sophisms in abundance, also in the treatment of the pandemic, in order to expunge article 135 of the Constitution, which requires two-thirds of the Chambers and half plus one of the state congresses to approve the intended constitutional reforms. Leadership accelerates in all areas because it does not have a majority in the Senate that allows it to subtract powers from the Judiciary and coalesce it with the Executive.
López Obrador is a genius spreading other people's garbage and recycling his own: neoliberal governments and their capitalist buddies impoverished the federation while he sanitizes it, like Benito Juárez. It demands probity and social justice while tolerating the stench of waste if it is electorally reusable. The ilk sheltered in Morena outrageous to the millions who supported the movement when its founder promised to sweep away corruption and build an equitable country, where the Macedonians they would have no place. His followers deserve a Mexico of laws and institutions even if they hinder the messiah, in whose advent they placed an unfounded and excessive trust.

elpais.com
Eddie is an Australian news reporter with over 9 years in the industry and has published on Forbes and tech crunch.