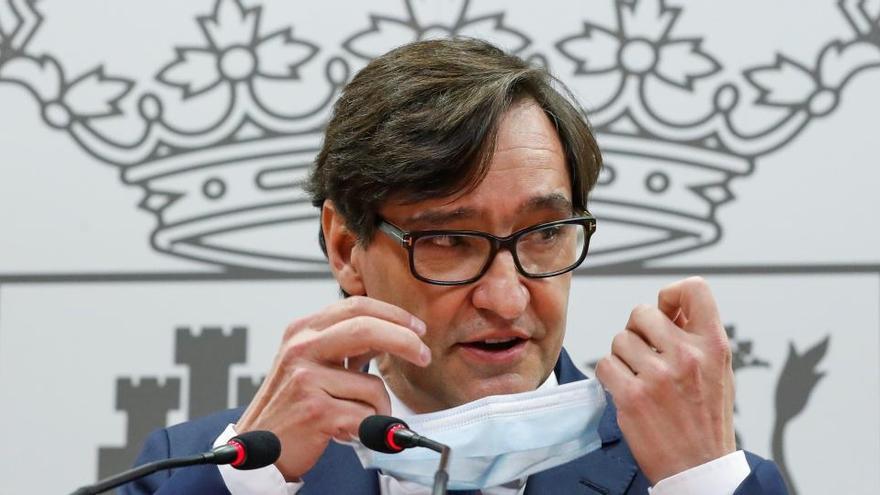 The Minister of Health, Salvador Illa, assures that "The vaccine will kill the virus, but it will not end in 2021Illa also considers that "we began to see the light at the end of the tunnel, but still very hard months remain"since" the road is very unstable ".
"We calculate that we will need a period of six or seven months to vaccinate the entire population of Spain ", says the minister, who sees the vaccine decisive, whose administration in Spain will begin at the beginning of the year, but without ruling out that prevention must be maintained in 2021.
As for Christmas, Illa believes that citizens "will once again break the record of responsibility" and warns that "if we do not do it, we will pay the consequences." "If we are careless, we will go into situations that will again demand drastic measures"acknowledges the minister, who insists that this December" is not to go on vacation or to move from home "and responds that he will have dinner this Christmas with his" family unit. "
Race for the vaccine
The pharmaceutical industry invoices about 692,000 million euros only in prescription drugs, according to the World Preview 2019 report by Evaluate Pharma. If over-the-counter is added, the figure exceeds 1.32 trillion.
This cake is distributed mainly among a dozen pharmaceutical multinationals that account for 41.73% of the world market, with some 288,000 million in turnover of prescription drugs.
All of them have launched into the search for a vaccine against the coronavirus and so far they have found 13 that are already in phase 3 of development.
The US and China are fighting to be the countries with the most Phase 3 vaccines. The first is with Moderna, Pfizer and BioNtech, Johnson & Johnson and Novavax. The second, with CanSino Biologixs, Sinopharm -together with the Wuhan institute on the one hand and Beijing on the other-, Sinovac and Anhui Zhifei Longcom.
To these must be added the European AstraZeneca, which works together with the University of Oxford, Gamelaya Institute (Russia), Bharat Biotech (India) and Medigago (Canada). The latter has authorized phase 3, although the study has not yet begun, according to its own website.
Of the 13 vaccines in Phase 3, it is most likely that the American and European ones are the ones that reach the West, as explained to Efe from the sector.
What's more, the European Medicines Agency (EMA) announced on Monday that it plans to approve Pfizer and BioNTeche's on December 29 and Moderna's on January 12. The United Kingdom, for its part, has already authorized the use of the former.
Modern
From not having any product on the market, to taking the lead with its vaccine against covid-19 (based on messenger RNA), its only project that reaches phase 3 and is 94% effective. Created in the US in 2010 as a biotech start-up, Moderna has already applied for urgent approval of its vaccine in the US and could see the EMA do the same in Europe in just over a month.
With 800 workers on the payroll, including the manufacturing team, Moderna has 20 projects in development, but it didn't expect to hit the market with any of them in less than two years.
This drug store is more than used to breaking records. In December 2018, it became the biotech company with the largest public offering for the sale of shares in history until then. The company was valued at about 6,200 million and today it is worth about 64,240 million, despite the fact that it continues to declare losses.
Although between January and September it lost almost 400 million compared to 325 million in the same period of 2019, Moderna has obtained more than 2,000 million from the United States Government and has partnered with the National Institute of Health of that country to carry out its vaccine.
With the European Union (EU), the pharmaceutical company has reached an initial agreement of 80 million doses, with the option of increasing to 160 million at a price that has not yet been specified, but could be 21 euros per dose.
Pfizer
A world leader in the pharmaceutical sector and manufacturer of Viagra, among many other drugs, Pfizer could not be left out of this race. In fact, it has become the first in the world to obtain marketing authorization. Its efficiency is 95%.
Based in New York, its origins date back to 1849, although it was not until 2000 when it became a world leader with the merger with Warner Lambert. It has 88,000 workers worldwide, 63 production centers and distributes to 175 markets. In Spain, they have a production plant in San Sebastián de los Reyes (Madrid).
In the first nine months of this year it earned 7.54 billion, 46% less than a year earlier. Only in the third quarter its profit fell 71.4% year-on-year.
To carry out its vaccine, on which the EU will rule on December 29, Pfizer has rejected public capital and has allied with Germany's BioNTech.
BioNTech
As with Moderna, BioNTech is not one of the leading brands in the sector. The German company was born in 2008. Its owners, Ugur Sahin and Özlem Türeci, founded Ganymed Pharmaceuticals in 2001, which they sold in 2016 for more than 11,000 million. So, they focused on their big bet: BioNTech.
In the first nine months of 2020, it lost 351.7 million, compared to the 120.9 lost in the same period of 2019. Figures that have not made investors lose confidence, since its shares have tripled their value this year.
BioNTech has not followed the same strategy as Pfizer in terms of public support. The company has received 375 million from the German Government, in addition to a loan of 100 million from the European Investment Bank (EIB) to develop a vaccine of which Brussels has already assured to acquire 300 million doses at a price that, although it is not official, it could be around 15.5 euros per dose.
AstraZeneca
The great European hope, AstraZeneca is working with the prestigious Jenner Institute, University of Oxford, on a vaccine with an efficacy of 70.4%, according to preliminary data.
Based in Cambridge, it is the world's 10th largest pharmacist by revenue, according to Evaluate Pharma. It was founded in 2019 through the merger of the Swedish laboratory Astra and the British pharmaceutical company Zeneca.
With more than 70,000 employees distributed mainly among its large R&D centers, in the United Kingdom, the United States and Sweden, in the first nine months of 2020, it earned 1,785 million, more than double that in the same period of 2019.
To develop its vaccine, it has counted on US 1 billion in exchange for guaranteeing it 300 million doses.
For its part, the EU has already bought 300 million doses, plus another 100 million optional, at 2.9 euros per dose, of which Spain will take 31.5 million. Given that it is a double dose, the total price per citizen will be 5.8 euros per treatment, well below those of Pfizer or Moderna.
Johnson & Johnson
The fourth pharmaceutical company in the world, the North American Johnson & Johnson (J&J) develops its vaccine against covid-19 through its Belgian subsidiary Janssen. The company is already testing it in a large-scale trial in the US for which there is no data yet.
With 40,000 employees, it is present in 150 countries, including Spain, through Janssen. Until September 2020, the company earned about 10,800 million, 16.8% more.
To carry out his vaccine, Jannsen received at the end of March 408 million from the US government, which in September injected slightly more than 840 million in exchange for guaranteeing at least 100 million doses.
For its part, the EU signed an agreement with J&J last October to supply 200 million doses, plus an additional 200 million, at a price that, although not public, could be 8.5 euros.
The Spanish Agency for Medicines and Health Products (Aemps) authorized the phase 3 clinical trial in nine Spanish hospitals in mid-September.
Novavax
Novavax was in a delicate financial situation when it began to investigate to develop a vaccine against covid-19. With 33 years of history and without any treatment in the market, its shares had reached so low that they ran the risk of exiting the Nasdaq.
However, his coronavirus vaccine has changed everything. Today, their shares have multiplied their value by 20. In addition, they have expanded their campus in Maryland and acquired a factory in the Czech Republic. According to their data, they employ about 360 people.
All thanks to the more than 1,300 million it has received from the US and the 324 million of the international group Coalition for Epidemic Preparedness Innovations (CEPI), co-financed by the Bill and Melinda Gates Foundation.
Of course, in the first nine months of 2020, Novavax declared having losses of 200 million, compared to 84 million in the same period of 2019.
Through covid-19, Novavax has also reached Spain: The company has signed an agreement with Zendal, which through its subsidiary Biofabri, will carry out the industrial production for all of Europe of the antigen in its vaccine.

www.informacion.es
Digsmak is a news publisher with over 12 years of reporting experiance; and have published in many industry leading publications and news sites.