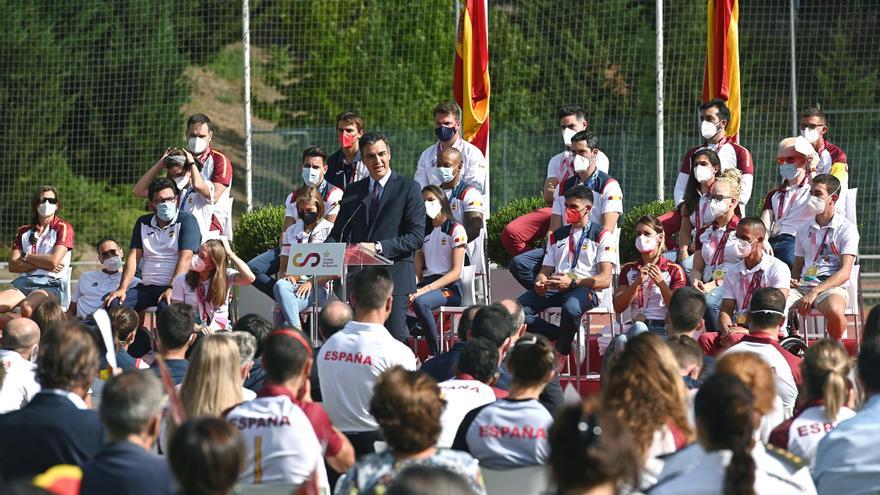 The President of the Government, Pedro Sánchez, participated this Thursday in an act of tribute to the Olympic and Paralympic athletes at the headquarters of the Higher Sports Council (CSD), where he thanked "on behalf of all Spanish society" for his participation in Tokyo 2020 and stressed that "Investment in sport for Paris 2024 is going to be historic."
Pedro Sánchez, who was accompanied by the Minister of Culture and Sports, Miquel Iceta, and the Minister of Health, Carolina Darias, stated that "There is general agreement that expectations have been exceeded" in Tokyo 2020, where Spanish sport won 17 medals at the Olympic Games and 36 at the Paralympics, which were closed last Sunday.
"I would like to emphasize that there was no positive for covid-19 of any Spanish athlete during the Olympic Games. It is true that it has been a secure delegation, even though (the golfer) Jon Rahm could not compete because of the virus, "said Sánchez.
"We have been excited about the youth of Alberto (Ginés, in climbing), Adriana (Cerezo, in taekwondo) and the satisfaction that the hard work of the athletes received their deserved reward. All Spain has celebrated your successes, of Ray (Zapata, in gymnastics), of Ana (Peleteiro, in triple jump), of our doctor Susana (Rodríguez, in Paralympic triathlon); we have vibrated with the women's water polo team and we have been amazed by several of the world records achieved by several of our Paralympic athletes, "said Sánchez.
In addition, the chief executive had "a special mention" for athletes in the gait mode, which he has described as "a colossal struggle".
"We are tremendously proud of the way you have represented Spain, for competing with the utmost dedication and for always giving great lessons in sportsmanship in the truest and most noble sense of the word," continued Sánchez, who stressed that Tokyo has been "the start of a new cycle that will continue in Paris 2024 for the Olympic sport for our country ".
"I believe that these results not only strengthen Spanish sport as world power in many disciplines, but they also serve to believe that Spanish sport is on the verge of a new cycle of success, "he continued.
Pedro Sánchez announced in this act of tribute the Government's clear commitment to sport: "I would like to point out that medal awards for our Paralympic athletes for the first time they were co-financed by the Paralympic Committee and the Government of Spain, thus allowing a notable increase in these awards ".
"I have to say that the investment in sport for Paris 2024 is going to be historic. From 2019 to 2023 we are going to dedicate 1 billion euros. 40% more than what was dedicated in the period between 2015 and 2018. Because the effort you make needs support to achieve them ", he announced.
"You are a living example of the value of sport, since behind you and you there is a whole country"continued the Prime Minister, who revealed that Spain" is the only European country that has included a game for the recovery of the pandemic dedicated exclusively to sport. "
Pedro Sánchez made special mention of the importance of mental health in the world of professional sports: "Tokyo 2020 has been a turning point, I mean the importance of mental health, and I take advantage of this moment to send all my affection at this moment to Teresa Portela, so that she recovers and can soon return to compete ".
"In addition to respecting the environment, we have to reflect on the limits of sport and the conquest of success at all costs," continued Sánchez, who recalled the cases of the Japanese tennis player Naomi Osaka or Teresa Portela.
The President of the Government praised the figure of athletes. "In them we can recognize ourselves and they serve as inspiration", said. since they "give a human dimension" to high competition sport.
Sánchez had words of gratitude for the athletes who have finished their careers after Tokyo 2020, as the captain of the handball team Raúl Entrerríos: "They have inspired us with their work and their performance. With all the lessons you have given us and I hope you enjoy the end of your careers from the satisfaction of all that you have achieved."
"And those of you who are going to start another stage in your lives, I wish you the best, from the bottom of my heart, and that we continue to count on you. We need you wherever you want to be"he continued.
In the final stretch of his speech, Sánchez sent "a special greeting" to all the athletes who could not be in Tokyo due to injury, such as tennis player Rafa Nadal, the rider Carolina Marín and the hurdler Orlando Ortega.
The President of the Government ended his speech with a few words dedicated to all the athletes who will compete in Paris 2024: "For those of you who are going to compete in Paris, you have our support. The demand will be maximum but it will be proportional to the confidence we have in you. We will get to work side by side so that within three years Spanish sport achieves great triumphs ".

www.informacion.es
Eddie is an Australian news reporter with over 9 years in the industry and has published on Forbes and tech crunch.