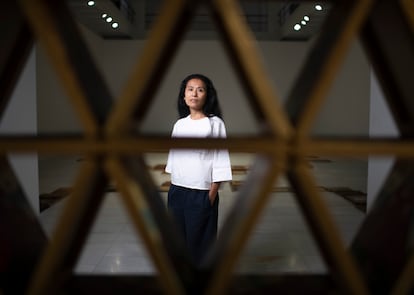 Sandra Gamarra Heshiki (Lima, 1972) likes time travel, intermediate spaces, language as a dilemma, painting as a copy, the echoes of history … And, especially, observing everything from amazement. She is methodical, demanding, intuitive, and delicately cunning. Also one of the most interesting artists of her generation and with one of the most coherent works. She has something of an archaeologist: the territory she explores is full of contradictions that lead us to places full of conflicts, and not always physical ones. Many times, to the permanent unknown with which we assimilate reality. A place of passage that challenges us to inhabit it.
Walk down the Sala Alcalá 31, in MadridLike someone walking through an orchard, attentive to the rhythm of the harvest. A wide selection of potatoes grown in Peru surrounds the heart of the space: canchán, leona, rosada, perricholi, yungay, muru pineapple, black, red, Gaspar cherry, huamantanga, earthworm … They celebrate the difference between species, which the artist takes as a banner , although not only. It also refers to the fragility of the idea of ​​nature as property and as a permanent generator of goods. That's what it's really about When the potatoes burn (2021): beyond the variety of tubers in the world, talks about how they were brought to Europe from scientific expeditions to the Americas, by way of conquest, without ever thinking that it was a stolen product, fruit of looting in the name of science.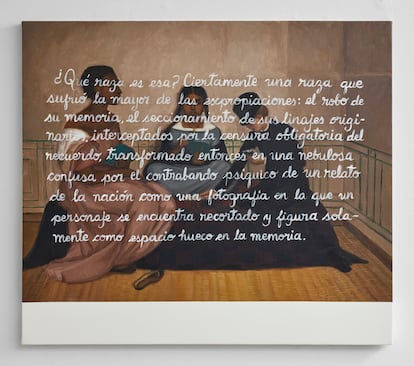 That hot potato smokes all over the exhibit. Titled Good government, makes a direct allusion to the anticolonial writings of Guamán Poma de Ayala, chronicler of the time of the viceroyalty of Peru, although it works perfectly as an ironic comment on the uncertain course of current governance models. "I'm talking about how the idea of ​​the other has been built over centuries and how it has been maintained, so structurally, that we do not know how to recognize it," he clarifies. The exhibition, curated by Agustín Pérez Rubio, functions as a large room of mirrors where the works return a rather uncomfortable image of what we understand by "universal". Simulating a history museum, where it is assumed that what is gathered there tells "the truth", the artist subverts that idea by showing other versions of stories, images and stories. Above all, it speaks of colonial violence: the web of racial and gender prejudices that still fragment society today, not only the Peruvian one. Also about how the classification, restoration, cataloging, exhibition and appropriation of a heritage live hidden in the history of art and everything that revolves around it.
An exhibition that is a reflection on the politics of oblivion that museums have and works as an institutional critique from a postcolonial perspective, a recurring theme today in museums that, says the artist, "beyond the will to change or fashion, supposes the first steps, necessary although many times failed, but that must be taken to be able to say that they are wrong ". It is also necessary to review, he says, the ideas of progress and modernity, daughters of the West that, in his eyes, make no sense. "Contemporary art is already a Western concept in itself, and we would have to start creating other terms, inventing new ways of exhibiting. In Lima, there are cultures with different expressions that we call art, with a temporality that does not necessarily accommodate a linear chronology. For this reason, the idea of ​​modernity does not work, because its purpose is equality, and in that equalization there are many disappearances, disagreements and misalignments that are understood as underdevelopment, primitivism or barbarism ".
Daughter of a Peruvian mestizo father and Japanese mother, she grew up in Lima under the label nikkei, which designates the emigrants from Japan, with the idea that their universe was a mirror of another world: everything was a copy of an elusive source, from toys to books at university. "I wondered then if copying ourselves was not the closest thing to the origin, understanding it as a common place, which is shared," he explains. On this he has based a large part of his work. Sandra Gamarra has always felt part of a tradition that goes back to viceregal painting, not understood as a replica but as a representation strategy, where copy, false and mestizo are confused. Thus, he began to reproduce catalog covers, brochures and invitations to art exhibitions, seeking to highlight aspects that would be invisible in an original.
The idea of ​​contemporary creation, he says, "is in itself a Western concept, and it would be necessary to think in other terms"
He did it at the time when his painting turned to classical genres and their ways of shaping social memory, as we see with the appropriation of the oil paintings that Viceroy Amat asked to make to portray the miscegenation in Peru of the eighteenth century, paintings of castes that exhibit in Madrid and, at the same time, in the contemporary art hall of Mali, in his hometown. The idea of ​​a fictional museum was also invented, the LiMac, which has a physical headquarters since 2013, which responded to the absence of a contemporary art museum in Lima and which put on the table the possibility of writing different wishes of contemporaneity. When asked how the perfect museum is imagined today, he confesses that he is approaching one where not everything is museable. He says it while looking through the hollows of Virgin Earth, 315 paintings of the Virgen del Cerro placed like a great house of cards that not only symbolize the invocations of a Marian image turned into a goddess, but also allude to the wealth of the Potosí hill exploited during the Spanish colonization, to the point of providing 80% of all the silver in the world, and that today is a key fact to understand the processes of primitive accumulation and inherited structural inequality in the world. She adds another meaning, that of the role of women: "It is a metaphor for a structure that, as in a pyramidal scam, can fall at any moment, and needs to attract more members at its base under the promise of ascension" .
'Good government'. Sandra Gamarra. Sala Alcalá 31. Madrid. From September 21 to January 16, 2022.
'Production / Reproduction'. Sandra Gamarra. Lima Art Museum (Mali). Lima Peru). Until June 2022.
You can follow BABELIA in Facebook and Twitter, or sign up here to receive our weekly newsletter.



elpais.com
Eddie is an Australian news reporter with over 9 years in the industry and has published on Forbes and tech crunch.