FORT MYERS, Fla. – Hurricane Ian swamped southwest Florida, leaving behind a damaged power infrastructure in two counties, turning streets into rivers and damaging two bridges, including the Sanibel Causeway.
Governor Ron DeSantis provided an update Thursday morning, saying the electric grid for Lee and Charlotte counties will likely need to be rebuilt, described Hurricane Ian's devastation in the area a "500-year flood event."
Part of the Sanibel Causeway that collapsed (Credit: WZVN-WBBH)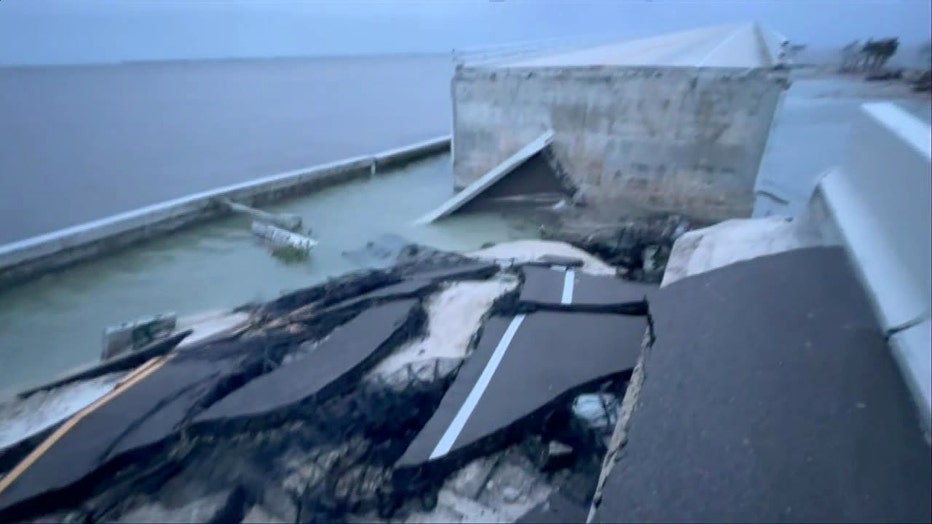 Another angle of the Sanibel Causeway collapse (Credit: WZVN-WBBH)
He said the Sanibel Causeway and Pine Island Bridge are both impassable. They suffered structural damage and will need to be rebuilt.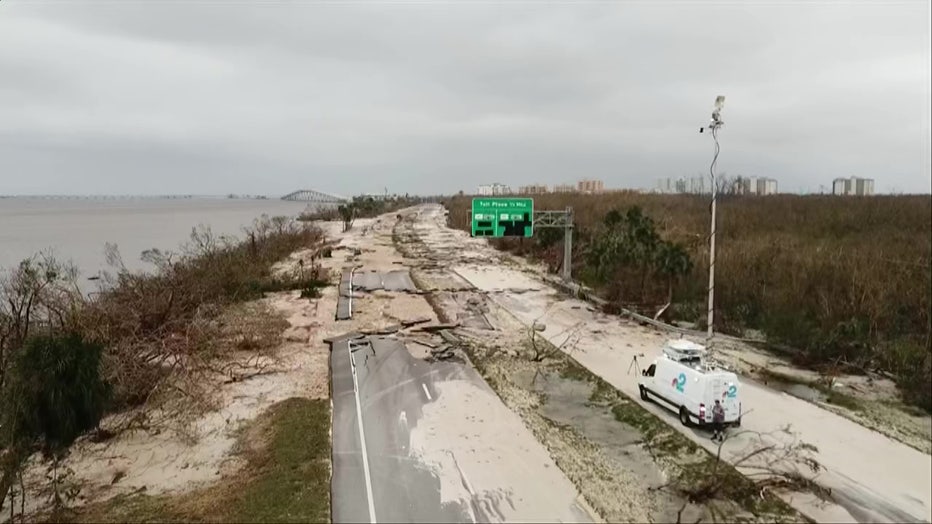 Another angle showing the road damage leading up to the Sanibel Causeway
Law enforcement reported that it was getting many calls from people trapped in flooded homes. Desperate people posted to Facebook and other social sites, pleading for rescue for themselves or loved ones. Some video showed debris-covered water sloshing toward homes' eaves.
While the exact figure for injuries and fatalities is not confirmed, the Lee County sheriff said the number of deaths could be in the "hundreds."
During a phone interview with Good Morning America, Sheriff Carmine Marceno said there are thousands of people who still need to be rescued. Lee County includes Fort Myers, Sanibel Island, and Captiva Island.
"I don't have confirmed numbers, but I definitely know the fatalities are in the hundreds," he said during the interview. "There are thousands of people who are waiting to be rescued."
MORE: Florida man, 72, dies after going outside during Hurricane Ian to drain pool, deputies say
Thursday, the Sanibel Lighthouse appears to still be standing.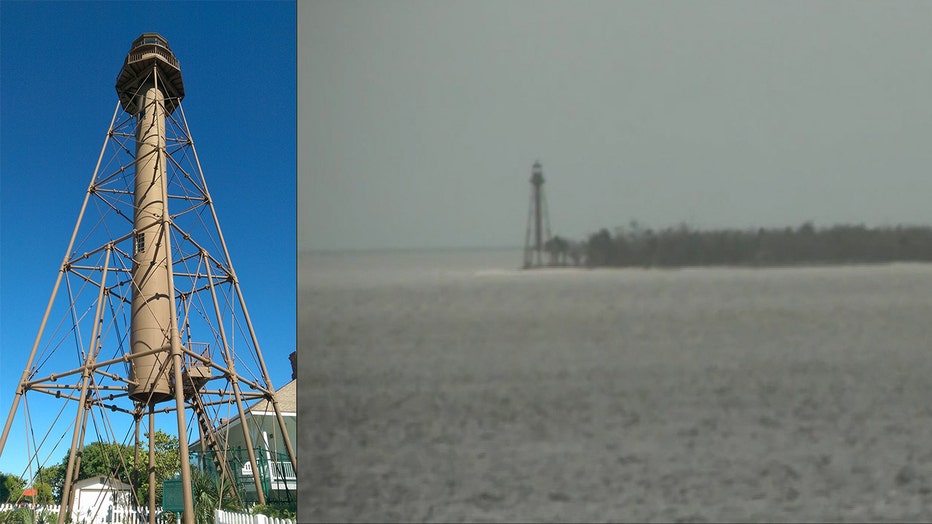 Side by side images showing a photo of the Sanibel Lighthouse from 2016 (left) and a distant shot of it the morning after Hurricane Ian made landfall (right)
It's located on the eastern end of the island. It was built in 1884 and given to the City of Sanibel in 2004 for restoration purposes.
The major hurricane pushed a wall of storm surges accumulated during its slow march over the Gulf, flooding Fort Myers roadways even before making landfall in Coya Costa.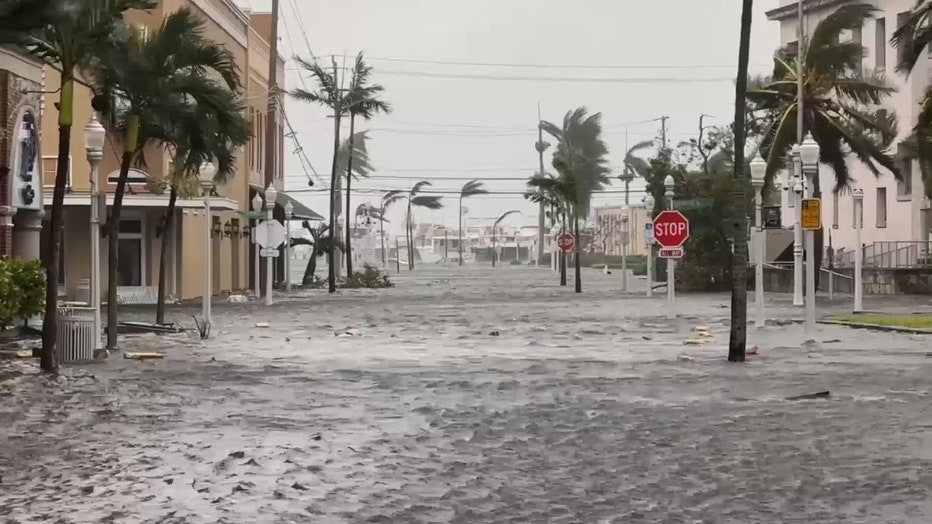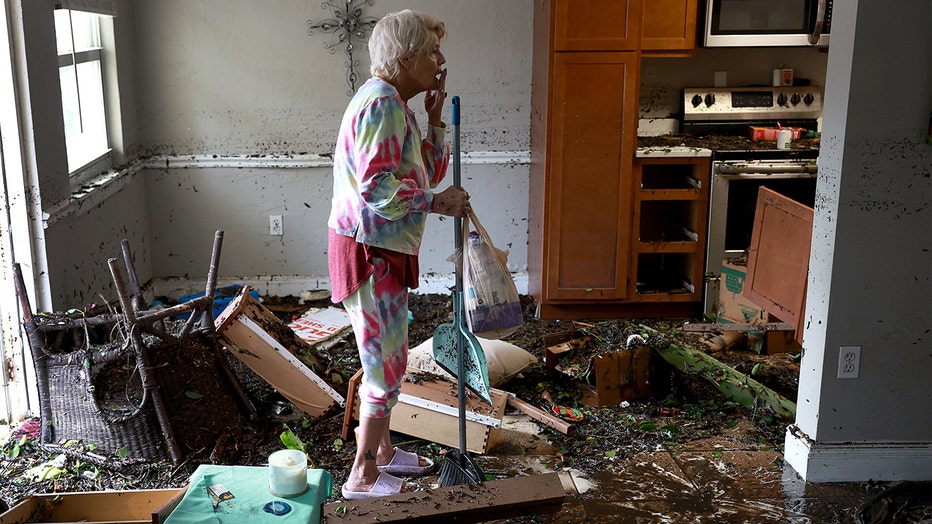 FORT MYERS FLORIDA – SEPTEMBER 29: Stedi Scuderi looks over her apartment after flood water inundated it when Hurricane Ian passed through the area on September 29, 2022 in Fort Myers, Florida. The hurricane brought high winds, storm surges and rain t
In Naples, the first floor of a fire station was inundated with about 3 feet of water, and firefighters worked to salvage gear from a firetruck stuck outside the garage in even deeper water, a video posted by the Naples Fire Department showed.
Naples is in Collier County, where the sheriff's department reported on Facebook that it was getting "a significant number of calls of people trapped by water in their homes" and that it would prioritize reaching people "reporting life-threatening medical emergencies in deep water. "
In Port Charlotte, along Florida's Gulf Coast, the storm surge flooded a lower-level emergency room in a hospital even as fierce winds ripped away part of the roof from its intensive care unit, according to a doctor who works there.
Water gushed down onto the ICU, forcing staff to evacuate the hospital's sickest patients — some of whom were on ventilators — to other floors, said Dr. Birgit Bodine of HCA Florida Fawcett Hospital. Staff members used towels and plastic bins to try to mop up the sodden mess.
"As long as our patients do OK and nobody ends up dying or having a bad outcome, that's what matters," Bodine said.
Boats floated onto flooded streets and were swept ashore.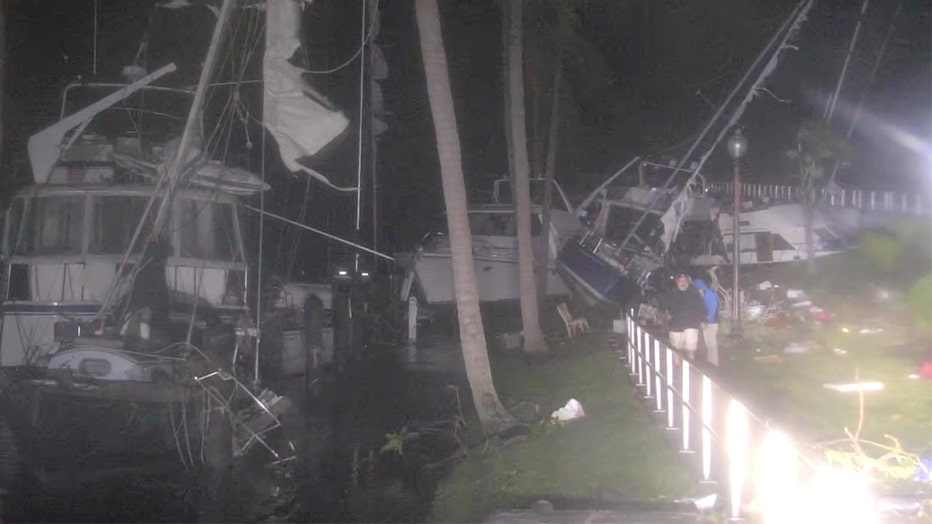 The medium-sized hospital spans four floors, but patients were forced into just two because of the damage. Bodine planned to spend the night there in case people injured from the storm arrive needing help.
For WINK-TV, the wall of storm arises that Ian brought entered the newsroom set in Fort Myers. According to one of their meteorologists, Matt Devitt, they lost power and were unable to continue broadcasting. By 8:30 pm Wednesday, he said the worst surge was behind them and water levels were slowly lowering.
"This was, without a doubt, the strongest hurricane in Southwest Florida history," he wrote on Facebook. "Stay tough, we're almost through it. I'm thinking of all of you. We WILL rebuild back to the community we know and love."
MORE: Tampa Bay's rare hurricane landfalls: 1921 storm, 'Great Gale of 1848'
MORE: Hurricane Ian drains water across the Tampa Bay area
Brittany Hailer, a journalist in Pittsburgh, contacted rescuers about her mother in North Fort Myers, whose home was swamped by 5 feet (1.5 meters) of water.
"We don't know when the water's going to go down. We don't know how they're going to leave, their cars are totaled," Hailer said. "Her only way out of her is on a boat."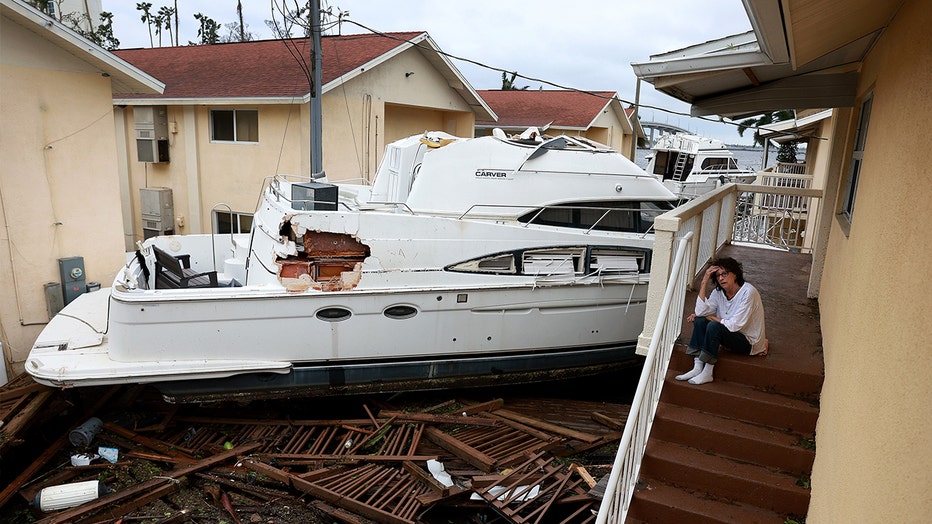 FORT MYERS FLORIDA – SEPTEMBER 29: Brenda Brennan sits next to a boat that pushed against her apartment when Hurricane Ian passed through the area on September 29, 2022 in Fort Myers, Florida. Mrs. Brennan said the boat floated in around 7pm. the hur
President Joe Biden has since approved a disaster declaration for the Sunshine State on Thursday morning following Ian's trek across the state.

www.fox13news.com
George is Digismak's reported cum editor with 13 years of experience in Journalism