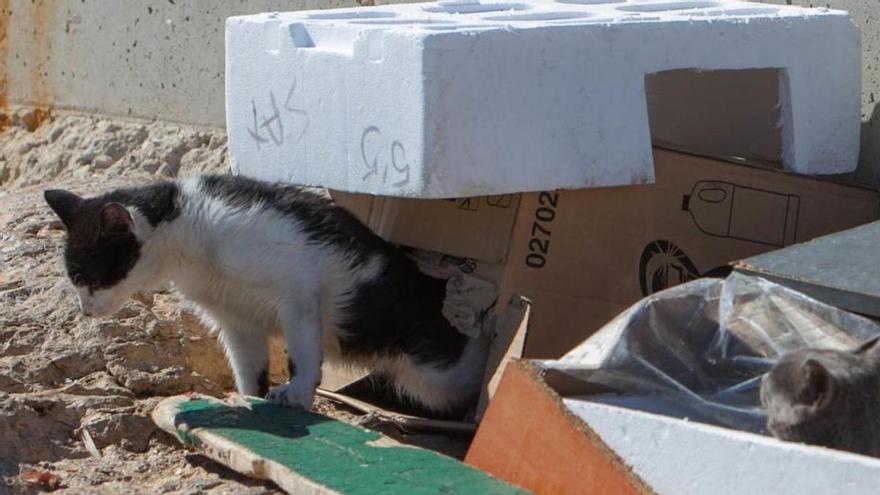 Santa Pola will prohibit feeding stray cats within 20 meters of schools, health centers and other public buildings. This is one of the conditions that appear in the regulation on the control of feline colonies that the City Council approved at the end of 2021 and that is currently on public display after initial approval, and therefore open to possible allegations.
Animal groups have been demanding for years that the municipality had a specific regulation to ensure the welfare of feline colonies and try to improve their control. This document defines that the location of the authorized colonies as well as the feeding points must be on land owned by the municipality or in the public domain, and that it not be in the surroundings of any asset of cultural and tourist interest, such as the fortress castle, Villa Adelaida or archaeological sites, among others.
In line, the feeding points may not be less than 20 meters from any educational, cultural, sports or health center.
Similarly, the colonies and their feeding points may not be located in parks or children's play areas. When the power supply point is located on the sidewalk of a public road, these should not hinder the passage of pedestrians and if it is located on the facade of a house or building, it must have the written authorization of the owner or community of owners. , as determined by this document.
On the other hand, the managers of the colonies must ensure that the areas are hygienic, although the municipal pest control service will carry out regular disinfection and disinsection at the location of the feline colonies, because the Consistory makes it clear that the presence of a feline colony "It must not have a negative impact on health, cleanliness and aesthetic conditions in the physical environment."
At the municipal level, they indicate that when the regulation comes into force there is a colony that does not meet the requirements described, it must be moved progressively and the person managing the colony, together with the coordination of the volunteers, must periodically present a report that shows the transfer evolution.
The regulation establishes the figure of manager who will be in charge of controlling the population of one or several authorized feline colonies and who will be responsible for monitoring the population, preparing a census and ensuring compliance with the regulation. There will also be authorized feeders to assist in the feeding of one or several colonies. Both figures will be volunteers so they will not have financial compensation for their work.
This document provides for the administration to be more efficient to optimally distribute the budget for sterilization according to the needs of each zone and sanctions between 750 and 1,500 will be imposed if the colonies are attacked and certain measures of the regulation are not complied with.

www.informacion.es
Eddie is an Australian news reporter with over 9 years in the industry and has published on Forbes and tech crunch.