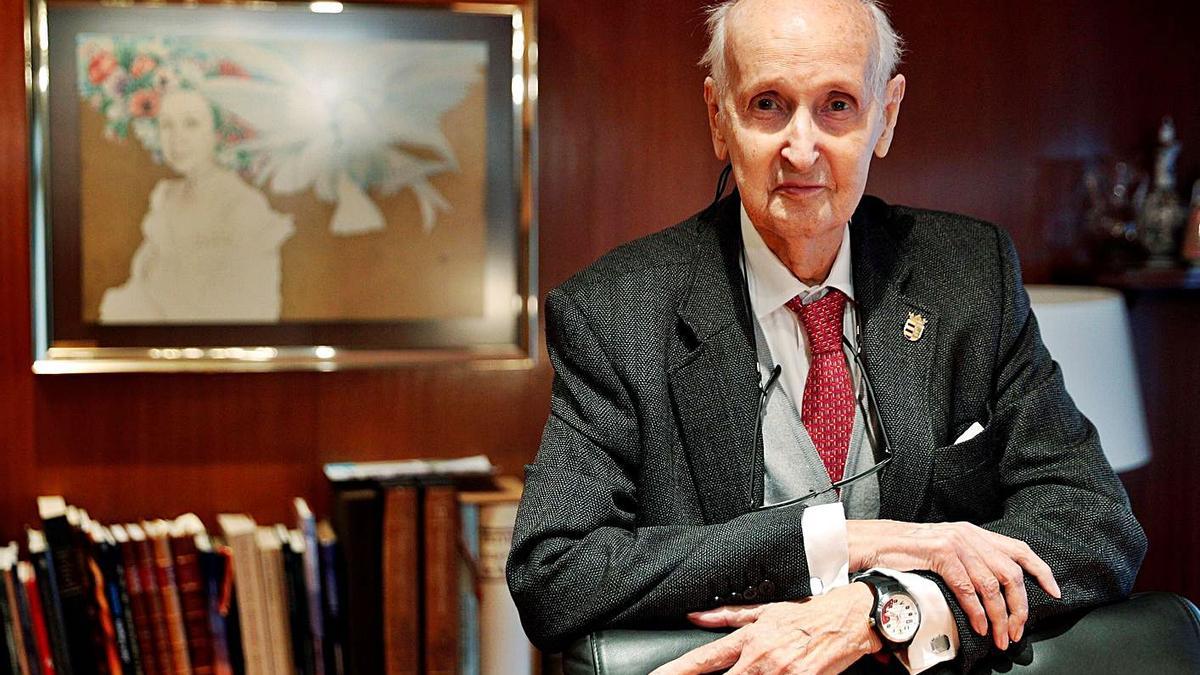 The scientist Santiago Grisolía (Valencia, 1923), considers that the government management of the coronavirus pandemic and the autonomies are being "bad" because, in his opinion, "they do not declare the truth" and the data they offer to citizens "is a bit deficient." For Grisolía, «the truth is that there are many sick people and many dead people, and things have to be said so that people protect themselves as much as possible ", he says in an interview with the Efe agency, in which he affirms that 2020" has been a disgrace and it still is, a very bad moment that I hope to disappear ».
A few weeks after turning 98, on January 6, 2021, the Prince of Asturias Award for Scientific and Technical Research 1990 continues to go to work at the Valencian Foundation for Advanced Studies (FVEA), of which he was one of the founders in 1978, and also to the Valencian Council of Culture (CVC), of which he is president.
"I will get the vaccine like everyone else, but with no desire to be the first. Any time will be good"
Santiago Grisolía explains that during confinement, in the new normal and in this second wave of the coronavirus, maintains a «normal life. I have not gone anywhere, I have been most of the time at home, as always, because at my age you no longer have to run after young girls. He considers that the covid vaccine opens up a bit of hope to end this pandemic, and ensures that when it begins to be administered "I will wear it like everyone else, but without the desire to be the first. In any weather it will be good.
Asked if citizens have learned anything during the pandemic and with all that it has entailed, the promoter of the Rey Jaime I Awards affirms that "You never learn, you always think that the future will be better."
"The old were considered before because they could give advice, but it has already been forgotten, now only youth prevail"
It shows very critical of the management of the Government and the Autonomous Communities in the face of the pandemic, and assures that it is being «bad because they do not declare the truth. The truth is that there are many sick people and many dead people, and things have to be said so that people protect themselves as much as possible. In his opinion, not all the data is being given. "They are a bit deficient, they look a bit like the truth, but it is not the truth", and when asked if he considers it dangerous that a government is not transparent and does not tell the truth, he answers that "without a doubt".
Deceased elderly
In reference to high number of elderly people who have died during the pandemic in nursing homes, believes that we are in a society "more geared towards youth. The old people used to be considered because they could give memories and advice, but that is already forgotten.
Faced with the question of if you have ever thought about retiring, recalls the Nobel Prize winner Santiago Ramón y Cajal, for whom "retiring was not a common word" and adds that "fortunately if you do not realize that time passes you do not think about the years, you think you are the same as 20 or 30 years ago ».
"Francis Mojica deserves the Nobel Prize, I hope they give it to him and I think that, surely, with time they will give it to him"
He confesses that he would like to be remembered as "a good, ordinary person, who has good friends, enjoys life a lot and likes to live to the fullest", but before dying he would like to get "the Nobel Prize, naturally. It is always a good idea to think that something good is going to happen to you, and you should never lose hope.
The Valencian biochemist, who was in charge of the Unesco human genome project and in 2014 the now King Emeritus granted him the title of Marquis, points out that the secret to longevity is "having good friends."
Grisolía considers that we are still at a "very low" level of investment in science, but it is claiming to reach two percent of the Gross Domestic Product (GDP). "Let's hope it is like that. I think we are there and will be and, if not, we will protest, "he says.
In his opinion, the considered "father" of the CRISPR technique, the Spanish microbiologist, researcher and professor at the UA Department of Physiology, Genetics and Microbiology, the Elche Francis Mojica, «Deserves the Nobel. Hopefully they will give it to them and surely in time they will give it to them. He also affirms that although there are very good scientists in Spain, the number is small, much less than in other countries, and that is why no more Nobel prizes are awarded to Spaniards.

www.informacion.es
Digsmak is a news publisher with over 12 years of reporting experiance; and have published in many industry leading publications and news sites.