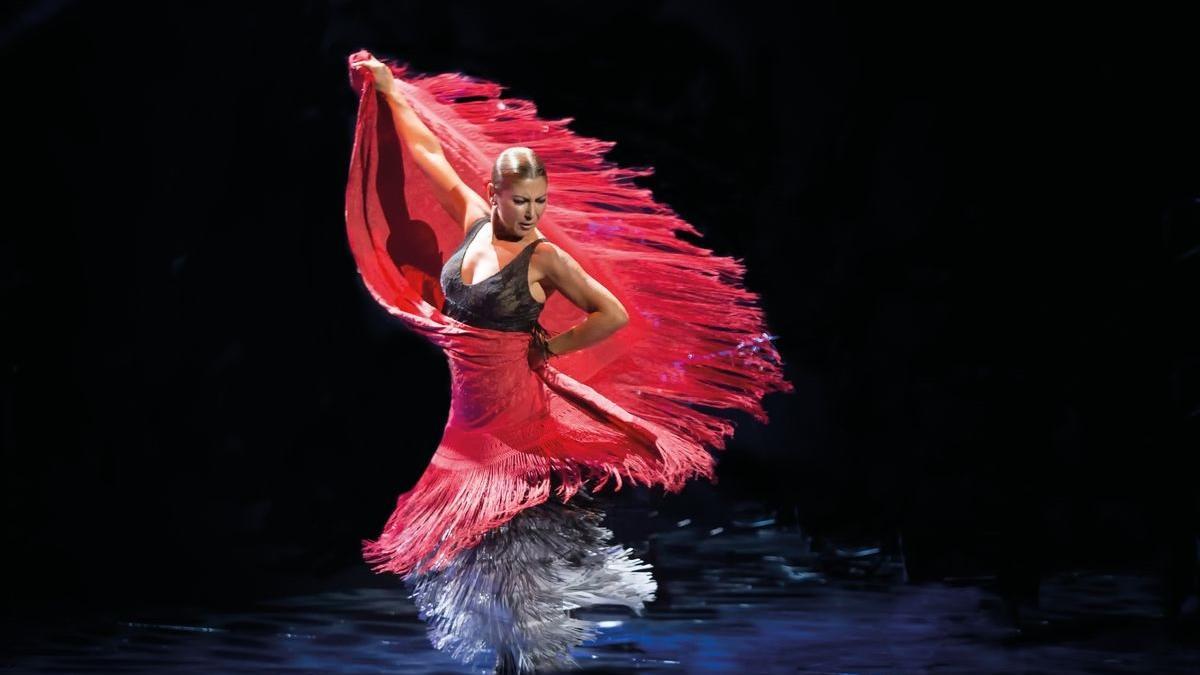 The award-winning dancer and choreographer Sara Baras (San Fernando, Cádiz, 1971) has enjoyed this summer like never before with his return to the stage. Many things have changed in his life but he maintains all his strength, magnetism and sensitivity in 'Momentos', a show made from inspired passages from previous creations, reinterpreted under a new perspective by a magnificent team of seven musicians and eight dancers. The staging inaugurated the Pedralbes Festival and this Saturday it concludes at the Cap Roig festival (Calella de Palafrugell, Girona), an evening for Cáritas that says goodbye to this edition of the Empordà event.
-Is dancing 'Momentos' a way to relive your artistic evolution?
-The truth is that I could do a series of 'Moments'. The 1, the 2, the 3 …. When choosing them, the idea was not to repeat but to give a new look to each number, another reading. The essence of the theme remains but we adapt it to today. For example, there is a number where all the women I have interpreted appear and the girls in the company all wear a dress of mine: one is Juana, another is Mariana Pineda, another is La Pepa or Carmen. It is a choreography for five women with the same music where each one interprets a movement from the original work.
-What memories do you keep of Cap Roig?
-Phew! Many. Here I premiered a show with Josep Carreras with which we toured for three years. It has been a long time since I came but I keep wonderful moments of this space. I like to go back and close the edition of a festival where almost everything is music. It is nice to bring dance and flamenco to these types of festivals.
-And your company is not exactly small. Most of the artists on your team have been with you for years. How do you rate it?
-It is not the same to grow alone as an artist than to do it with a team. Growing up all together confers a very special entity. Working with the same people allows you to get to know them more and that is the basis for going further, studying and going deeper into our work. Ours is a private company. I am where I am thanks to the public.
-Musicians are as important as dancers.
-In my shows the music is live because I seek the highest quality, the same as it would be if it were not a dance show. Music is very important. I myself feel it inside when I start stomping, always taking care not to hit the boards but to get all the musicality out of it. You also have to pamper the sound of the show a lot. Quality in this area is also essential.
-When do you plan to start touring internationally?
-First I am waiting for the functions of 'Shades'at the Rialto in Madrid, a show he was doing when everything was closed. I left things in the dressing room for a long time and I am looking forward to doing that month of missing shows. Afterwards, I hope to be able to premiere a new show that I am preparing. I am terribly excited because it will premiere at the Maestranza in Seville in December. From there, I hope I can get back to normal and do a new tour after such a difficult time.
-Anything positive about the stoppage caused by the pandemic?
-I have taken the opportunity to act as a mother and do other things that I normally cannot do. It has been good for me to focus, to value what I have, what I am. I have realized how lucky I am to love what I do because I have continued to dance and train, myself and the rest of the company. Now we enjoy each rehearsal more. And I notice that now the audience also has more desire and enthusiasm and that makes you step on the stage in a different way because you don't dance only with technique, also with feelings.
-The company has created 11 productions since it became known in 1998 with 'Sensaciones'. Many have been in it for years.
-There are girls who have been with me for 20 years, it is as if we were sisters only that I am a 'little bit' older. Only that. But others have left like Israel Fernández, a cantaor who was in the company and who now flies alone. I love to see how well he is doing! Now I have new people like David de Jacoba, who sings very beautifully, and who was with maestro Paco de Lucía.
-Which stages do you most want to step on when the international tours return?
-Everyone, even those that I still don't know because all places are special, big or small. Although there are stages that are already part of you, I especially like being able to open a path as a flamenco artist in places where this art is not lavished, in spaces dedicated to opera or classical dance. I was very excited to premiere at the Liceu mi 'Carmen', for instance. Big sites are important but small stages have a unique magic.

www.informacion.es
Eddie is an Australian news reporter with over 9 years in the industry and has published on Forbes and tech crunch.