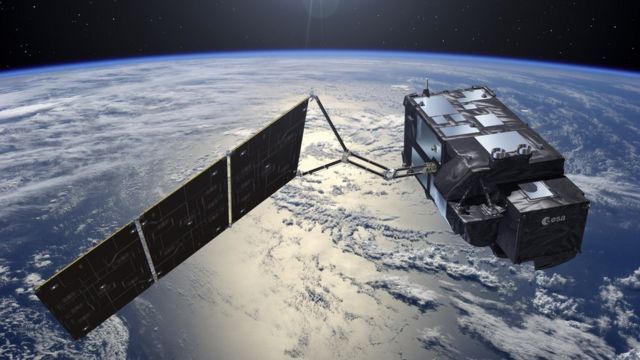 Climate change satellites and artificial intelligence systems look at more than just changes in Earth's natural patterns from space.
And it is that a group of scientists has found in these technologies a new way to predict cholera outbreaks from above.
Researchers hope that it will eventually help save lives in areas severely affected by this epidemic.
"It's quite impressive because we can take the pulse of the planet," he says. Paolo Cipollini, of the European Space Agency (ESA).
"We generally do not think about space and satellites to address health problems, but this is a proposal that is being accepted more and more," he adds.
The study shows how cholera outbreaks in coastal regions of India can be predicted with a success rate of 89%.
Teams from ESA and the Plymouth Marine Laboratory (PML) collected eight years of existing environmental satellite data and, using artificial intelligence, created a model that predicts where it is likely to spread.
Cholera is a disease generally transmitted by eating food or drinking water contaminated with the bacteria. Vibrio cholerae.
It is found in the coastal regions of the world, especially in densely populated tropical areas.
About half of the cholera cases come from countries bordering the northern Indian Ocean, where the researchers concentrated.
After the changes in the water
The experts used seven different measurements from multiple space satellites to make your predictions.
Initially, they looked for changes in the warm salt water, in which bacteria thrive, as well as increases in plankton that the bacteria can adhere to.
They also measured factors such as heat waves, in which people often go out for a swim, or rain, which could mix polluted and uncontaminated waters.
"What makes our study unique is using such a range of variables," says researcher Amy Campbell, who worked with ESA and PML to make the prediction model.
"One of the variables, the salinity of the water, is completely new and has been very useful in predicting cholera outbreaks," he says.
"Ideally, if we can use it to understand when we think these outbreaks are going to occur, we can make sure that services are prepared and that people can mitigate them with vaccination programs in certain areas and overcome them," he adds.
New shoots
Scientists believe that climate change and extreme weather events are causing more outbreaks of cholera.
According to the World Health Organization (WHO), there are up to four million cases of cholera each year and up to 143,000 people die from this infectious disease.
While many people have mild symptoms, it can cause severe diarrhea and death within hours if left untreated.
"Young children are often the most vulnerable to water-related illnesses, particularly those under the age of five. Therefore, we hope that having and improving a cholera outbreak forecasting system will reduce the risk to children. they could be exposed to the disease, "says Marie Fanny Racault, a senior scientist at PML.
The scientists found the forecast to be most reliable just before the summer monsoon season, with an accuracy rate of 93.3%.
But they say improvements must be made to increase reliability.
"There may also be socioeconomic factors that confuse our results a bit," says Amy Campbell.
"Areas without adequate drainage systems could see an increase in cholera regardless of climate change," he adds.
The economic impact of other diseases such as Covid-19 has taught governments the importance of an accurate prediction of the disease.
This program for predicting cholera from space has not been tested in areas other than India, but scientists hope it is a good starting point to improve prediction, which could save lives in the future.
"We are going to see the use of Earth observation increasingly to the benefit of society, including the spread of disease and the impact of climate change on disease," says Cipollini.
"It matters who it will protect; it allows us to take actions that will benefit some of the poorest populations."
Now you can receive notifications from BBC News Mundo. Download our app and activate them so you don't miss our best content.

www.bbc.com
Eddie is an Australian news reporter with over 9 years in the industry and has published on Forbes and tech crunch.