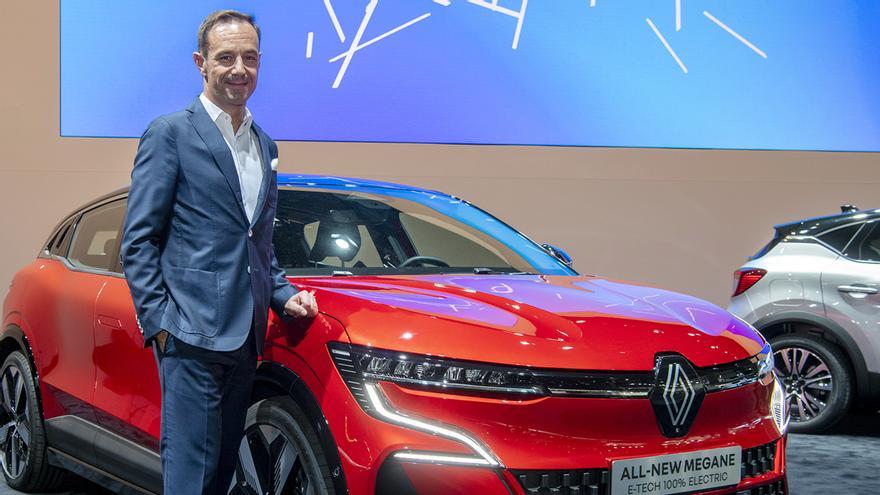 Nine months ago Sebastian Guigues is in front of Renault in Spain. Luca de Meo signed him from Seat, where he worked as brand director in France, and now faces a new professional challenge to relaunch the value of the diamond brand in our country.
– What is your goal from your position in the short and medium term?
– We are preparing the Spanish version of the 'Renaulution Plan', which is not a different one, but rather the application to Spain with the peculiarity that in Spain we have the same scope that Renault has in France with factories, network, engineering, engines, finance. Our goal is to win back the hearts of the Spanish in the age of electrification. The thing to win back comes from the fact that when you look at the Spanish panorama, Renault has always been here. I have not come across a single person who has not told me that there has been a Renault in his family history. The R5, the R12. For this reason, being a brand from here we can give it a plus of closeness and sympathy that the DNA of those of us who are in the brand, starting with Luca de Meo, we do very well.
– Electrification is already, right?
– The brand's slogan was 'Renault, voiture a vivre', a car for living. And to electrification because it is simply a fact, not a trend. In Spain, we are the country of electrified Renault cars at an industrial level and R&D in the center of Valladolid, we develop e-tech technology there, we manufacture Captur hybrid and plug-in hybrid, the two Megane plug-in hybrids and five other projects. All of this gives us solidity.
– Where are they on the plan?
– Halfway. We have the plan and we have the way to go. We have the clear things and good first green shoots like the case of the Arkana. Three years ago no one imagined selling an SUV car without diesel and only with an automatic transmission and there we have the Arkana that is working very well. It is a very of the moment car. If you spend a billion, contribute something. And the results is that we are taking more than a thousand orders per month. When you have a long-term strategy you need something to start. The Arkana is that starting point. The Mégane e-Tech will be the second mainstay, with different volumes because the market is not where it needs to be, but with great technological power. Renault wants to show its more human side, because we like to work like this and because this brand is about that.
– And the rest of the range?
– The best Renault is the Captur 'made in Spain'. If we compare each model in the range with its competitors, the Captur is the best in its segment. In sales to private customers, it is number one in the segment in Spain. And we have gasoline, LPG, hybrid and plug-in hybrid. With the Clio it is a car with its public, also between companies. And we offer gasoline, diesel, LPG and also hybrid. Arkana is a reference already. And we have Kadjar, which we will change next year and which will have all the mechanical technologies, also 'made in Spain'. Then there are the two Mégane that are produced in Spain that have hybrid-plug-in technology.
– Are they considered a 'hybrid' brand?
– Of course. In a global way we can say that we are a super hybrid brand. Another thing is that until now we have known how to show and tell. It is not how handsome you are, but whether they see you handsome or not. Here we have homework. If someone wants to buy a hybrid, they automatically think of Toyota, because we must position ourselves. Constancy and consistency, if your idea is good, puts you on the map. If it is not very complicated, even if your cars are the best, your dealerships are magnificent and your factories are excellent. We must maintain the same strategy for many years for this to stop. The e-Tech technology is great, but it has to be explained, or they will think it is a radio.
– Hybrid or electric?
– In hybrids we have a lot of market. In the electric, it is different. Plug-in hybrids are a good solution. In the concept of orderly ecological transition you sometimes have to remember the words 'transition' and 'orderly'. Ecological, of course, but the rest too. And there are hybrids and plug-in hybrids to take 20-year-olds off the road. When? In 10 years?. It must be before. The administration knows this, we have told them, and the reality is that every time a plan is implemented it has been financially profitable for the administration. Hybrids and electric are great, but you have to be able to plug them in.
– Why is the success of the electric one taking so long?
– Spain is a market in which people do not tend to adopt new things quickly, but it is a market that when they adopt it, they do so en masse. SUVs reached other markets before, but when they arrived here, people did not want anything else. Smartphones reached other countries before and now Spain is the country with the most 4G and 5G connections per inhabitant. I don't know when electricity will triumph in Spain, and I say I don't know if it will be six months or six years, but I am convinced that when it arrives it will be faster and more massive than in other countries. If it has been 10 years since we launched electric cars, if we have accumulated 10,000 million kilometers, with 400,000 cars rolling around the planet, we would have to be very stupid so that when that moment comes we are not prepared. Today is not the electric car market. Is a reality. Throughout the year we have accumulated 5,000 electric cars. My Renault partner in Germany enrolls 2,500 Zoes a month. Today we do not earn a living with those, but we do. To save the planet, you don't have to make a lot of electric cars, you have to sell them, take old vehicles off the streets and use them.
– Do politicians understand the industrial fabric of their decisions?
– A good brand takes 4 years to develop a car and puts a billion on the table. He sells for four more years, puts in 500 million more, fixes it a little and sells it for four more years. If a politician asks me, I say the same. They are 12 years that are my playing time, that of a politician is 4 years. We are going wrong. You cannot change your mind three times. We would need politicians to assume that whoever wins in 12 years should not change industrial technology development plans. He was talking about constancy and consistency. Well, let's apply it to everything.
– How does the chip issue impact you?
– We are experiencing something that has never happened before. We come out of a demand crisis to get into a supply crisis. I had never seen it. That's complicated. We solve it by putting the effort into what can be done. Don't waste a minute thinking about something you can't fix. We are not going to fix the microchip issue. The focus is on the orders. Registering cars is an administrative task, we are paid to take orders. We are having a lot of traffic and we are trying to do a lot of pedagogy and try to explain to people when their car is going to arrive. We have generated transparency with the network and with customers. A river uprooted, gain of fishermen. There are no chips, so good. I said, do not spend a minute on an issue unless you are going to fix it yourself. All manufacturers are the same. I tell that to the network, so take the circular that we have given, arm yourself with courage and sell cars.
– Are they getting it?
– Every week we send the sellers the delivery times so that they can communicate it to their customers. The problem is that we take orders, we prepare a future that will be good, but we do not enter money. That Renault does not enter a couple of months can take, but that a dealer does, it is complicated. We help them with savings plans of fixed systems, we change the system of remuneration for orders, and in the end, as I am optimistic, I think it is good. This year, with a Pyrrhic market, the network will make money. Little but will win. We have been able to lower our breakeven point, and if above that lower breakeven point we add 17,000 client orders in the portfolio, on January 1 we will be able to tell sellers that when a client enters the door they will already be generating their income May 1st. And that gives confidence.

www.informacion.es
Eddie is an Australian news reporter with over 9 years in the industry and has published on Forbes and tech crunch.