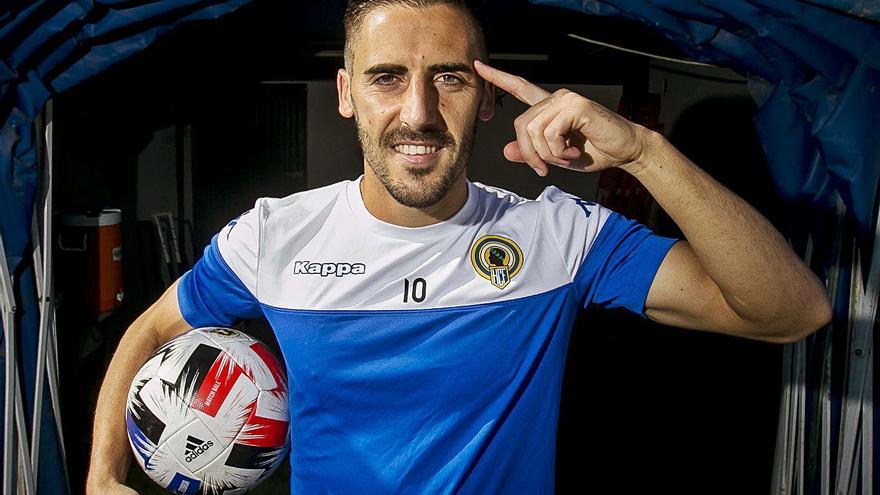 Moyita has fit like a glove on this Hercules. He declares himself "impressed" by the team's wardrobe and asks the fans for calm with the faltering starts in the games. "You don't win at minute 10, but from minute 70," he emphasizes.
Midfielder or midfielder? Last show or organizer? Where do you feel better?
[Se ríe]. They have already asked me several times and the truth is that I do not know what to answer. I have almost always played as a midfielder or inside player in 4-3-3, but as a midfielder I have acted in quite a few games and here in Alicante I have found myself very comfortable, very well with the team and teammates and in the midfield I feel very good too and I think I'm complying.
From what we have seen so far, it is good for Hercules that Moyita enters a lot at stake because the team appreciates it …
True. Last year it cost me a bit in that sense in the team I was on [Rayo Majadahonda] not much came into play, despite delaying my position to midfielder. But this year I am finding the passes quite a bit and associating myself with my teammates. I feel very good with the ball at my feet and the longer I have it, the better.
In the center of the field you come into contact with the ball more than in more advanced positions …
Yes, in the game against Valencia Mestalla I played in the midfielder and received a lot of balls from the midfielders and the centrals and I was also comfortable, but it is true that in the center of the field you have to create the game and the ball passes a lot through that demarcation . The last Sunday [ante la Peña Deportiva] I was very comfortable in the second half of midfield and to continue.
It conveys the impression of having integrated very well into Hercules. What has caught your attention the most about the club and the dressing room?
Yes; I arrived at the last minute and I was wondering if I would adapt well and the truth is that in just a week I managed to do it because colleagues do everything for you, they help a lot. And the coaching staff too. I have also felt the support of the fans. It is true that last year the club went through a bad time, but nothing to do with this course. I am finding myself a very solid team on the pitch, with very clear ideas and that is our goal.
For a "gamer" like you, the 2nd B gets even harder?
I have not yet been in Second A to know what it is like, but it is true that Second B costs a lot and any team, whether it is up or down in the table, stands up to you in your field and forces you to give your best every Sunday if you want to win.
They have seven points out of nine and could carry more and less, in view of the three games. Are you happy with the balance?
Yes, depending on how you look at it, we could be better and worse. I believe that each one has the points they deserve and we don't have to think about it any more, but keep moving forward and always get the three points at home and abroad; and if you can't win, at least tie, but scoring will always keep you at the top of the table.
There are only three games, but Hercules has given the impression that it is difficult for him to start the matches and impose his authority at the start …
We may give the feeling of not having the game controlled and others, but it lasts 90 minutes and they are not won in 10 or 15, but in 70, 80 and so on. Matches must be matured; the fans have to have peace of mind because the important thing is the final result and we cannot get nervous in the 10th minute. Within the same game there are several, you have to play them and calmly you will get the three points.
This Hercules does seem very well armed from behind, although he is having a hard time taking advantage of his opportunities in attack …
The solidity and the clean sheet give you everything. From there we will have many occasions with the wingers and forwards that we have. The 11 of us who are in the field have to give that strength to the team, a clean sheet and, from there, to grow little by little.
You may have already noticed that the demand is high on the Hercules and that anything other than promotion is considered a failure …
Do not think so soon about promotion. Until May or June there are many months and many games to play and compete. The objective is to be among the first with tranquility and, from there, we will see. But calmly, that everything arrives.
This equipment has a closet bottom. It seems like a large and balanced template …
Yes; When I arrived I was shocked because I had not experienced it on other teams. We have two players per position, and even three, who can play quietly. It is a sign that things have been done very well in the preseason by Carmelo [del Pozo]. We have to be calm because if one is missing, there will be another and we will have a wardrobe in any game.
How do you define yourself as a footballer?
I would not know how to do it, that everyone sees me as they want. If I had to say something, it would be that I am very stubborn and I have to achieve the goal yes or yes.
In which footballer do you look to continue improving?
I look at a lot of players. One that I have noticed a lot, and I am also a fan of that club, is Ever Banega, from Sevilla. I watch many games and many players and you can learn something from all of them.
Are you flattered that many people think that Second B is too small for you?
I don't think about that, I've been listening to it for a long time, but if I'm in Second B it's for something; Maybe because I don't deserve Second A, but I'm very happy with this club and with this great team, its fans and this great city. I focus on helping Hercules.

www.informacion.es

Digsmak is a news publisher with over 12 years of reporting experiance; and have published in many industry leading publications and news sites.