In the late sixties, just published The Sandino affair, the biography written by Neill Macaulay, Sergio Ramírez, and their Sandinista comrades moved quickly to translate it into Spanish and send a shipment of 5,000 copies to Managua. The book was held while the customs director took it to the dictator Anastasio Somoza. "And what does this have to do with me," someone who felt untouchable came to tell the official before allowing the entry of the biography. Ramírez (Masatepe, Nicaragua, 79 years old) laughs at the anecdote, who this week has been able to lose hope of returning to his country in the short term, but not by far his good humor.
His latest novel, Tongolele did not know how to dance, it has been held for two weeks in the customs of your country. The writer is convinced that the latest incidents of Inspector Morales, focused on the 2018 protests, have been the trigger that has led the regime to issue an order to arrest him. "It is already known that forbidden books have enormous appeal," Ramírez ironically concedes, who does not hide his regret during an interview in Costa Rica, where he settled after a medical check-up in the United States for which he left Nicaragua in June. Here he already lived in exile before the Sandinistas overthrew Somoza and illuminated the world left with the flashes of a revolution turned into a farce, four decades later, by one of its promoters.
Here came the same day that he married his inseparable wife, Gertrudis Guerrero, Tulita, who also accompanies him in the interview, sitting next to him without flinching but without losing attention to a word. Both have had to leave behind the new house that they opened just in 2018, designed by one of their daughters, without being clear about the horizon that awaits them from now on. The interview is held in a hotel in San José the day before leaving for Spain, where he will begin a tour to present his book. Ramírez alternates the first person singular, when he refers to his work, and the plural when he touches on more personal issues, for which he turns to Tulita seeking complicit approval.
Question. Why do you think the arrest warrant has been issued now?
Answer. Everything is for the novel. This prison order is an outburst. They are persecuting people who in their minds represent a political threat, because they are presidential candidates or because Ortega and his wife [Rosario Murillo] they have felt threatened by people like Dora María Téllez, who have the capacity to organize the tables from the neighborhoods, from the left. That is why they are feared for them. In my case, I do not represent a political threat, but they put me in that bag, with the crimes they have invented to capture adversaries before the elections.
P. He is charged with crimes of "laundering money, property and assets; undermining national integrity, and provocation, proposition and conspiracy ". It seems that he only needs to be accused of raining. When you read all the accusations, what goes through your head?
R. I think it is a moment of anger. Their operators must have asked them what they were accusing me of and they said: "Whatever." The prosecutor is a clerk and it is better to fill it with all the crimes that they have on the menu. Ortega wants to reach [las elecciones de] November whatever, regardless of the world, fighting with Argentina, with Mexico, with Spain. He takes refuge in Russia, in Venezuela, in Cuba. He thinks that he will win that terrain later, that once he wins the elections he will sit down to negotiate, to offer prisoners, he has enough hostages.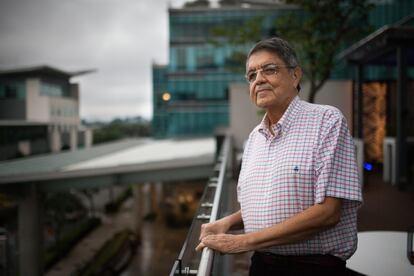 P. Did you ever think that the time would come when they wanted to stop you?
R. People said that there were three untouchables: Ernesto Cardenal, Gioconda Belli and me. Here is a combination of political calculation. Ortega decided to dismantle the legitimate electoral apparatus, which would not have an obstacle to win the elections, he was terrified of an electoral campaign, I was always clear on that. It was going to be a pretext to go out again with the flag to protest and it was clear that they were not going to tolerate it. I didn't want any risk. In that scheme I do not fit. When they called me to the Prosecutor's Office, I already felt that I was at risk. I never refused to go, I gathered my documents regarding my foundation's relationship with the Violeta Barrios foundation, which was to finance journalism workshops. They didn't ask me for a single piece of paper, they asked me silly, banal questions, but I felt that things had changed in nature.
P. Because the arrest warrant goes further …
R. It hides a sentence of depriving me of the country, it may be that the rest of my life I will not be able to return to Nicaragua, it is clear to me and we have to adapt to that idea, we have to process it. We have no alternative.
P. Does it hurt more that this persecution comes from someone with whom you had such a special relationship?
R. No, I already assimilated that a long time ago. I was never a friend, a comrade of Daniel Ortega. We had a good working relationship, I worked very closely with him, but I don't feel like he lost a friend.
P. You already lived in exile here in Costa Rica during the Somoza dictatorship. What differences are there between one exile and another?
R. Is different. We arrived here in 1964, not exiles, I came with a position from a university body, we had married the same day we arrived and we did not think we were going to stay that long. My years of exile were in the final part, when I am already part of the conspiracy against Somoza, an armed conspiracy, he is not innocent, we are making caches of weapons, border attacks. When Somoza condemned me in 1977 with the rest of the Group of 12, we decided to return as a challenge. Somoza does not imprison us, it is another type of fight. I went from exile to power. Today I have no alternative, today I am another type of exile. When I came back I was 35 years old, now I'm going to be 80. Basically I am a writer who has moved his laptop [portátil].
P. We talk a lot about Ortega but little about his wife, Vice President Rosario Murillo. What role does she play?
R. Daniel handles power I cannot say that in a rational way, but he does realistically. He knows what he's doing, those stories about him watching TV in his socks all day are not true. The articulation of power is through him, the repressive force depends on him. They would not pay the slightest attention to her, she handles propaganda and gives repressive orders, because he has delegated those powers to her.
P. Your latest novel revolves around the 2018 protests. Did you have a pending account?
R. I was receiving the Cervantes Prize in Madrid when they started. I had written a speech about my commitment as a writer and citizen, but… The day before I went with Gioconda to a demonstration. A protester put a little black bow on my lapel. I am deeply committed to that. When I return to Nicaragua, it provokes me to write a series of chronicles about the repression because, when someone reads in a report from a human rights commission that there are 427 deaths, it is a statistic, nobody reads a report. And I see some cases to explore, the ones that most caught my attention. I was having a book of chronicles, which is there. But I thought about it, I remembered that when I wrote a chronicle of Haiti for EL PAÍS I went there. I was not in the scenes of the protests in Nicaragua, they are second-hand chronicles, I began to reconstruct what other journalists experienced. That didn't work for me unless it was in a novel.
P. What future awaits Nicaragua?
R. In the short term, a very black future, of a lot of pain, the oppression will not end overnight, I do not see a Nicaragua where The Press go to circulate freely, where Carlos Fernando [Chamorro, periodista] allow you to direct Confidential without getting shot… But hey, tyrannies don't last forever.
P. Guerrilla, politician, writer. He has been and has been defined in many ways. Do you still consider yourself a revolutionary?
R. A revolutionary who believes in armed struggle, no. I stopped believing in armed struggle a long time ago, because it has been a pretext for tyrannies. If one day in Nicaragua we could make a change that did not depend on the armed struggle, perhaps the institutions would have a chance to strengthen and dominate the continuous passions. If not believing in the armed struggle deprives me of being a revolutionary, no way. For me the choice now is very clear: democracy or dictatorship. But I still believe in the impossible, and the impossible now will be to be able to return.
Subscribe here to the newsletter from EL PAÍS América and receive all the informative keys of the current situation of the region.

elpais.com
Eddie is an Australian news reporter with over 9 years in the industry and has published on Forbes and tech crunch.