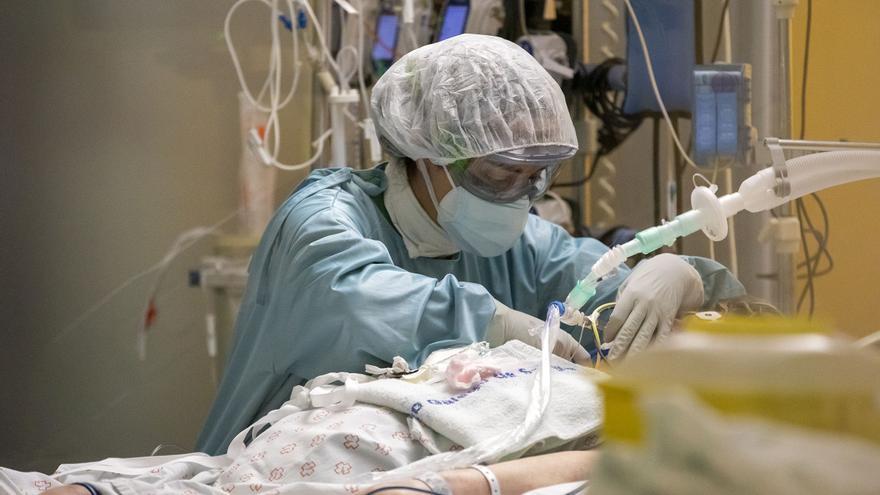 Various communities like Catalonia, Galicia, Castilla y León and the Basque Country will relax restrictions starting this week, after the indicators on infections by coronavirus have shown one more day a general trend towards improvement in practically all of Spain.
According to the data provided this Sunday by autonomous communities and cities, the vast majority of regions have experienced a generalized decrease in the number of new infections, with the only exceptions of Ceuta, where the situation of active cases worsens, and the Basque Country, where the number of patients in ICU increases.
In this downward trend is Andalusia, where the new infections diagnosed in the last 24 hours have dropped to 904 after two days above 1,200, and the deaths registered in the last day to 11, after 41 on Saturday and 50 on Friday.
In Catalonia, epidemic indicators continue to improve slowly, with 1,060 infections and 12 new deaths reported since yesterday, and the number of severe COVID patients in ICUs also decreases, ten less than the previous day, although the number of hospital admissions is increasing.
The Madrid's community has reported 473 new cases this Sunday, almost a thousand less than those reported on Saturday (1,433), and also that the number of deaths in hospitals in the region has decreased, going from 21 to 18 deaths.
In this region, Primary Care Nursing professionals will begin this Monday to vaccinate 7,925 immobilized large dependents and their caregivers at their homes, as well as 23,000 large dependents with mobility, that is, whose physical conditions allow them to move, who will receive the injections in health centers.
Cantabria has registered 39 new cases, thirteen more compared to the previous day, and one more death, while the number of hospitalized patients has dropped to 71, four less, and the same number of hospitalized patients remains in the ICU, 26.
The Murcia region has recorded 64 new infections, which are seven less than the previous day, and six deaths in a day with a positivity rate of 3.32%, according to the latest epidemiological report.
In Aragon, Public Health has notified 100 new infections of covid-19, 40 less than the previous day and no case in the city of Teruel, in addition to not having registered any deceased.
The Valencian Community It has registered 162 new cases, a reduction of 146 from the 308 reported on Friday. Hospitalizations have also continued to decline and the fall in the accumulated incidence has also continued, which at the beginning of the week was 111.98 cases per one hundred thousand inhabitants and now 79.32.
Asturias registered yesterday, Saturday, two deaths, four less than on Friday, and 134 new infections, four less, in a day in which positivity increased again to 6.68 percent.
After dropping yesterday from the 4,000 active cases of COVID-19, the number of infections continues to decline in Galicia, with 137 registered in the last 24 hours, 47 less than in the previous count, while the number of hospitalized patients has also been reduced .
Estremadura has lived its second consecutive day without deaths from coronavirus since last October 18, although positive cases increase slightly (42) and the number of hospitalized remains at 47, of which 16 are in ICU.
Castile and Leon This Sunday has added 124 new cases, which represents a decrease compared to yesterday (211), while there have been six people who have died after being infected with covid, one more than the day before.
In The Rioja, the ICU care pressure remains stable this Sunday both in covid beds and in patients with other pathologies admitted to this unit and stands at 65%, the same figure as 24 hours ago; and the accumulated incidence at 14 days has dropped 1 point, to 73 cases per 100,000 inhabitants.
Navarra It has detected 66 new positives, without deaths or notification of deaths from previous days, with a positivity rate of 4.5% after performing 1,477 tests, 1,180 PCR and 297 antigen tests.
And in Baleares, the Ministry of Health has detected 24 new cases in the last day, in which no deaths have been registered.
This general trend towards improvement in practically all of Spain has led some autonomous regions such as Catalonia, Galicia and Castilla y León to soften some of their measures as of Monday, while the Basque Country will do so from Tuesday.

www.informacion.es
Eddie is an Australian news reporter with over 9 years in the industry and has published on Forbes and tech crunch.