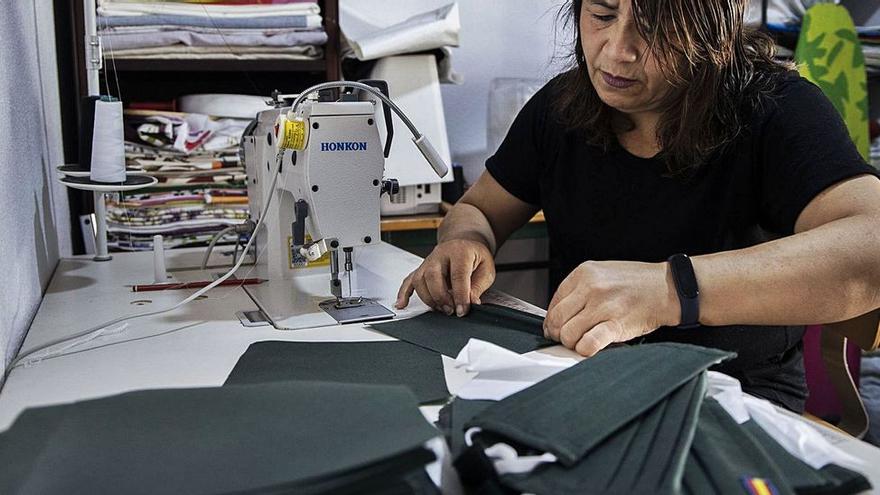 That was the life of Claudia García Giraldo for a month. "It is a slave job, you had to be more than an hour to make a euro," he says. It was (and is today) a school uniform company, but in a pandemic it reinvented itself to make masks, the one that used it. "These companies made August, because of the misery they paid us and the price at which they sold," Claudia denounces. "Being at home, without work, I decided to do it, but it was more the electricity that I used, the bearing of the machine and my time and that of my mother than the money I could earn." He says he held out because of the false promises of a possible contract. It did not happen.
She does not know them, but she is sure that there were more women doing that work. "I know that more girls sewed because every time the van arrived it was loaded with many bags like mine," she recalls. Every Monday and every Thursday I saw them. "They safely employed many women, they took advantage of the pandemic, that there was little work and we were at home," he says.
In the end, after a month of endless working days, they ended up owing him 64 euros and a lot of cloth that they never came to collect, in addition to ready-made masks. "They left that at home for not paying me." Sixty-four euros, a total of 320 masks, 80 hours of work.
Revictimizar
But Claudia's story does not begin or end with masks, she is much more than that and asks not to be revictimized. "Many people tend to think that since we come from another country and we are in need, we have to submit to everything that occurs to them, to miserable conditions, no matter who we are," he says.
She is, before being a precarious worker, a human rights defender who had to go into exile from Colombia due to the threats of the paramilitaries, who murdered her brother looking for her.
She has been internally displaced since she was 18 years old, when the state expropriated her family home to give it to mining companies in Tolima, when it was discovered that it is one of the regions with the most gold deposits in the entire country. She stood up and was persecuted by the paramilitaries, to the point of having to flee with her mother and children on seven occasions, moving throughout Colombia.
He ran a sewing company, with 27 machines and 20 employees. She also exercised activism helping to empower many Colombian women in rural areas so as not to leave the easy path to the guerrillas and prevent their children from completing their compulsory military service at age 18, with the danger of ending up swelling the paramilitary ranks in a country with a chronic internal conflict. For this reason, she was kidnapped. "A slogan that I always repeated to these women is that we do not give birth to children to go to war," explains García.
Ultimately, Claudia was on target, and even more so when she took her fight to the Congress of the Republic of Colombia, gaining some political recognition in her country. When his brother was murdered in 2011, he began to prepare for his arrival in Spain. It came in 2012 thanks to a program of the Amnesty International organization for women human rights defenders.
A year later, the Colombian Convention of Jurists ruled against his return to the country, because his life would be in danger if he returned. It was then that she was granted political refugee status.
Rag and mop
He landed in Spain and began cleaning houses. There was no alternative. As a domestic worker, she spent four months in a house, with permission to go out to see her daughter only on Saturday afternoon to return on Sunday at mid-morning. The rest of the time, locked up taking care of a dependent elderly person. "My political leadership was hidden in the mop and the cleaning cloth," he laments.
He goes seasonally, but right now he is looking for work, he has come to be employed in the sailing industry and in various sewing companies, his trade. He says that "the fact that refugees are privileged and we have everything is a huge lie, I don't want them to give me anything or live on aid, just have an eight-hour job to live in peace."

www.informacion.es
Eddie is an Australian news reporter with over 9 years in the industry and has published on Forbes and tech crunch.