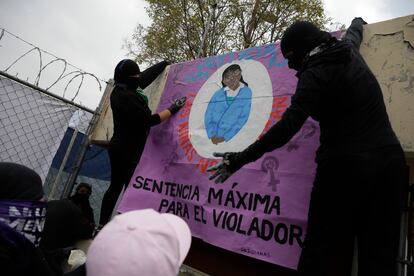 The director of Public Security of Nezahualcóyotl, in the State of Mexico, proudly explains that during the pandemic all crime figures have fallen. For a city historically notorious for violence, this has been a good year. Except, he acknowledges, for the violations. They are practically the only thing that has increased. In Iztapalapa, in Mexico City, the revelation is the same: after a public lighting project, the crime rate plunged 60%, less, again, sexual assaults. In a year in which the overall crime rate in Mexico has dropped by more than 10%, sex crimes are higher than ever. In 2020, 54,314 crimes against sexual freedom were reported, according to data from the Executive Secretariat of the National Public Security System. It is the highest figure since available records from 1997.
The explanation for this alarming increase is hidden in a political slogan: stay home. "Virtually all the violations that we recorded during the pandemic took place inside the home and were committed by a member of the family nucleus," says Jorge Amador, in charge of Neza's security. It is an old idea that most sexual assaults are committed by acquaintances. Now, the social distancing measures and the confinements imposed by some States to fight against the contagion of covid-19 have exposed this plague. "It is a second pandemic, one that no one wants to see, that the system wants to cover up," defines Samantha Baéz, director of Casa Gaviota, an organization that supports women victims of violence.
In Mexico, 46 ​​rapes were reported per day in 2020. This data does not include abuse, harassment or other types of sexual crimes. In the first three months of 2021, they increased to 53 a day. Most of the victims are adult women, although last year those that increased the most were rapes suffered by children under 15 years of age.
"Governments forgot about the gender perspective: confinements put women and children at risk," says Wendy Figueroa, director of the National Network of Refuges in Mexico. Of the victims served by this network, between 70% and 75% had suffered violence within the home. "We are supposed to be safe and secure in our home, but we are not. The pandemic has brought us back to when violence against women was a private matter, occurring within the home and could not be addressed. Now we are returning to that private space and violence is spreading ", he adds.
Total crimes fall, sexual crimes rise
The pandemic was a turning point for security in Mexico. The year 2019 had been the most violent in the recent history of the country: for the first time there were more than two million reports of crimes, 44,860 murders and 944 femicides were counted, and a state like Colima had a homicide rate higher than that of El Savior. It was not difficult that in 2020 and with the arrival of the health crisis, 230,000 fewer crimes were reported than the previous year. However, this widespread improvement excludes victims of sexual violence. 2% more complaints were filed.
"During all these months, women had to be with their aggressor all the time, 24/7, before they could go out, go to work, but this year they have been locked up," says Baéz, who believes that the pandemic has not only affected to sexual crimes but "all violence against women and children has increased in this period."
The data, furthermore, recalls Figueroa, the director of the network of shelters, are partial: "They are a brushstroke, because there is an under-registration of cases that are not known, of women who have not had the opportunity to report." The experts ask the Government to invest in prevention and to monitor how violence is being experienced from the inside out. "Staying at home is not an option with a lack of public monitoring and with this very vulnerable system," says Figueroa.
The highest number of sex crimes in decades
The oldest registry available in crime incidence reports —prepared under a methodology that only breaks down complaints against sexual freedom into the category of rape, rape, and others— is from 1997. At that time, 20,695 sexual crimes were counted; in 2010, there were 34,086, and in 2020, more than 54,314. This represents a 60% increase in these crimes in just one decade. In this period, total complaints also increased, but only by 7%.
The data of now are, in the words of the specialists, "alarming". "They are a reflection of the chain of omissions, impunity and corruption, of a revictimizing system, created to go unpunished and prevent women from having access to the restitution of their rights," says Figueroa. It also warns that a large number of victims of sexual violence also suffer other types of violence: "These sexual crimes trigger femicides."
The experts end by summarizing this situation of violence in the same way: "There is no safe place in Mexico for women, not the street, not social networks, not the house."
Subscribe here to newsletter of EL PAÍS México and receive all the informative keys of the current situation of this country

elpais.com
Eddie is an Australian news reporter with over 9 years in the industry and has published on Forbes and tech crunch.