That childhood marks our lives as adults is not a discovery because psychology and psychiatry have emphasized it. If life experiences from that early age are coupled with disproportionate fame, as has happened to many of the so-called hollywood kids, sometimes the cocktail is explosive. The Disney factory has been a factory of stars but also of boys and girls, elevated to the status of mass idols, who have had to battle in their adolescence or maturity with problems of alcoholism, addictions, insecurities and childhood trauma. The list is long: Hilary Duff suffered from anorexia and alcohol problems in her youth. Justin Timberlake revealed in 2013 having used "many types" of drugs. That same year Zac Efron revealed his addiction to alcohol and cocaine. Lindsay Lohan, Demi Lovato, Joe Jonas, Selena Gómez, Britney Spears or Christina Aguilera are others who were successful as children and have suffered the consequences as adults; with different results in each case, since some of them have managed to redirect their personal life and settle in the professional one after going through detoxification centers.
Shia LeBeouf, the performer of Transformers, is another of those child prodigies who have later led an erratic life: accidents, arrests, addictions, accusations of plagiarism … He himself confessed in a statement in which he spoke of his problems: "I have been fighting addiction for too long and I'm taking steps to ensure my sobriety. I hope you'll forgive my mistakes. People I respect, people I've always wanted to work with, looked me in the eye and said, 'Life is too short to spend it on that. " A reflection to which he added: "Alcohol or any of those vices make you crazy. I can't play with any of that. I have to keep my head clear."
The actor is now immersed in another kind of personal redemption process. And this time he is doing it using his profession as a tool. LeBeouf is the scriptwriter and also performer of the dramatic film Honey Boy, based on his own life and that of his father and whose title coincides with the nickname the actor received when he was a child. It is a kind of autobiography in which, in one of those twists and turns that life takes, LeBeouf plays the role of his father, with whom he lived an intense relationship not without pain.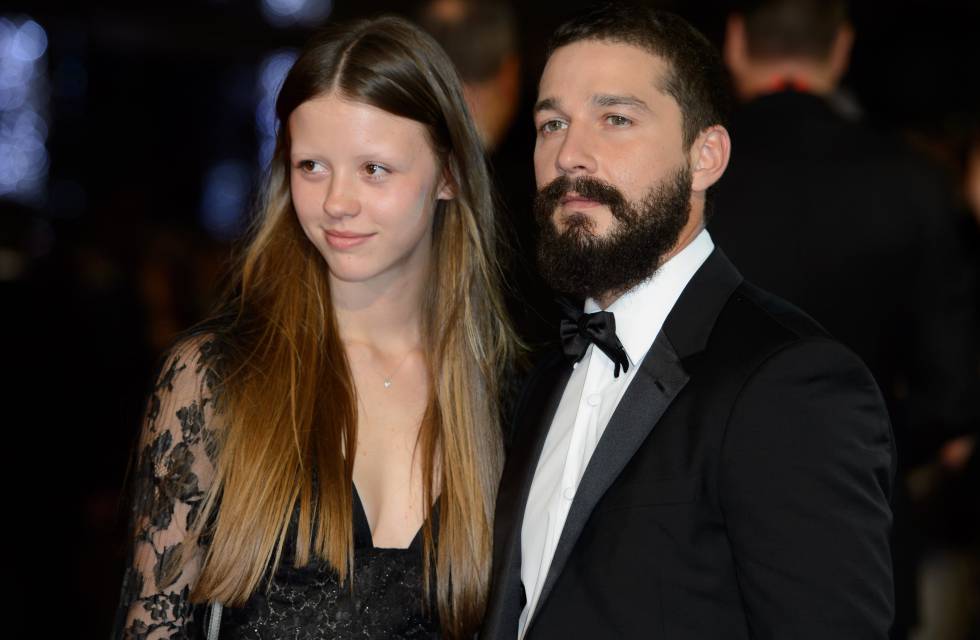 The 35-year-old actor spoke at a podcast called Awards Chatter, from The Hollywood Reporter, about what it has meant to him relive the most painful parts of your childhood to bring a story, your story, to the screen. LaBeouf has confessed that he always felt responsible for the separation of his parents – it happened when he was five years old – and has admitted that as a child he felt that "if they had more money, there would be no fights". Working as a child actor was seen as an "opportunity to minimize the drama" at that point in his life. "And he adds:" He was a normal child in an extraordinary situation.
In other interviews, he has stated that it has been "strange to fetishize my pain, make a product with it and feel guilty about it. I felt very selfish. I never thought. 'Oh, I'm going to help people.' That was not my goal. I was falling apart. " Shia LaBeouf is the only child of Shayna, a dancer turned visual artist and jewelry designer, and Jeffrey Craig LaBeouf, a Vietnam War veteran who wound up stumbling around as a mime and rodeo clown in a circus. A couple that he himself has described as "hippiesStrange people "but who" loved him and whom he loved. "He lived with his mother humbly when they separated and his father, who also grew marijuana, reminds him of" drugged "during his childhood and addicted to heroin, substances of which tried to rehabilitate himself on several occasions.
At podcast from The Hollywood Reporter, LaBeouf did not forget to talk about what was happening in his own life while growing up. He claimed that after his latest arrest (there have been more than one and for different reasons ranging from driving under the influence to various fights) he realized that he had hit rock bottom and stopped drinking. He also resigned himself to the idea that if he did not go for professional help, he would end up in jail.
The therapy ended in a devastating diagnosis: post-traumatic stress syndrome. "It was the first time they told me I had it," he said, "I thought I was an alcoholic and that was what I needed to deal with. What I didn't know was that there was something else that was hindering my ability to find peace in my life and my ability to deal with people. " This process also helped her to process the trauma she experienced as a child star and to deal with an unpredictable and alcoholic father. All these elements and reflections were what he used to write the script for Honey Boy. "Writing about what happened was a" way to get death out of my life and smash it against the wall, "says La Beouf

elpais.com
Digsmak is a news publisher with over 12 years of reporting experiance; and have published in many industry leading publications and news sites.