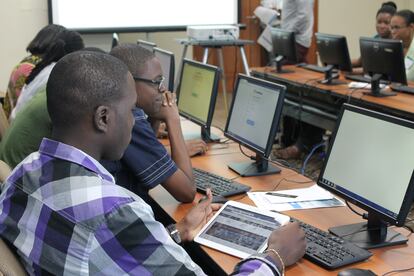 A few years ago it was common to ask children what they would like to be when they grew up and receive answers such as architects, engineers, economists, doctors. Although these professions are still in demand, others much shorter and focused on technology and robotics are taking a strong position. This is the job market of the present and of the future.
The productivity and attractiveness of workers who produce intangible added value, such as researchers, analysts, programmers and designers, were already on the rise thanks to new technologies and increased competition. In the current context of the pandemic, this has accelerated even more with changes in the labor market, especially in Latin America.
Due to quarantine and social distancing measures to slow the spread of COVID-19, some companies have replaced workers with machines for repetitive tasks, or electronic platforms for high-touch tasks. Workers who produce intangible added value have been able to telecommute. Other jobs that cannot be replaced by machines or digital media, such as healthcare, have also seen an increase in demand. In other words, although the pandemic has impacted employment, not all companies and workers have been equally affected.
But the jobs that disappeared will likely never come back, and if they do return, they won't require the same training or dedication that they once did. To meet the demand, the design of education at all levels, but especially in higher education systems, must begin to rethink today. In the aftermath of the COVID-19 crisis, recovery will crucially depend on the improvement and training of the workforce to support faster economic transformation in the Latin American region.
In this context, the development of qualified human capital plays a fundamental role in higher education systems. According to World Bank Business Survey As of 2019, 24% of companies in the world report that an inadequately educated workforce is a major constraint. In Latin America and the Caribbean, however, this figure rises to 32%, the highest of all regions.
Short careers for long-term job markets
These are some of the issues addressed in the World Bank report The fast track to new skills. In this study, the experts analyzed the so-called short higher education programs, which in the region are known as technical careers, but which have a clear focus on labor markets and helping students find employment. An important advantage is that they develop qualified human capital in just two or three years.
According to the report, these programs hold great promise for our region. Because they are short, they build qualified human capital quickly and can do this in a wide variety of areas.
From an academic point of view, according to the study, the students of these programs graduate in a higher proportion than those of bachelor's degrees (57% compared to 46%). On the labor market side, although they earn lower salaries than bachelor's graduates, they do better than dropouts. Another important aspect is that its unemployment rate is lower (3.8% compared to 6.1%).
Short programs are not only attractive to students looking to enter the job market; They are also the case for employers, who are looking for a qualified workforce. Providing the variety of skills that the job market demands – engineers and technicians, doctors and X-ray technicians, to name a few – is a vital role of a functional and dynamic higher education system.
The report states that short programs are less widespread in Latin America and the Caribbean than in other parts of the world and have not played a prominent role in a region where bachelor's programs have been considered the top – and perhaps only – key. for social and economic mobility. That must change now.
The region seeks different results from its educational system and for that it cannot continue doing the same as always. Different policies and strategies are needed now. The need to support all efforts to strengthen human capital in Latin America is imminent, which will allow more opportunities for workers and thus reduce the gap in the most unequal region in the world.
One of the main challenges today is the creation of new sources of work. Short programs could be of great help to governments, both to overcome the employment and production crisis generated by the COVID-19 pandemic, and to prepare individuals for today's world of work. The important thing is to ensure quality by putting into practice some recommendations to implement a good system of short programs:
Provide information and broadcast short programs to avoid stigma.

Supervise and regulate short programs through the work results of the students.

Provide funding for short programs as the biggest cause of dropout is financial hardship.

Facilitate educational paths by providing credentials per module.

If today you ask your children or grandchildren what they want to be when they grow up, in addition to being a data scientist or software developer, there may also be someone who wants to be a computer technologist, laboratory technician or clinical assistant.
Cecilia Martínez Gómez is a communications consultant for the World Bank.

elpais.com
Eddie is an Australian news reporter with over 9 years in the industry and has published on Forbes and tech crunch.