Singapore without the hawkers It would not be Singapore. Restaurants are for special occasions, but this is our tradition ". With such conviction, Dr. Pao expresses herself while savoring a plate of chor mee (noodles with strips of pork) in the same street stall where he eats at least once a week. A tradition inherited from his parents that he is proud to uphold and that has just been included by UNESCO in its list of intangible cultural heritage. News that the doctor hopes will help preserve the delicate survival of these collective kitchens in times of fast food and pandemic.
The Asian city-state, of some 5.7 million inhabitants, is home to more than 40 Michelin-starred restaurants and some of the best bars in the world, but it is the culture of the hawkers – centers with street food stalls – the one that arouses the most pride among many Singaporeans, with dozens of them scattered across the island. These spaces, similar to the old renovated markets of some European cities – such as San Miguel in Madrid – but much more austere, draw their essence from the first mobile food stalls run by immigrants in the 19th century.
The United Nations Educational, Scientific and Cultural Organization (UNESCO) announced its recognition last December. For Singapore it is the second distinction by this body, which in 2015 declared its botanical gardens world heritage. The news has come at a delicate moment, and therefore opportune, since the Government is currently trying through subsidies and training programs to persuade the new generations to inherit the jobs of their relatives or to start in the business, in the doldrums after a year of confinement and also by the disinterest of the youngest, attracted by the proliferating home delivery services and fast food.
"The most effusive thanks should go to generations of hawkers for having fed the spirits and stomachs of a nation for decades. This recognition would not be possible without his perspiration and dedication to his profession ", emphasized Prime Minister Lee Hsien Loong, when Unesco's decision was made public.
Paulin is one of them. At 60, he has been cooking and serving the clientele of his typical food stand in a restaurant for more than 35 years. hawker close to Singapore's commercial district. Although proud of her service, Paulin, who inherited the space from her parents, confesses exhausted. "This business is very sacrificing, it is a very hard life," she admits, sweaty, in front of the steaming stoves and while serving the diners. The sacrifices to get the job done, with days of up to 16 hours at impossible temperatures – the average on the island ranges between 25 and 30 degrees Celsius and a humidity close to 90% – lead him not to want his three children to dedicate themselves to the same. "They already have their jobs in offices. I may hold out for a few more years… The covid has suffocated us, I hope sales will recover ", he says.
Dr. Pao sympathizes with the vicissitudes of the historic business. "They do not earn much, young people have tried to help them adapt to the new times by selling over the Internet, but many do not know or do not have the infrastructure," he says during the midday break from his work as an anesthetist at a nearby hospital . The mother of a university son studying in the UK, she says that when she visits Singapore they eat together at Paulin's stand. "He misses the food here a lot. It has nothing to do with the British diet, "he adds.
This transmission of the fondness for hawkers from parents to children is one of the hopes for the survival of these centers with dozens of stalls of all kinds of Asian food – Indian, Thai, Chinese, Indonesian … – at modest prices. In contrast to the luxurious restaurants on the island, the dishes are around 10 Singaporean dollars (about 6 euros).
Low prices and gastronomic diversity are the keys to the success of the hawkers for Andrew, a 50-year-old economist who waits for his bowl of fish soup – one of the most popular ones – to be served during his work break. "It is something unique to Singapore that does not exist in other parts of the world … You can find all kinds of Asian food and each time choose something different," he says. Among the most famous dishes are chicken with rice from Hainan, an island off the southern coast of China, and all kinds of noodles (called my The along in Hokkien, a dialect of Southeastern Chinese), in addition to the famous laksa, a usually spicy wheat noodle soup served with chicken, shrimp or fish and garnished with coconut milk. The local carrot cake —whose ingredients include rice flour and white radish— and the oyster omelette are others. delicatessen usual. Some stalls even have a Michelin star.
There is halal food, respectful of Muslim traditions – a community that makes up around 14% of the population – and an amalgam of culinary traditions that serves as a meeting point between the different ethnic groups and social classes of Singapore, a city with one of the world's largest wealth distribution gaps. "That is one of the enormous virtues of the hawkers", notes the doctor, who trusts that the inhabitants continue to value these collective dining rooms. "I think they will survive because not all Singaporeans are rich, and this is our heritage."
Four good tips to eat like Singaporeans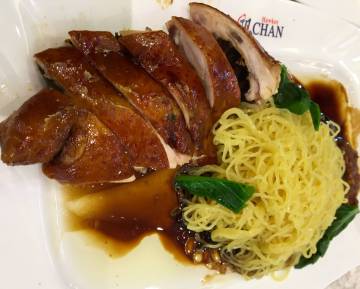 1. Chinatown (335 Smith Street). Located in Singapore's Chinatown, it is the largest hawker in the country with about 260 stalls. Here you can find everything; from the famous chili crab to the chicken satay skewers, a classic Southeast Asian dish. It is in a very touristy area and it is common to find (in non-pandemic times) a mix of foreigners, travelers and locals, but still offers affordable prices (a bowl of rice costs less than two euros).
2. Hawker of the Old Airport (Block 51, Old Airport Road). If you ask a taxi driver for a hawker away from the center where you can share a table with Singaporeans, they will probably recommend going to the Old Airport. It is one of the oldest and has been serving tasty indigenous recipes for generations, such as soy tofu (beancurd soy). Just look for the longest queues to find out which stalls have its two variants: the original or the almond flavor.
3. Maxwell Center (1 Kadayanallur). Low and domed in structure, it offers a respite from the skyscrapers of the financial district. During the week it is common to see executives, families and tourists, and in pre-pandemic times, after-meals could be lengthened with that feeling of being in a summer destination and not in the heart of the city. Hainan Chicken is very popular in Maxwell, located near the Buddha Tooth Relic Temple and Museum.
4. Chomp Chomp (20 Kensington Park). Also known as the Serangoon hawker, Chomp Chomp has a reputation as a scoundrel for being one of the favorite options among nocturnal people. Unlike most hawkers that also operate at noon, this one is open from six in the afternoon until late hours. It is famous for its satay, a kind of Moorish barbecued chicken, pork or lamb skewer, and also for its oyster omelettes.
Find inspiration for your next trips in our Facebook Y Twitter e Instragram or subscribe here to the El Viajero Newsletter.



elviajero.elpais.com
Eddie is an Australian news reporter with over 9 years in the industry and has published on Forbes and tech crunch.