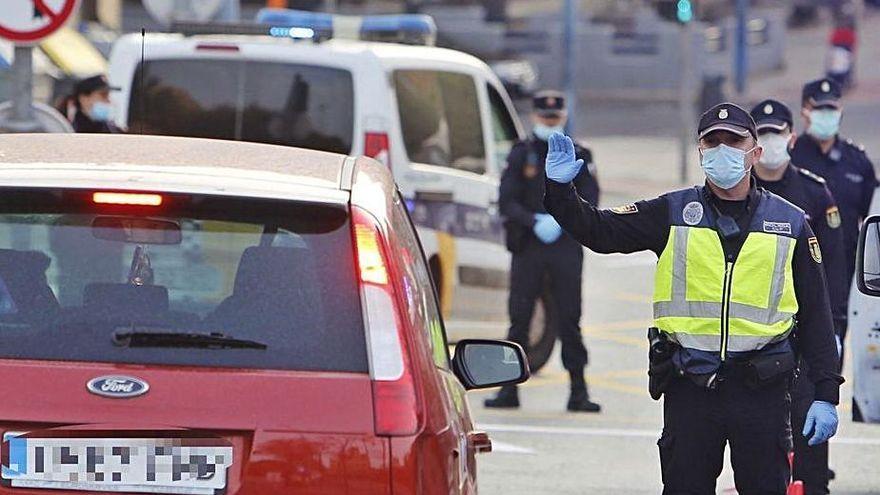 National Police officers who were part of the device established to control the perimeter closure of the city of Alicante in order to monitor compliance with the new sanitary measures established by the Generalitat Valenciana to minimize the risks of the expansion of COVID-19, have arrested six people that they tried, ignoring the instructions of the police, to skip a control and enter the mentioned city.
The agents were last Saturday afternoon at one of the controls established in the city of Alicante in order to enforce the restrictions on access and exit from the city dictated by the presidency of the Generalitat Valenciana in its Decree 2/2021 of January 24, specifically in the roundabout of Mexico being one of the points mainly used to access and leave the city by vehicle.
At one point two vehicles approached the device, these being two taxis, the agents of the National Police together with other members of the Alicante Local Police stopped the cars.
One of the taxi drivers explained to the police that they came from the town of Almería and that each one was carrying three occupants who had paid for the trip to Alicante.
The agents informed them that access to the city was not allowed since they were not covered by any of the existing exceptions for this, that for this reason they had to turn around and return to their point of originThey also confirmed that they were going to be proposed for sanction for said infraction.
In this way, both vehicles began to circulate through the roundabout to leave the area once completed, although as one of the red traffic lights stopped their march, a moment used by the six taxi users to open the doors of the vehicles and run away.
At that moment, a chase of the race and in vehicles began in which different teams belonging to the Provincial Citizen Security Brigade of the Alicante Police Station participated in a coordinated manner and which took place through several streets of the city until you reach the bus station Alicante, a place that the fled had chosen to take refuge, and where they were located and detained by various agents of the National Police.
The six arrested, of Algerian nationality and aged between 18 and 32 years, were accused of an alleged crime of resistance and disobedience to later be made available to the Court of Instruction of the Guard of Alicante.
The detainees refused to testify at the premises of the Alicante Provincial Police Station and they did not want to explain what the reasons were forTo access the city.

www.informacion.es
Eddie is an Australian news reporter with over 9 years in the industry and has published on Forbes and tech crunch.