Updated:
Keep

At 17 years old, Audrey Pascual already has a track record that emulates a lifetime of competing. At the national level, the Madrilenian can boast of being the Spanish champion in two different modalities, eight times in Adapted Skiing and once in Adapted Surfing. And, at an international level, he has already achieved a bronze and a copper in the surf world championships and a European Cup in skiing.
The young athlete has competition in her blood. From a very young age she learned about skiing from the hand of her cousins ​​and since that time sliding sports have been her beacon. Snow, water or asphalt, she also competed in handbike, the member of the national team has not stopped reaping successes in her two fetish disciplines, surfing and skiing.
First of all, how does surfing come into your life?
In 2019 I went on a trip to Somo with friends and I didn't go because I liked surfing, I had never tried it, but to enjoy the trip. But things ended differently, Pedro Gutiérrez gave me class and I did quite well, partly because of my physical condition coming from another sport. And I liked it, and a lot, to repeat and repeat.
And what does it give you?
I love any sport, especially the one that can be practiced outdoors. I already knew the feeling in the mountains, but with surfing I realized the possibilities offered by the sea. It is a very technical sport and each session is different, the conditions change every time you practice it, so each day is new and that is what makes me enjoy it so much.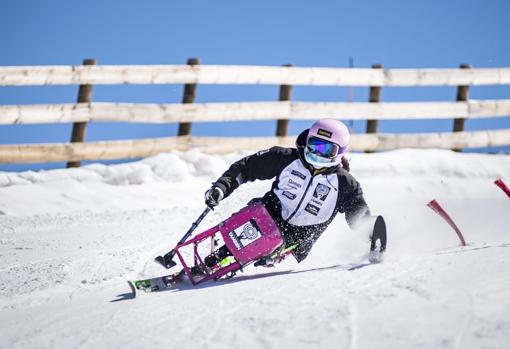 New medal in a surfing world championship, how does it feel to hang a metal again?
The experience of the previous World Cup was amazing, so this year I decided to train as much as possible to improve and be selected to participate again. This time my expectations were better, because I was much more prepared, and thanks to the coaches' strategy of going to the wave that could give me the highest score… we succeeded! I am delighted to have brought a new medal, I love competing and I hope to get many more.
You are a competitive person and you do it in several sports, what does this result give you for future challenges?
I love to compete, both in skiing and surfing, it brings out the best in me. Getting a medal is very satisfying, but since you know you could have done better, it encourages me to keep practicing and pushing myself to improve. This time I got a bronze medal, so my goal is to get a silver or gold at the next World Cup. So it's time to keep training…
How did you experience this year's World Surf Championship in California?
I loved being there again! It is an amazing experience: the parade, meeting again with the teams from other countries, the environment, living with the team, the nerves… The atmosphere is wonderful, there is a very good vibe both within the team and with the other teams.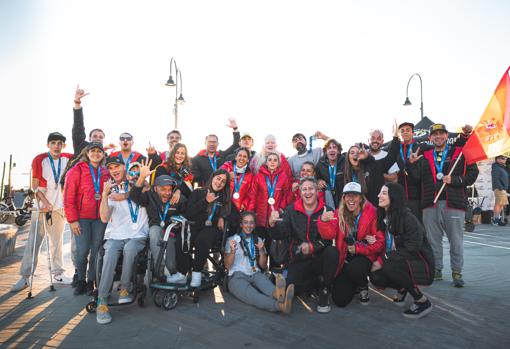 Winter is coming and your other sport, skiing, gains prominence, will you forget surfing for a few months or will you continue combining it?
Skiing gains prominence in winter because there are more competitions, but it will not be able to eliminate surfing. I continue physical training every week and swimming when I can and both things are equally useful for both sports and as soon as I can escape I will return to Somo to train. I'm looking forward to surfing the slightly stronger waves of winter and keep improving.
You are in the center of high performance, do you see your future linked to sport?
Without a doubt, sport is already part of my life and competition too! As long as my physique allows me, I will continue to practice it at this level. My goal is to participate in a winter paralympics and get a medal in my category, but also to be a gold medal in the next World Surf Championship. And if adapted surfing becomes a Paralympic sport, the goal will be to participate and get a medal too.
What are your next or goals?
I am studying 2nd year of Baccalaureate, so this year I must finish this course with good grades and get a good grade in the EVAU to be able to access the university. At the same time, continue training to improve my surfing and participate in the next World Cup with the aim of getting gold in the kneel category, and also combining it with international ski competitions that allow me to rise in the ranking to be able to participate in the winter Paralympics. 2026 in Milan and get a medal.
5 or 10 years from now, how and where do you imagine yourself?
I don't usually think about things so long in advance, I'm very young and I'm more into enjoying the moment and setting myself short-term goals. As I said before, sport is a very important part of my life, so I imagine myself practicing sport in the short, medium and long term. And also competing internationally. I want to give everything and be the best, without comparing myself with anyone, but giving my best and preparing myself to the fullest to achieve it.

www.abc.es
George is Digismak's reported cum editor with 13 years of experience in Journalism