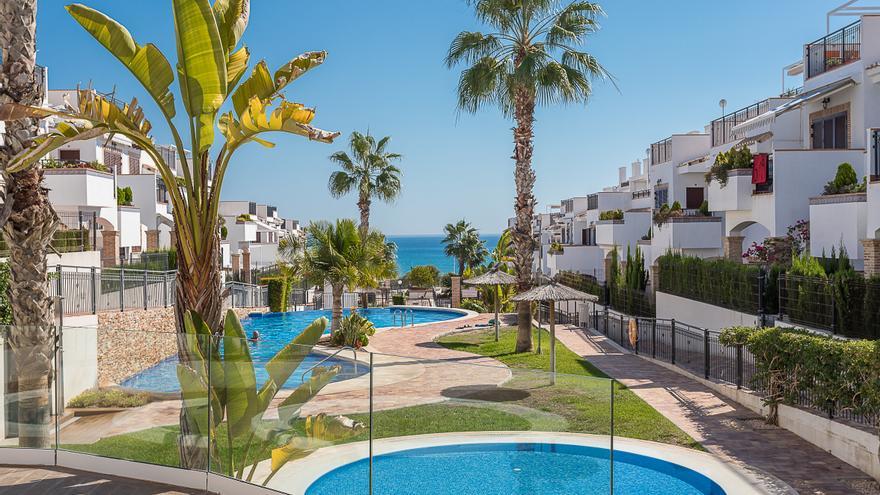 Buying a home is not an easy decision: it is one of the most important acquisitions that a person makes throughout his life. The same happens when what we want is sell our house, so it is essential to be advised by expert hands.
Fastighetsbyrån is not just any real estate agency -at least by name-Although in Swedish it simply means: "The real estate", so we can get an idea of ​​how well known they are in Sweden. Founded in 1966, the company carries since 2008 in Spain and it has more than 270 offices and 1,900 employees in a total of three countries.
In addition, it has the peculiarity that all its workers have a contract and a guaranteed salary, being one of the few real estate companies in our country that does not work with freelancers, betting on the stability and quality of life of its employees.
"We are a Swedish chain, so our main clients are Swedes: a potential buyer who loves Spain and is very loyal to it», states Martin Posch, responsible for Fastighetsbyrån in Spain and Portugal. "However, in recent years our audience has been expanding and right now includes anyone who values ​​quality and seriousness. For example, among our sellers we have an important portfolio of Spaniards and Spanish women who see in our interested buyers a serious person who really wants to buy, and not just look at homes ».
The perfect house for a Swede
We already know that many Swedes see in Spain a unique opportunity to buy the house of their dreams, but … Are they usually luxury homes or more accessible? Vacation or to fix your residence here? "A little of everything", notes Martin Posch, «the buyer prototype is usually a couple with adult children between 55 and 65 years old who buy something vacation and then, when they retire, use it as a residential home». But as in all life, the typical customer only exists in statistics.
As for the type of home and its price, it depends on the area. For example, Alicante stands out from the real estate and Malaga as two of the favorites by the Swedes. "The cheapest thing we have sold is a flat for less than 35,000 euros, and the most expensive, a mansion for 6.3 million. However, we tend to work more with "normal" houses, such as an apartment of about 70-80 m2 with two bedrooms, two bathrooms and, preferably, a terrace. The Volkswagen Golf of the real estate world ».
Of course, there is also a huge market for single family homes. If you are not looking for a flat, the Swede will opt more for chalets and townhouses than the "typical" buyer. This is how Posch points out: "64% of the properties that Swedes buy are flats, in contrast to the national average in Spain, which is usually around 78%."
Does distance selling work?
In the midst of a global pandemic, our homes have become "temples", having a comfortable home in which we feel good is becoming more relevant than ever. In Sweden, of course, they have the same opinion, «interest in housing in Spain continues despite covid-19, and although we are experiencing really difficult times, most of our clients think that this is temporary and continue with their plans to find their ideal home in a country where the sun is the protagonist ".
Nevertheless, How can a Swede buy a house in Spain right now with all the mobility restrictions we have? Distance selling is an increasingly advanced solution that has been part of Fastighetsbyrån's everyday life for a few years. "In order to reduce air travel and promote sustainability (something that matters a lot to us), for a couple of years we have been working with tools to do 360º virtual tours, we do it with virtual reality glasses. All this investment has given us a great advantage in the current situation », highlights Martin Posch.
The latest that the Swedish real estate offers are remote visits by video call with up to 20 potential buyers, performing a live stream from the home with an agent. During the visit, customers can do questions in chat or ask, for example, to show a room or an image in more detail of some area of ​​the house. «They are a great success, we call them Sunny Friday and normally We do them on Fridays at 12.00, lunchtime in SwedenSo buyers can dream of the house they have seen all weekend.
Is it possible to sell houses in this way? The answer is clear: «Yes, and many! Something that has surprised even us », concludes Martin Posch.
Where is Fastighetsbyrån located?
The Swedish real estate company has different offices spread over different parts of Spain, such as Alicante, Murcia, Mallorca, Malaga or the Canary Islands and its main coastal areas. You can see them all on the web https://www.fastighetsbyran.com/es/espana/
Offices in the province of Alicante:
– Alicante:
– Altea / Benidorm:
– Ciudad Quesada:
– Greater Alicante:
– La Zenia:
– Torrevieja:

www.informacion.es
Eddie is an Australian news reporter with over 9 years in the industry and has published on Forbes and tech crunch.